Hiking to the Hidden Seepur Temples Near Mashobra
I have spoken a lot about my writing and exploration days in Mashobra Shimla. You can read the linked guide to get a closer look at my life in the village. But even though Mashobra is becoming the next Maldives (Vir Sanghvi says) travelers don't know so much about this picturesque town of Himachal Pradesh. I didn't know about these stunning temples in Shivpur, a small village near Mashobra. 
We used to walk for hours around Mashobra. The place is surrounded by forest trails. Every day we would hike to a new place. Seeing our enthusiasm, one day our caretaker told us about these two temples in Shivpur. He said, "you guys already roam around so much. Why don't you walk to these local deity temples one day?" 
He even showed us the temples from our attic rooftop. We had enjoyed quite a lot of great views of rainbows, sunrises, and the super flower blood moon from Mashobra terrace. But these Shivpur temples our caretaker pointed to were only faintly visible from our homestay roof.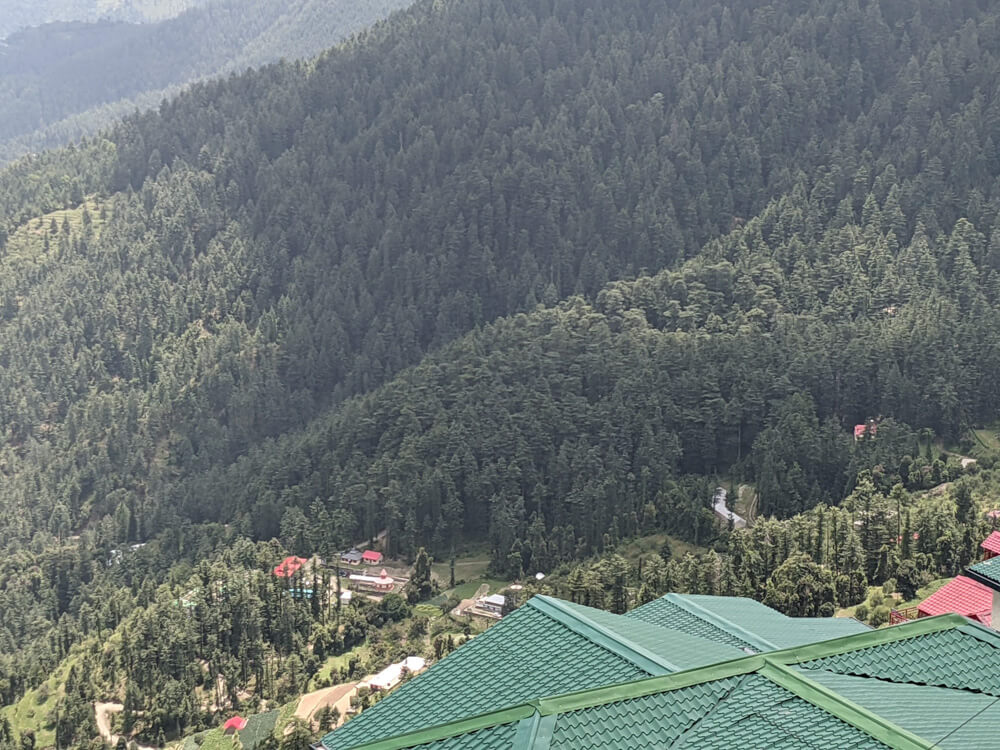 You see a tiny orange temple on the ground below the jungle.
Some other temples to see in Himachal Pradesh,
The Deodar Temple of Kiar Koti, Mohanpur (below Mashobra) (Guide coming up soon)
Shikari Devi temple, Mandi (Guide coming up soon)
Kamru Nag temple, Mandi (Guide coming up soon)
Mahu Nag temple, Mandi (Guide coming up soon)
I can't resist visiting a place once I get to know about it. So in a couple of days, my partner and I started early morning. First we headed towards the Presidential Retreat in Mashobra. Much has been said about the Retreat which becomes the President's summer office. But we didn't take any permission to visit the historical building. 
Following our hunch, we entered this gate in front of Mashobra market. The market sort of ends at that point, and a temple sits there too. There is a big building premises near the gated park we entered, and children often used to play in the garden of this building. 
The gated park has a pathway through forest. First we started going uphill on the path. We also went on obscure trails around the path, but most of that area was covered in thorny bushes and shrubs. So we retreated to the main steps and climbed up. Our Google Maps showed we were near the Presidential Retreat. So we had taken the right way. But as we went on those steps intermixed with mud paths, a warning sign stopped us. It said, no one was allowed further without prior permission. 


We didn't enter that restricted area but instead skirted around it. Taking a sideways path, we hiked upwards. And then the trail went straight. The area on our right was fenced with iron wires. A guard post appeared now and then around this fencing. The posts were empty. The President hasn't visited the Mashobra Retreat in a while. 
We understood we were walking around the Retreat's hill in circles. So we took pictures of the forest plants and retraced our way. 

We continued on the road for a little while longer. A group of locals told us that a mud trail went to the Shivpur Shiva and Hanuman temples. One of the old men showed us the track on the side of the road.
So basically we could have followed the road to the temples but that would have been a much longer walk. These side paths had been formed by locals walking through the forests.
As I have said earlier too, Himachali people don't walk through the concrete roads. No one will given the option to cut through the jungle and go straight down instead of walking the long curves of the road. The roadways exist for cars, and wayfarers make their way through the forest.

We took the trail suggested to us and descended. That path would keep going on. Sometimes it would lead us back to the main road. Then we would find the next part of the track by looking at the various tracks. Finding our way to those hidden temples of Seepur wasn't tough. Locals were always around to direct us.

And when we had descended quite a bit, camps and cottages started appearing. A small tea shack was located near the Mashobra Green camping site. We had hot tea there.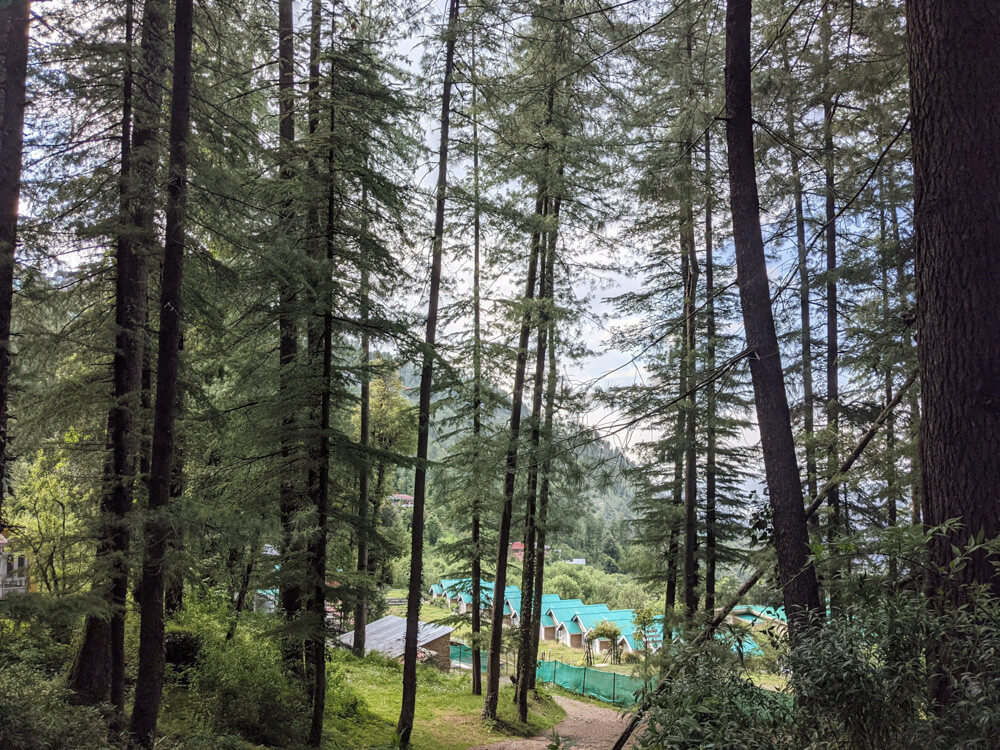 On the journey, we saw beautiful things. A wild purple berry was being eaten voraciously by the birds. A huge cedar had fallen. Its roots were now intermingled with stones. Some of the roots formed a path.




Up ahead we came upon the Shiv temple of Seepur. Seep is the local name of the god Shiva. Himachali people are devoted worshippers. And each temple has a unique history. Local devotees visit their temples regularly.



This photo describes the history of the Shiv temple in Hindi. Here is a rough translation of the important parts:
"At this place Shiva had appeared in the form of his lingam. As per ancient stories, a cow used to pour her milk over the lingam every day. At some point of time, the lingam took the form of Shree Yantra. Since then this place is known to be Sreepur, which changed to Shivpur, and now it has become Seepur.
People from far and near used to visit this place to get their wishes fulfilled. About 300 years ago, Raja Gopichand of Koti reign built this Shiva temple here. A fair happens at the temple every year. A few steps below this temple, a Hanuman temple exists. The five-faced Hanuman temple is known as Lankda Mahaveer temple.
There used to be seven lakes near this temple which are now buried deep under the soil. Parvati meditated for Shiva here. And the Pandavas also prayed around this temple during their anonymous year. Even many saints have prayed here and have fulfilled their destinies."


My understanding and research on Himachal temples tells me that this Seepur Shiv temple is made of the popular Kathkuni architecture in which wood and stones are placed interchangeably. The shrine has a pagoda style roof. 
The temple is located in deep forest. And the ancient deodars shadowing the temple makes the place unique. The jungle looked untouched. And this 300-year-old temple in between added timelessness to the location. 





We roamed around the temple for a long time. There was a muddy pond near the temple. Many people relaxed in the surrounding woods. We also lied down on a patch of grass and chatted like two school kids out on a picnic.

One of the trees near the temple marked the direction to the Hanuman temple of Seepur. We followed the trail and after walking a bit downwards came upon this bright orange temple peeking out of the greens. The area around the Hanuman temple was also pristine. Behind the temple stood a school building.



From the temple we could get a good view of the surrounding hills. And when we walked further, we saw a tiny stream flowing by. The water was cool, and we washed our peaches in it.


The entire place was so serene that we could spend hours there. But the day was already darkening. So we retraced our way to the top. Now the colorful Mashobra market was in our view. And this particularly old wooden house with a beautiful and peaceful dog seated outside caught our attention.

Sometimes we have to go far to find beauty, and sometimes we just have to open our eyes. In Himachal, mostly we have to look a bit closely and the beauty lies right there. 
Hope you enjoyed this memoir of two adventurers finding the Seepur temples near Mashobra. 
Oh, here is the Google Maps location to the Shiv temple of Shivpur Mashobra.
Where to Stay in Seepur Mashobra?
I haven't seen much places to stay in Seepur except the heavily crowded Mashobra Greens' camps. There were a few bungalows around the temples but those were really expensive. So please make do with these below places to stay in Mashobra. And if you find a beautiful home in Seepur, please leave a comment and help all of us.
Hotels in Mashobra are of many kinds. You can find camps in Mashobra. Then the village has homestays, hotels, resorts, apartments, and other type of stays too.
Here are some good options to stay in Mashobra in all price ranges.
Shanti Jungle Cottage — Two bedroom apartments, with no WIFI, property is surrounded by farms and forest, budgeted.
Zostel Homes Mashobra (Shimla) — Rooms with balconies, breakfast included, and a pool table (;), prices slightly higher than normal.
Wildflower Hall Mashobra, An Oberoi Resort, Shimla — The iconic Wildflower Hall is one of the most luxurious and indulging resorts at Mashobra. Once the Wildflower Hall was the residence of the Viceroy of India under the British rule. Then the Oberoi's took it over. Expect high prices, comfortable and ethnic rooms, and all kinds of facilities available here.
Ridge View Mashobra — Private rooms, budget pricing, and private car parking.
Regenta Resort & Spa Mashobra — Swimming pool, large rooms with balcony, and a beautiful lawn with an in-house restaurant. High prices.
Star View Cottage — Private rooms with beautiful view and apartments. Prices slightly higher than normal.
Follow Up Read: A sunny picnic at the Kanag Devi temple near Theog, Shimla
Would you love to hike to these hidden temples in Shivpur Mashobra? Tell me in the comments.
*****
Donate to keep me going!
For five years, I've read and wrote day and night to keep On My Canvas - my sustenance and life's focal point - going. Everything here and my weekly newsletter "Looking Inwards" is free. No ads. No sponsorships. If you've had some good moments reading my posts or felt hopeful on a lonely day, please consider making a one-time or a consistent donation. I'll really appreciate it (You can cancel anytime).
*****
Want similar inspiration and ideas in your inbox? Subscribe to my free weekly newsletter "Looking Inwards"!