Adventures in Ho Chi Minh City, Vietnam
When I went to Vietnam in 2016, I found myself in a green paddy-filled country. Under the shadows of their bamboo hats, locals flitted between places unhindered by the large bamboo baskets they carried. Birds sang from their cages hung on balconies. Streets were lined with stalls selling soup, grilled meat skewers, rice paper rolls, and fruits.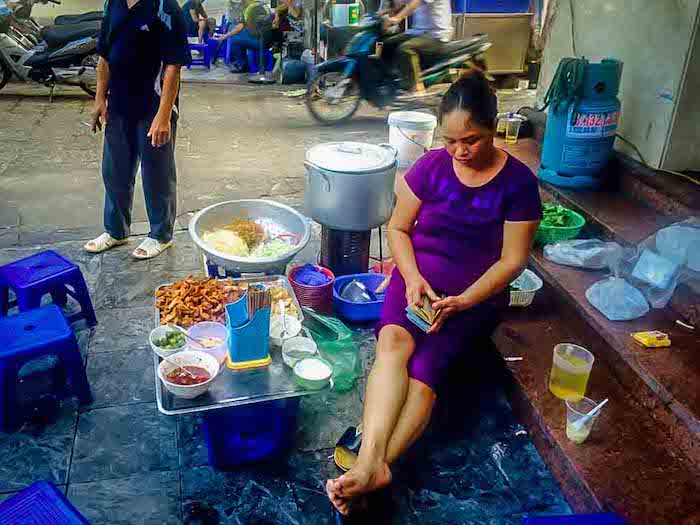 Too cool to research and skeptical of Lonely Planet guides, I hadn't known about pho or Halong Bay or Sapa. I didn't discover pho as the popular Vietnamese food or the world-famous noodle soup it is now. Instead, I discovered it on the misty streets of Hanoi one early morning at the bamboo basket of a vendor who served me a bowl of pho decorating it with greens and lemon. As I ate that soup spoon by spoon, I was warmed, nourished, and fulfilled.
So when a month ago my partner and I landed in Saigon at 1 am, I had already boasted to him about pho. After dozing for a few hours at the airport, we took a taxi to our homestay. We could check in at 6 am, and after a hot shower we were out.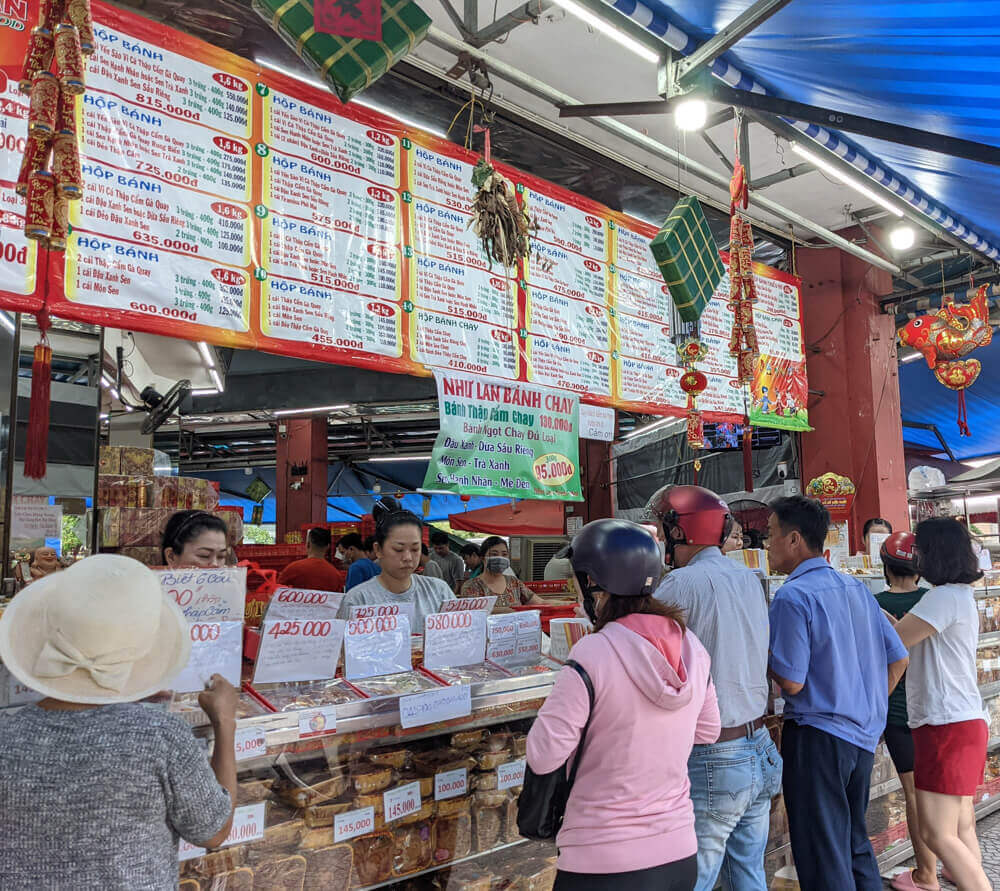 Cholon, Saigon's Chinatown
That our hotel was in the Chinatown of Saigon (District 5) — known as Cholon — was a deliberate choice. Chinatown streets were fringed by food stalls. Locals were already eating their soups on tiny plastic chairs laid on the pavements. They tore the greens into the soup bowl, sipped the broth with their left hand, and put rice noodles in their mouth with chopsticks in the right.
Most locals stared at us. Two years of Covid-19 have made people unaccustomed to seeing foreign faces, and we were the exotic brown foreign faces. As we loitered along the street to peek into the bowls already served and make sense of the Vietnamese menu posters, I told my partner few Indians travel to Vietnam. But later when we squeezed between groups of Indians in Hội An and Hanoi, I realized I had spoken too soon. Vietnam has changed since I visited the country six years ago.
At one of the roadside stalls we confirmed if they could give us fish soup cooked without meat: so no beef, pork, or chicken. The man and the woman nodded in approval. We perched onto tiny chairs and watched customers pour brown sauce over green chilies, drink green iced tea, and poke their teeth with toothpicks. It didn't take me long to figure out the brown sauce was the ubiquitous fish sauce that used to be carried in big jars on ships across seven seas.
I do not have a picture of that fish soup, but I got a bowl with large pieces of soft fish that melted in my mouth and even softer flat rice noodles. Adding greens to the bowl, I enjoyed the fresh, warm broth. At that time I didn't know that fish pho doesn't exist. So I wasn't having pho. It was some fish soup. Rejuvenated, I blabbered about the Phosomeness (pho-awesomeness) to my partner as if I had invented pho.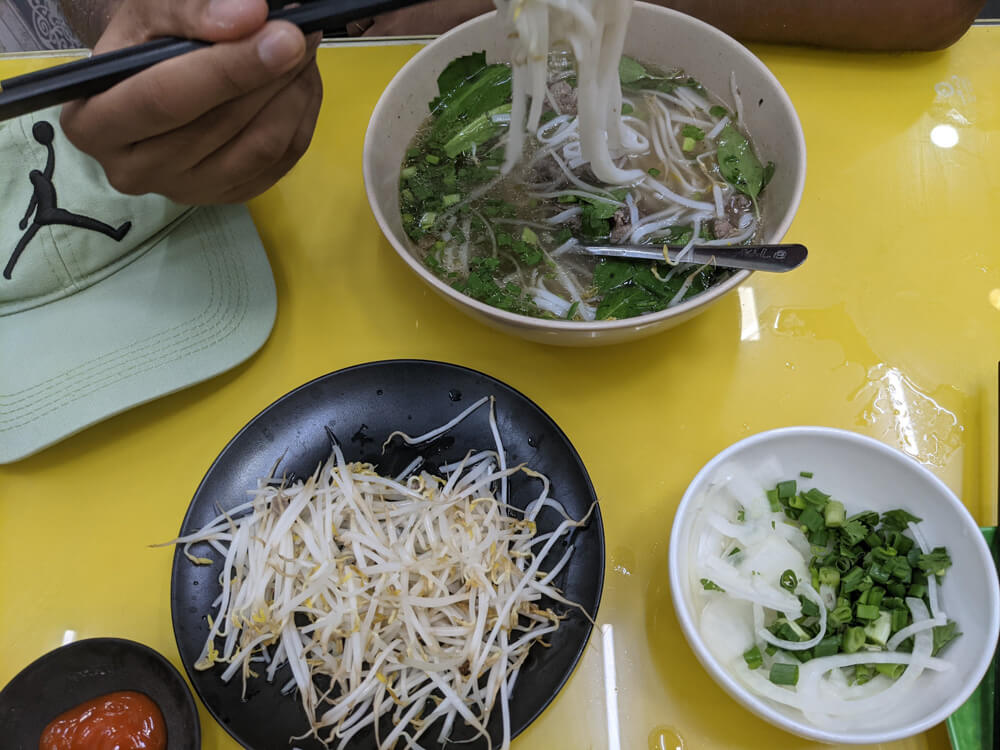 Pho
Pho, probably, has been an everyday meal in Vietnam for a hundred years. Pho stories claim the soup was invented 100 km South of Hanoi in Nam Dinh district in the early 20th century. Cooking it overnight and carrying it in bamboo baskets on their shoulders, locals served the beef-noodle soup to field laborers every morning. Wherever those workers went, the soup went along, and thus the famous pho reached Hanoi. The city made pho its own.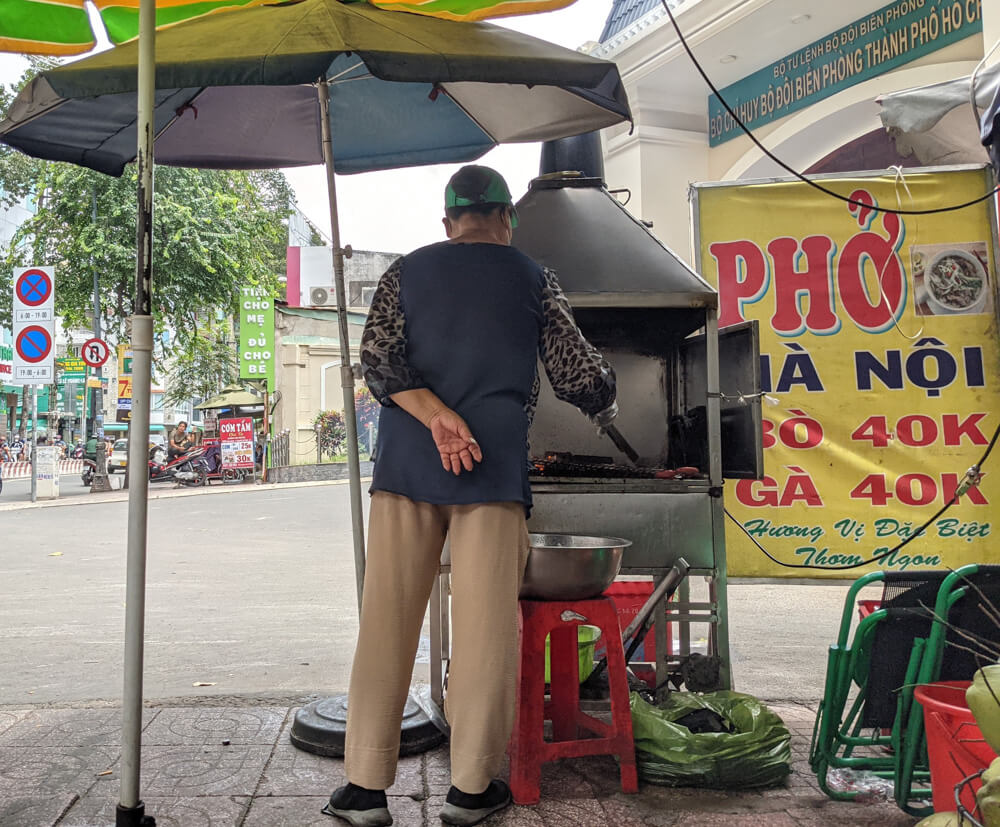 During the war, pho spread throughout the country with the Northern Vietnamese who fled to the South. In every province, pho absorbed the local ingredients and preferences and metamorphosed into a comforting neighborhood soup.
Though pho was a breakfast dish for laborers as the soup was warm and nourishing but not heavy enough to restrict physical movement, now Vietnamese eat pho at any time of the day. During the past month, we saw Vietnamese starting the day early  (but not as early as Burmese people) riding their bikes to drop their children at school or heading to their store or grabbing some greens and meat from the market — but not before grabbing a bowl of pho first. I wouldn't be wrong in saying that pho is still the most popular at breakfast.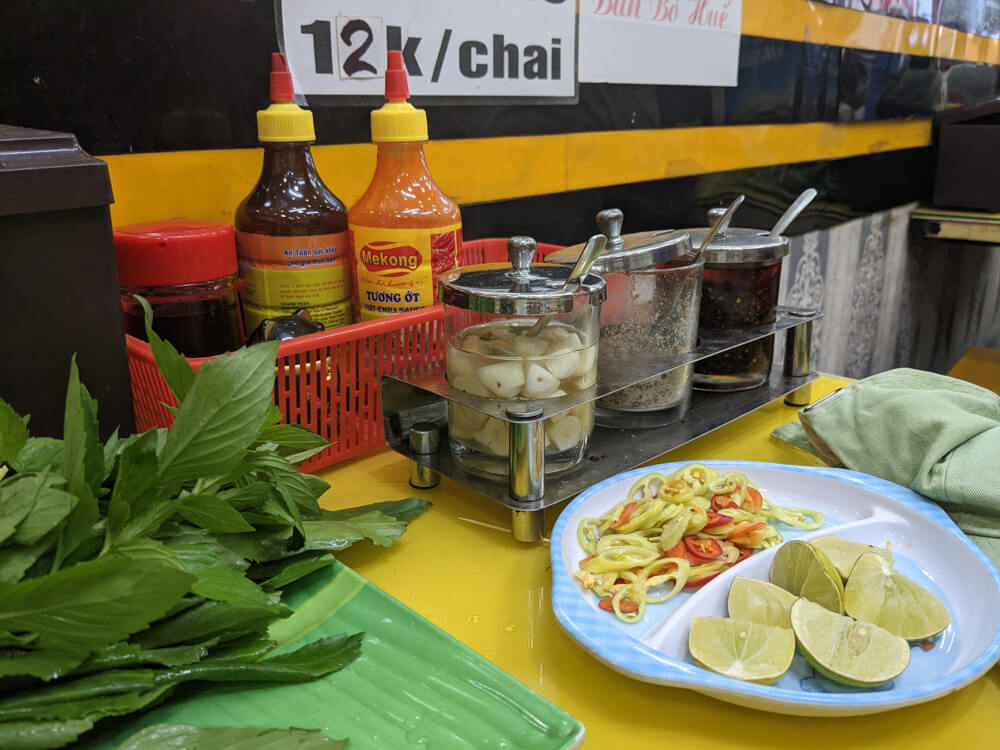 If I have to name one food item in India that is as much a part of our everyday life as pho, I would put chai, or tea, as the closest contender. Because in every state of India you move from soup to paratha to rice to dosa. But  everyone drinks chai — like in Vietnam, irrespective of the province you are in, everyone eats pho, their version.
So while beef pho is ubiquitous in most of Vietnam — at least the most sign boards I saw were of Phở Bò — beef noodle soup. It is probably cooked over the stove for hours to a day with cow bones and served with soft rice noodles, bean sprouts, Thai basil, cilantro, and other greens, and lemon and chili. And then there was chicken pho, too.
I cannot tell what meat the Pho I had in Hanoi in 2016 contained because back then I ate everything except beef and enquired less about the ingredients. But as I stopped eating meat and eggs a few years ago, I have to ask many questions while ordering food.
Suggested Reads: My Guide to Myanmar Traditional Food, Street Food of Malaysia, and My Seafood Lover's Guide to Penang are all testament to my quest for seafood and vegetarian meals while avoiding meat.
Walking Around in Ho Chi Minh City, Vietnam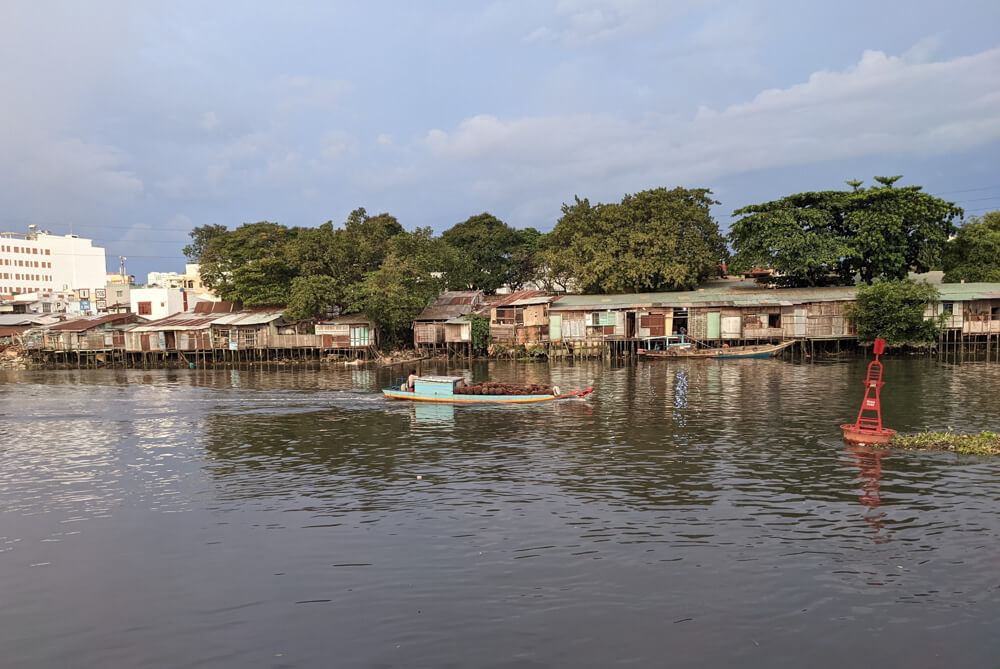 Later while walking along the water canal hoping to find a cathedral my partner wanted to see, I stopped at a rice paper roll cart. It was of an old woman who tried to answer my Google Translate query about the roll having pork. She pointed me to the orange things in the roll — shrimps were there and the orange thing could have been crab or pork. We got two rolls — 7,000 Vietnamese dong (about 30 US cents) for each — and I removed the orange meat and stuck it to my partner's roll and dipped mine in the soy sauce and peanuts and grated carrot that were served along.
The canal eventually led us to the Saigon river along which we spent most of that day walking and eating and running across traffic junctions and observing cute dogs and watching the bustling roads from a bridge.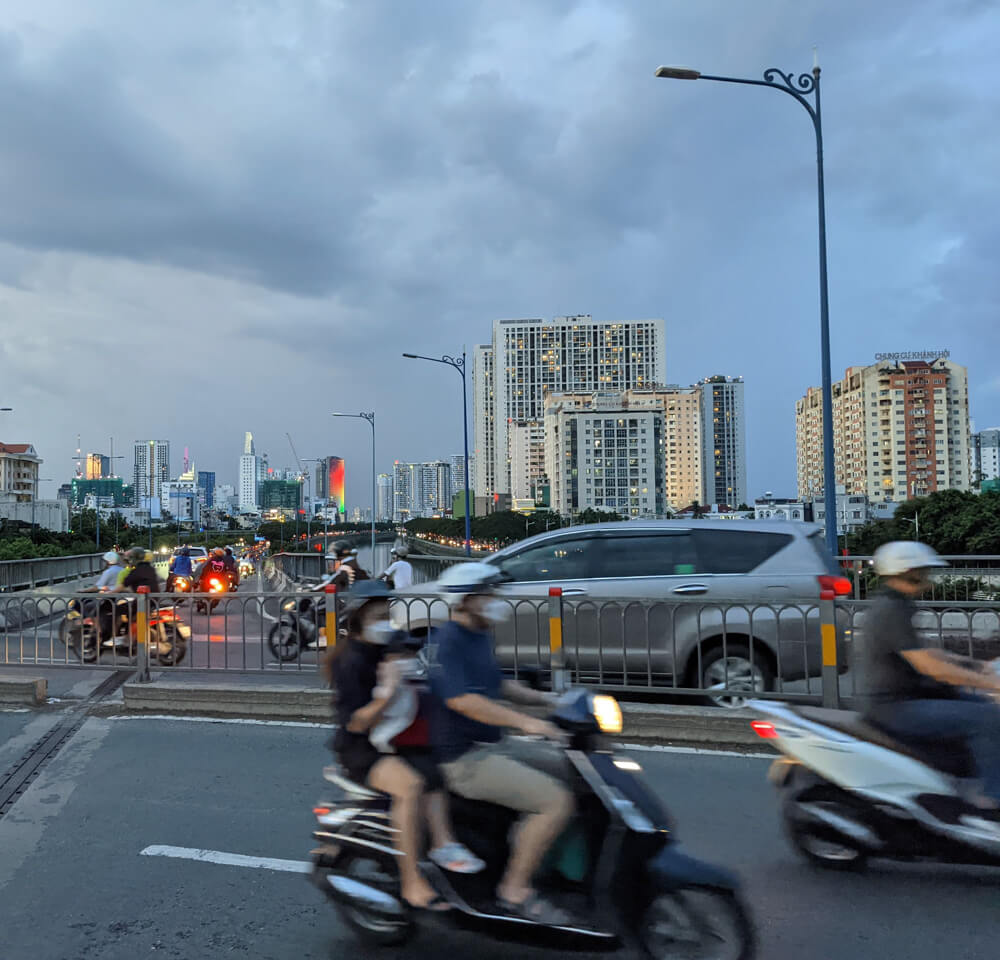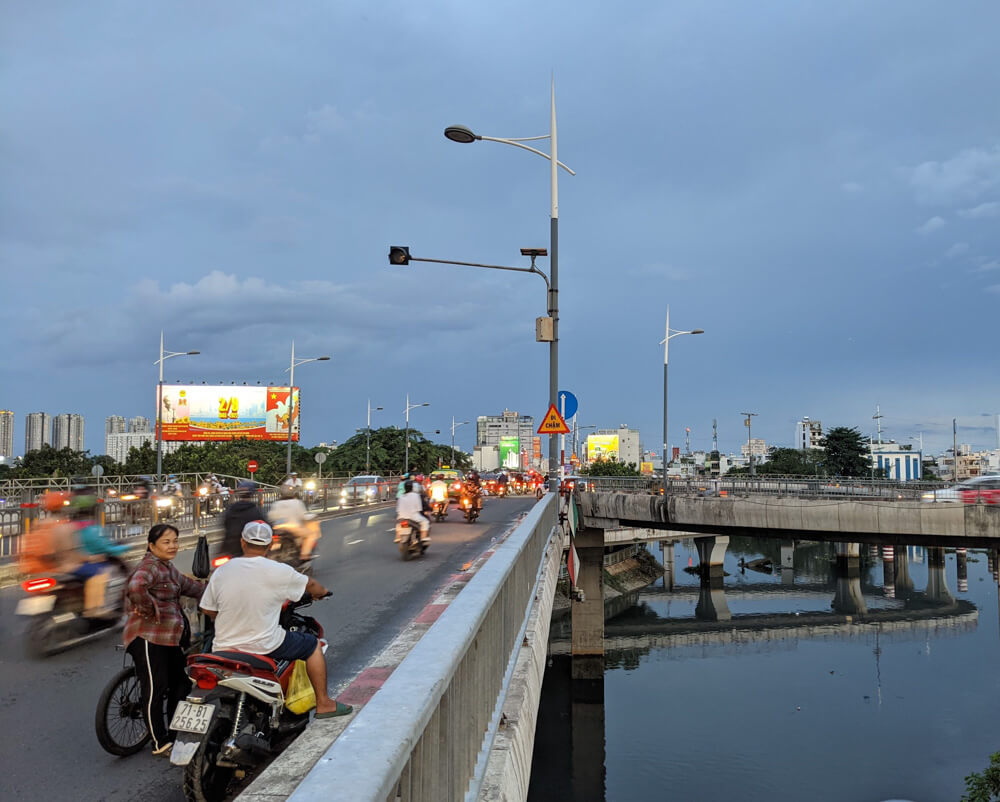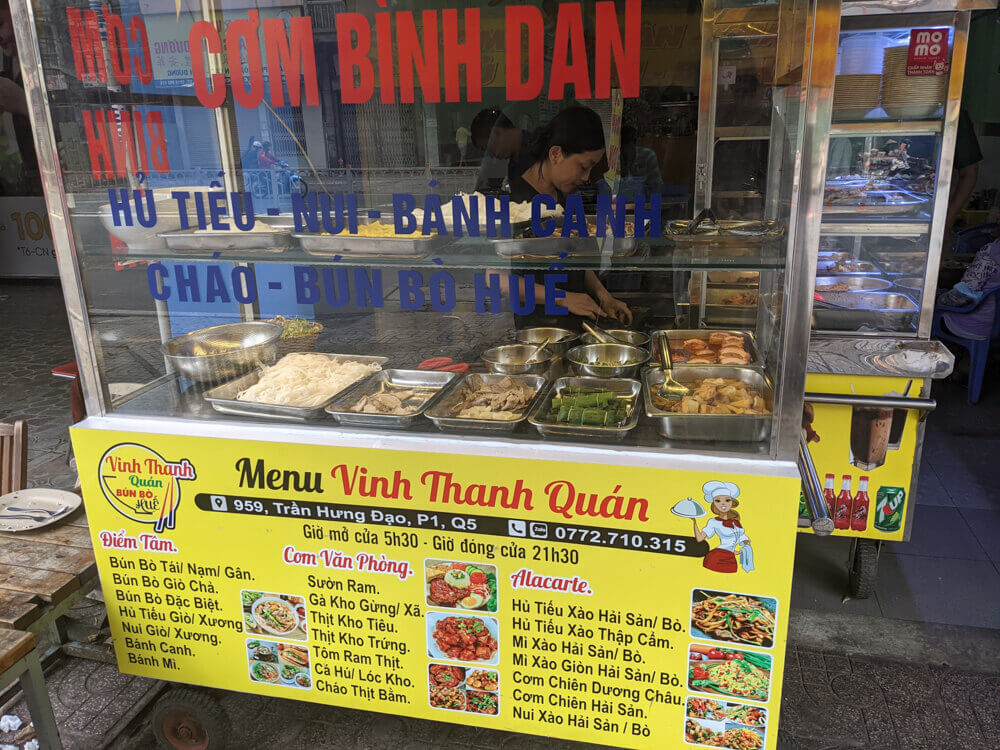 Lunch Buffet in the city of Ho Chi Minh
A couple of hours after the roll we were passing by a buffet lunch restaurant and were stopped by the beautiful sight of the fried fish, fish curries, rice, noodles, salads, and the entire ensemble of food. Because there was only so much space in front of the steel counter brimming with food and we were in the queue, a teenage boy behind us asked us in English what did we want. I pointed to fried fish and rice and my partner pointed to noodles and fish and we explicitly said we don't want them to add meat or eggs to anything.
The boy told us we had to say "khong thit" to order food without meat. Later when I tried the words locals didn't understand me. Only a couple of weeks into the trip when I could pronounce the words with their sounds did I get a response to my "khong thit."
We both got rice and fried fish and clear vegetable soup and my partner had to let go of the dreams of noodles, but hey, at least we knew what we were having.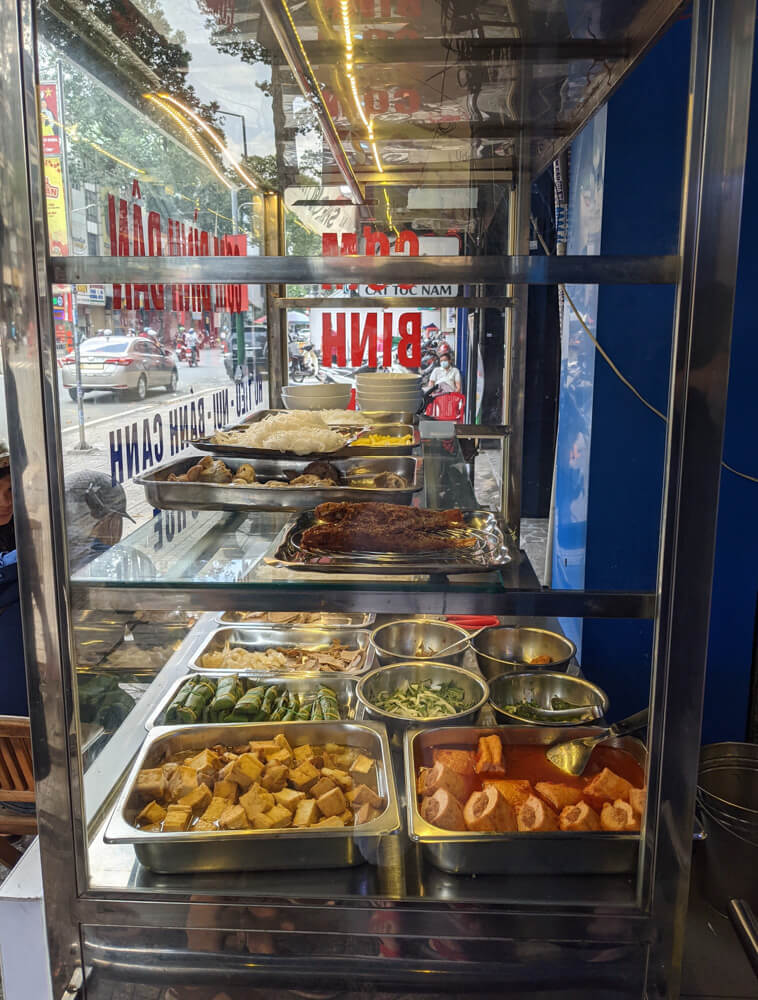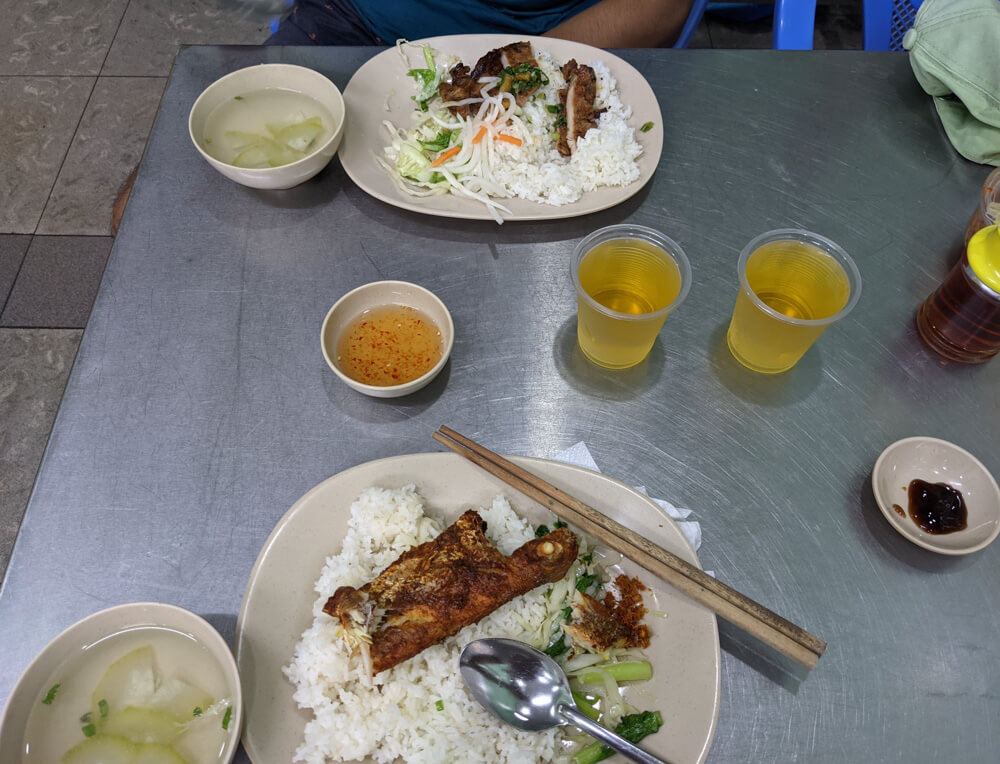 Pho in Breakfast
When we walked to another pho shop near our hotel the next morning I knew that asking for soup without meat wouldn't be enough. I would have to observe pho's color and aroma to see if it had been simmered with bones. The friendly owner tried his best to answer our queries over the Translate app. We ordered one phở bò and one vegetarian pho and all the while I tried to ignore the thought in my head that soup vendors serving non-vegetarian soups don't have vegetarian broths at their shops.
When the soups arrived, accompanied by greens and lemon and a dish of fish sauce, I had one look at the soup and I knew it was cooked with meat. My second Google Translate inquiry replaced the smile on the owner's face with a frown. He called his daughter who told me over the phone in English that pho is traditionally cooked with bones.
No. No. No. The information that pho is simmered with bones defined my food experience in Vietnam. Even though I am not that traveler who stumbles from one food shop to another hoping to eat as much as she can (at least not anymore), I still need food. The owner took away the bowl of pho leaving apologies on our table. His staff member strode to our table and picked up rocket leaves and other greens and broke them into smaller pieces and put them in the bowl of my partner. He declared his beef Pho was delicious (you have seen its picture above).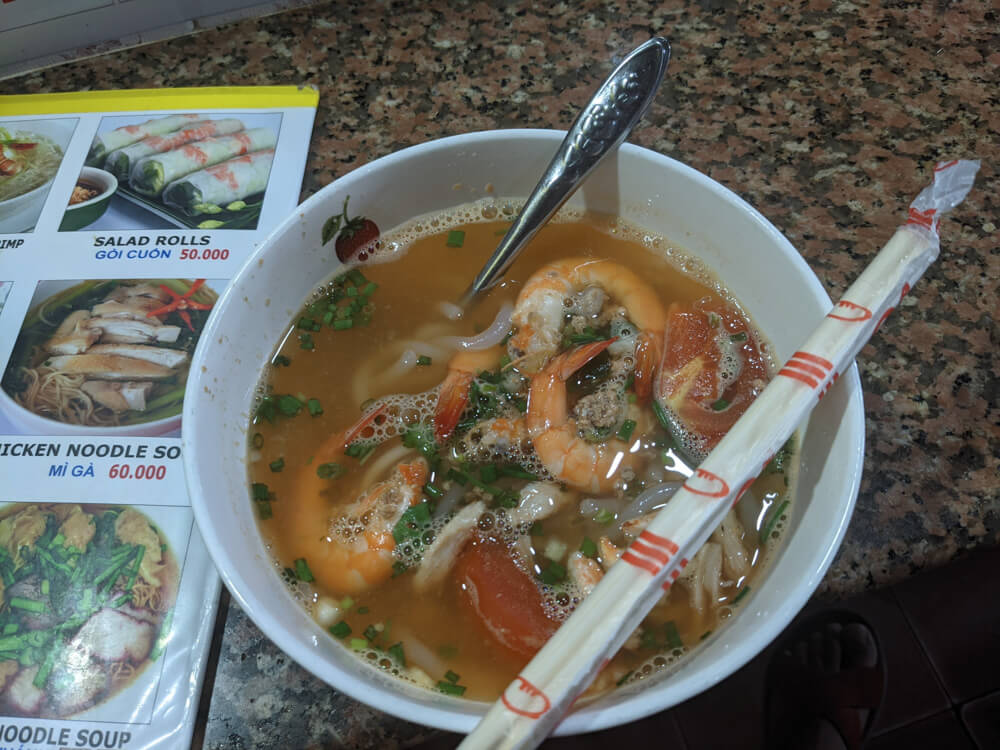 Searching Meat-Free Soups
Many times in Vietnam I discovered that even when I typed "is the soup cooked without meat? I cannot eat meat. I don't eat egg" on Google Translate, vendors replied yes even if the soup had been made with pork or chicken bones. Maybe Google Translate is to be blamed or probably as many locals suggested "we remove the meat and give you the soup" was a good enough solution for most vendors (I faced the same problem, although to a much smaller extent in Penang, too). I learned over time that pork bones are inherently added in most pho recipes but it could just be made with a whole chicken or buffalo or beef bones too.
Whatever it was, I. Could. Not. Have. Pho. Anymore.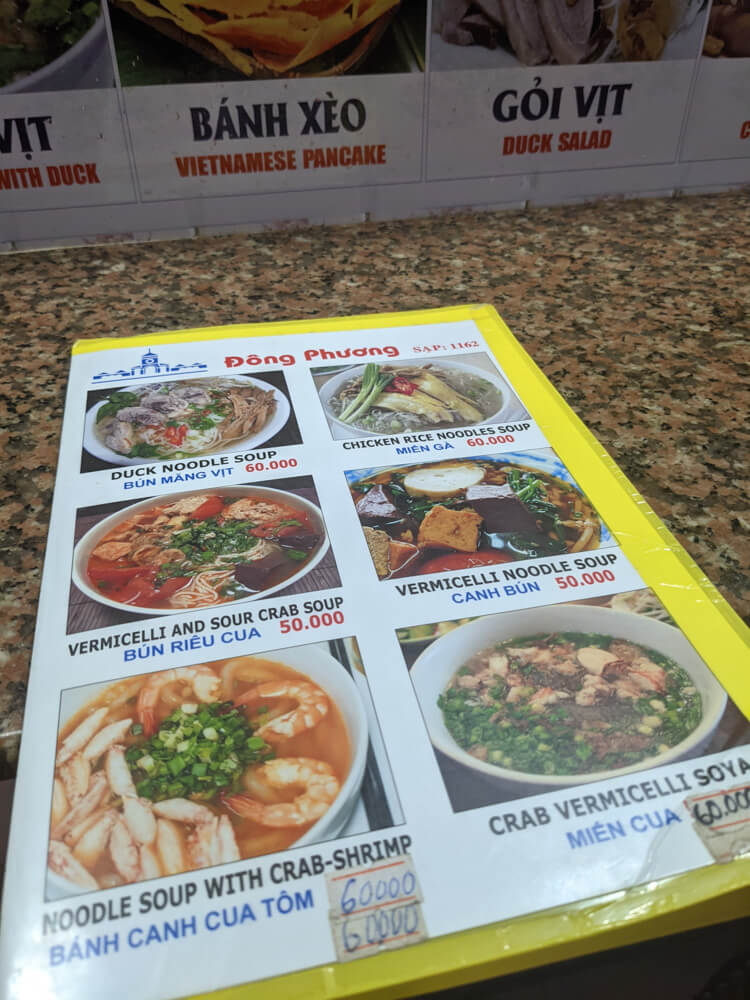 Pho is not the only soup eaten in Vietnam though. Bún bò Huế (beef and pork), Bún Chả Cá (fish cake soup), Bún Cá (fish soup), Bún Riêu (crab and pork), Bun Tieu, Bún Hải Sản (seafood) — Vietnam has so many noodle soups that one can eat a different soup with a distinct flavor, ingredients, and noodles every day for a few months, at least. And I discovered those soups over the month I traveled from the South to the North-most of the gorgeous country that is Vietnam.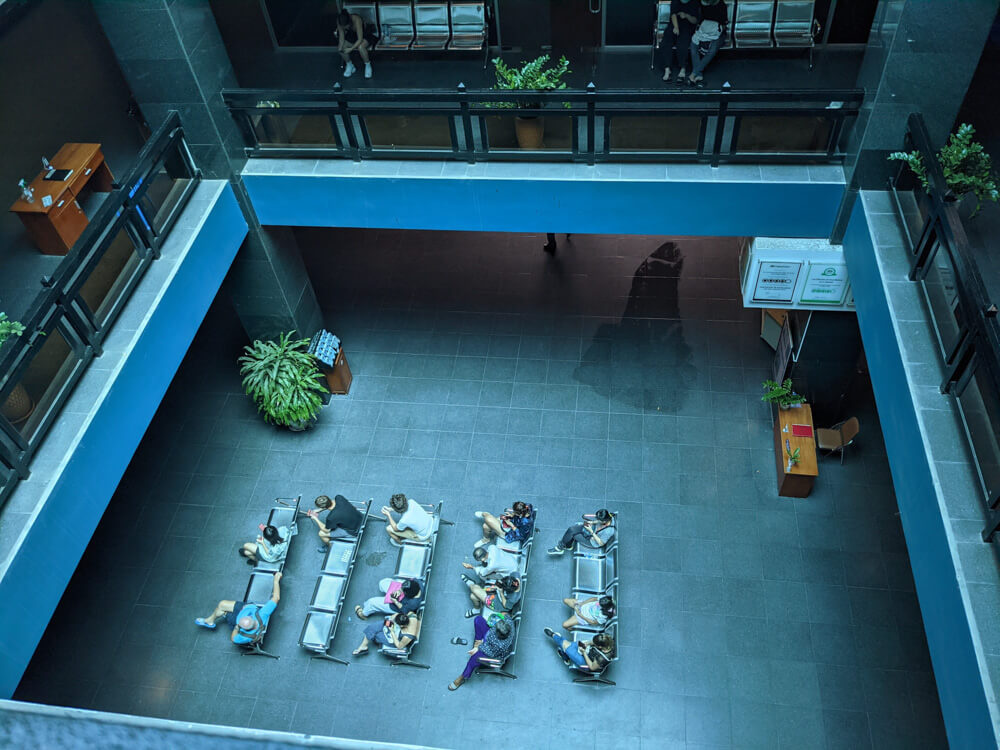 Exploring Saigon's History
Unlike the last time in the War Remnants museum when the pictures of dead people drenched in blood had devastated me, this time I restricted my visual intake. But I could see my partner was weighed down by the museum. And I, too, could smell blood, death, and decay. It's amazing how our mind simulates what it sees or expects.
If someone asked me if they should visit the War Remnants Museum, I would say no. The museum was filled with US weapons, pictures of the crimes, photographs of the support movements that happened in countries around the world, and the chains, cages, and tools used to inflict terror and pain on Vietnamese prisoners. Most of what I saw I could see online at my pace without feeling so depressed about the whole American War and the dehumanization of Vietnam people (only outsiders call the war the Vietnam war; for Vietnamese, it is the American war).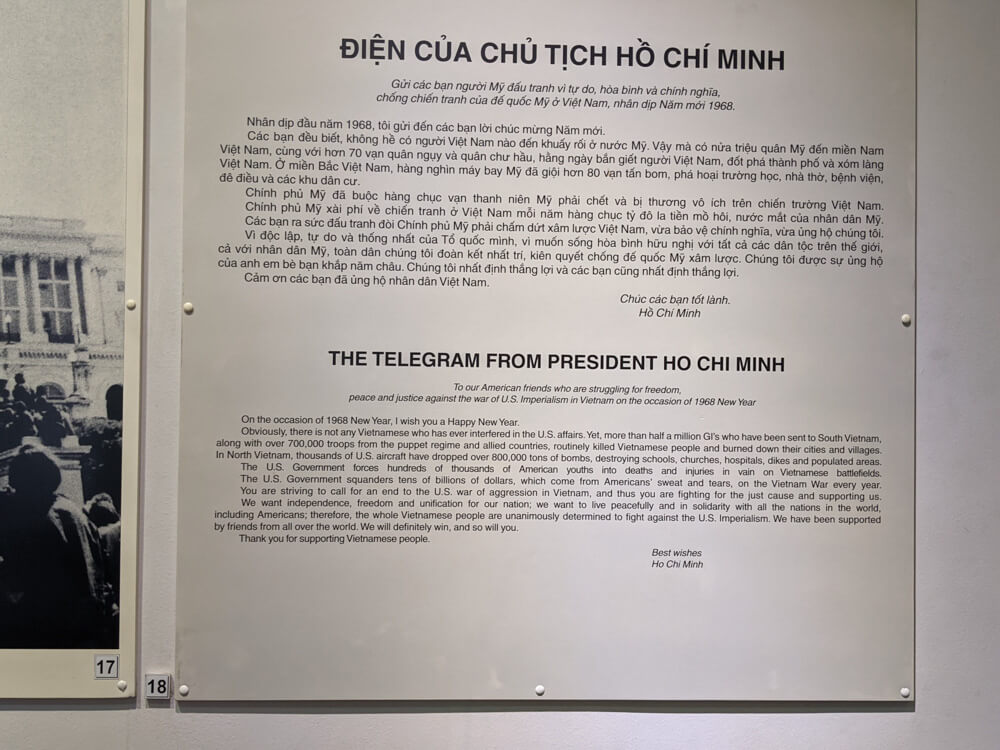 From the museum we went to the historic Ho Chi Minh City Post Office.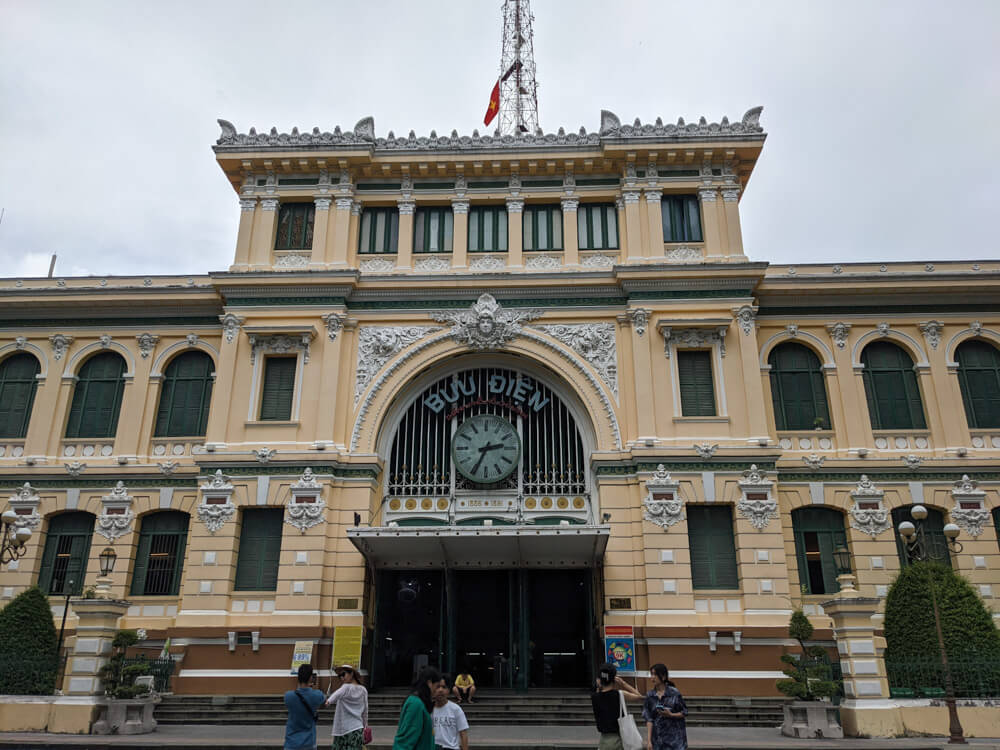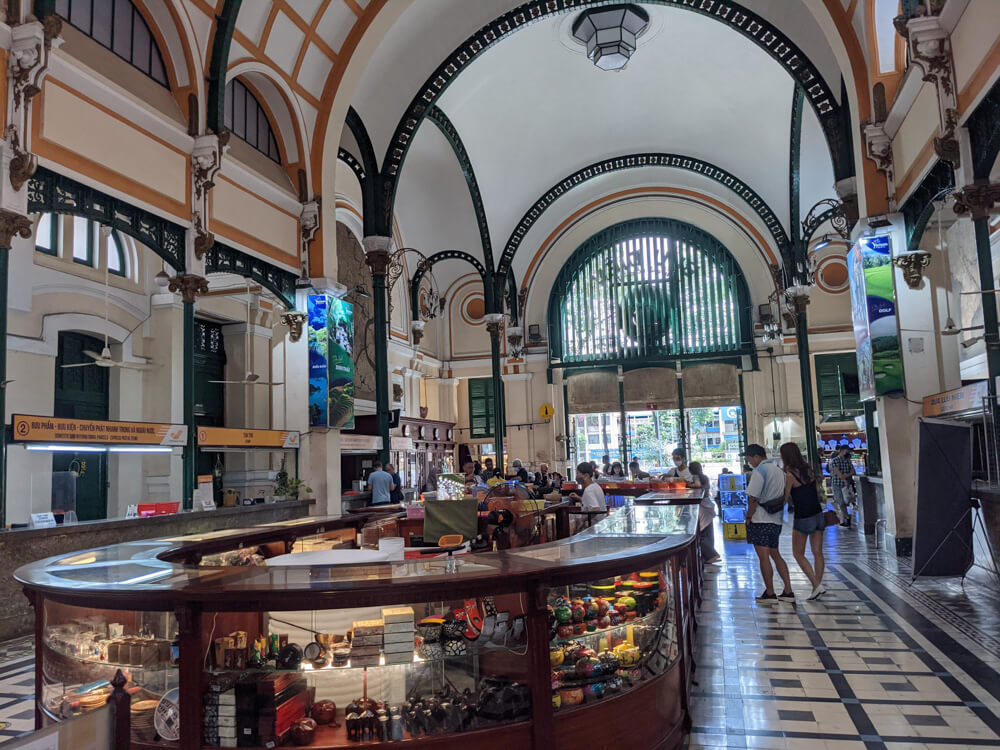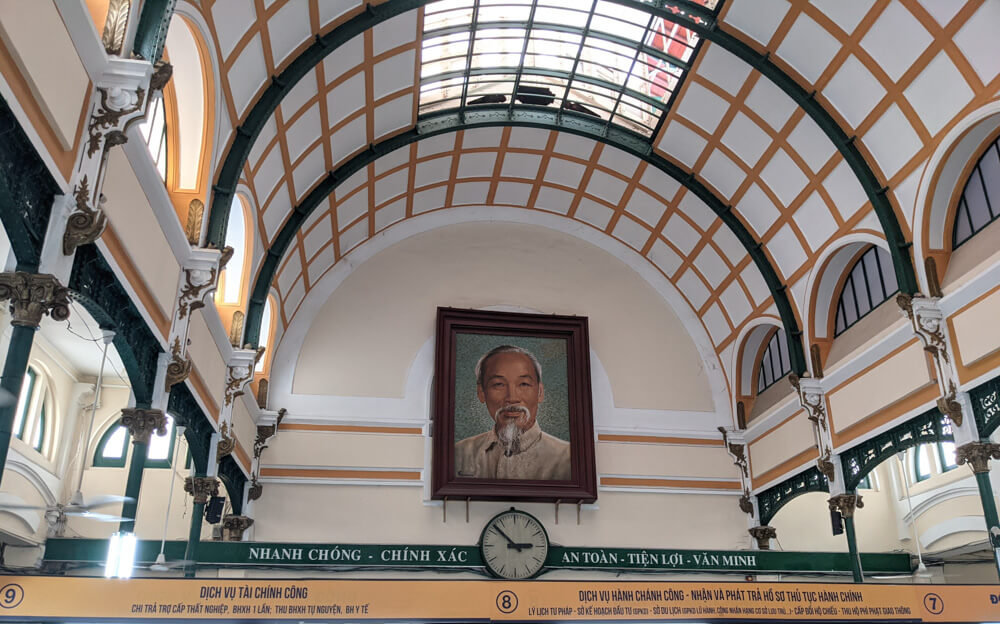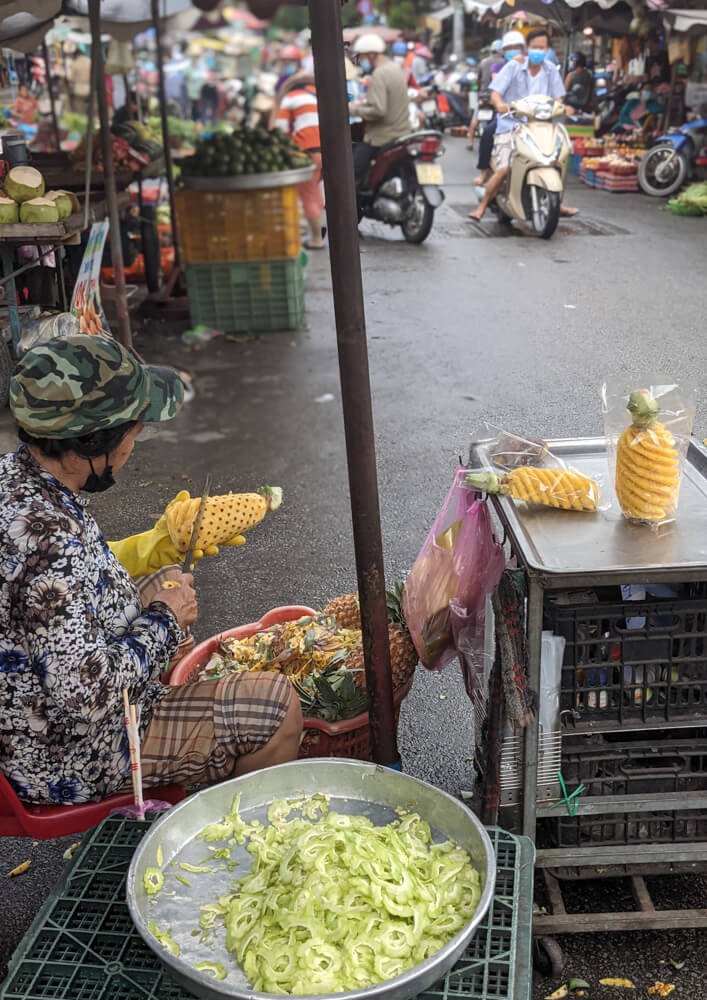 Streets of Saigon
Though we had taken two bike taxis to the museum, we walked our way back towards Cholon through a street market. I wouldn't be exaggerating when I say life is lived on the streets in Asian countries. Fruits, fresh seafood, greens, vegetables, flowers, rice cakes, noodles, it was all there lined up on the street in the most colorful procession I have ever seen.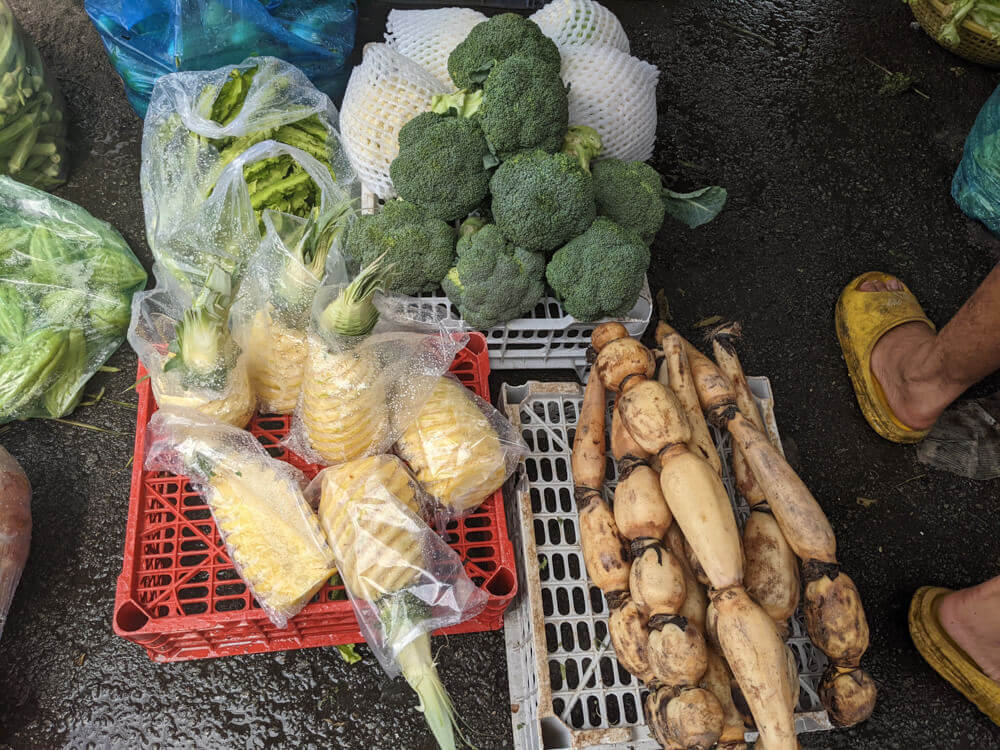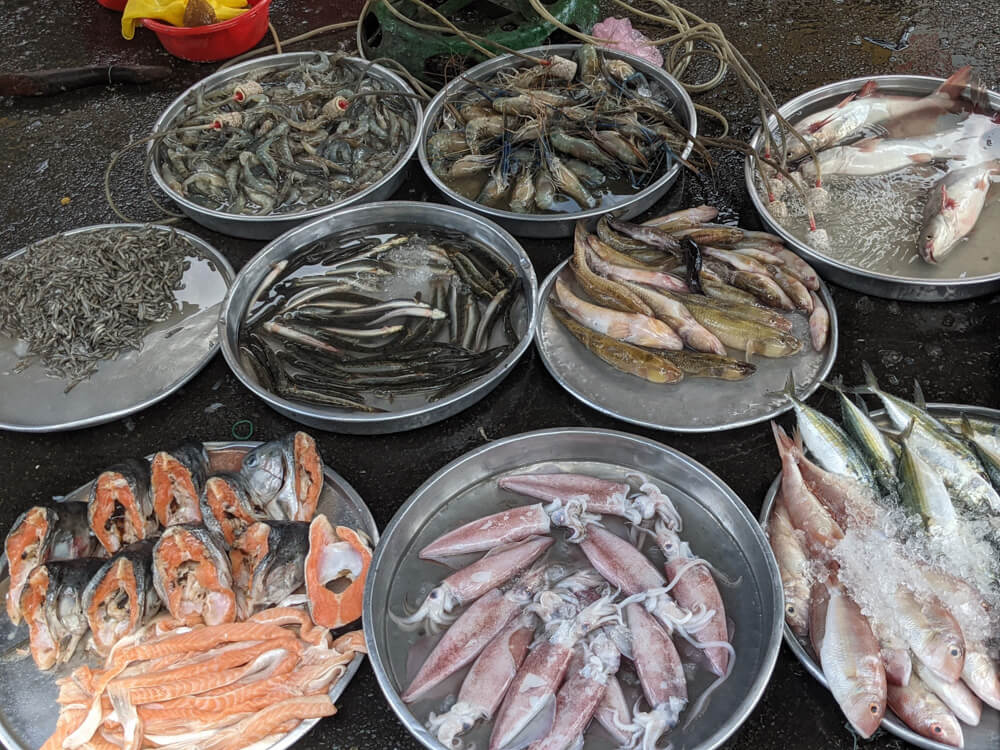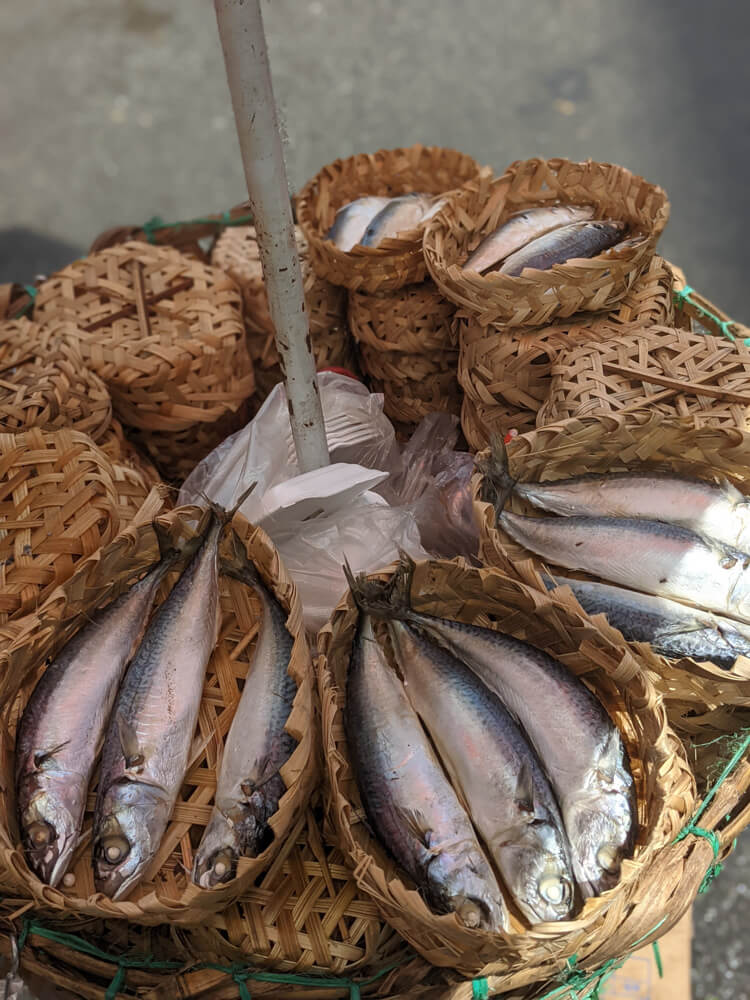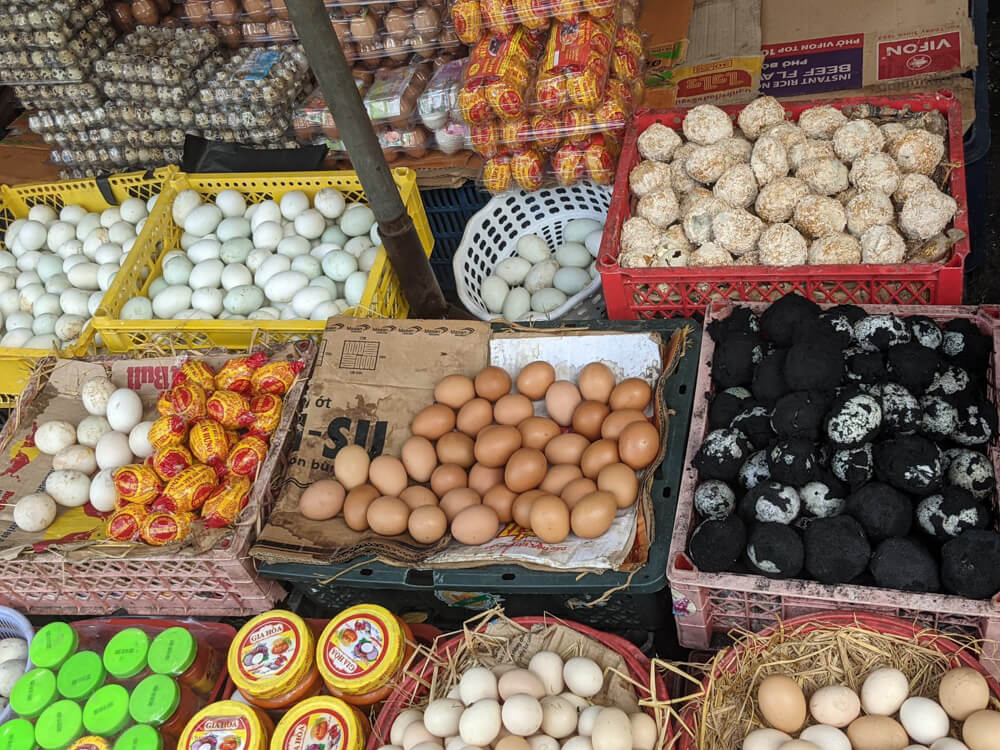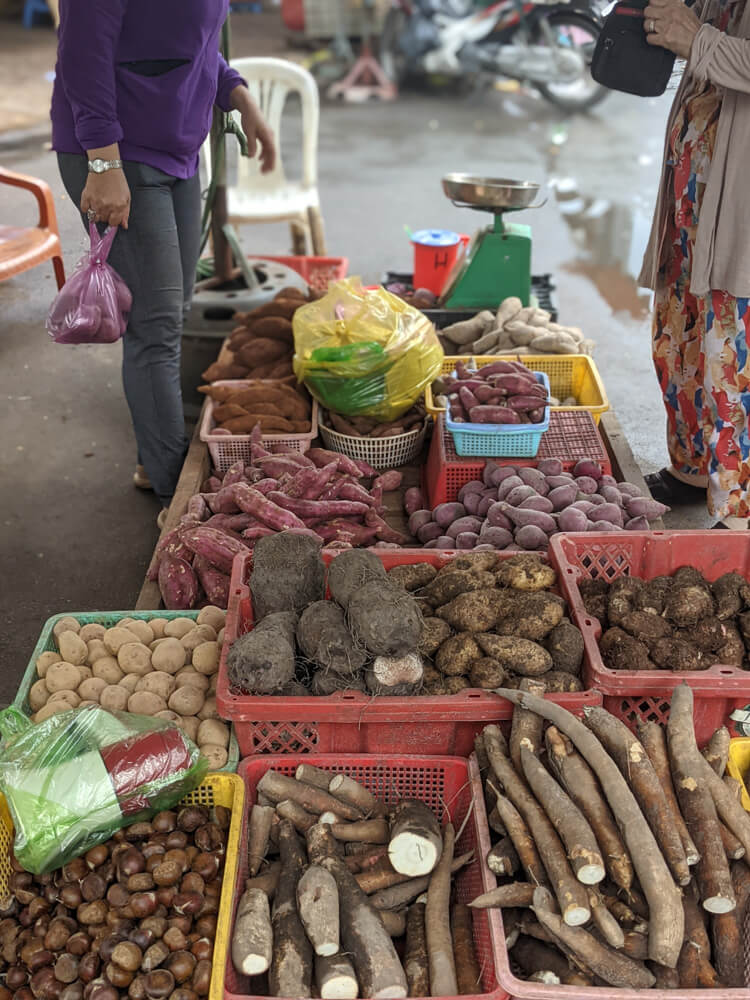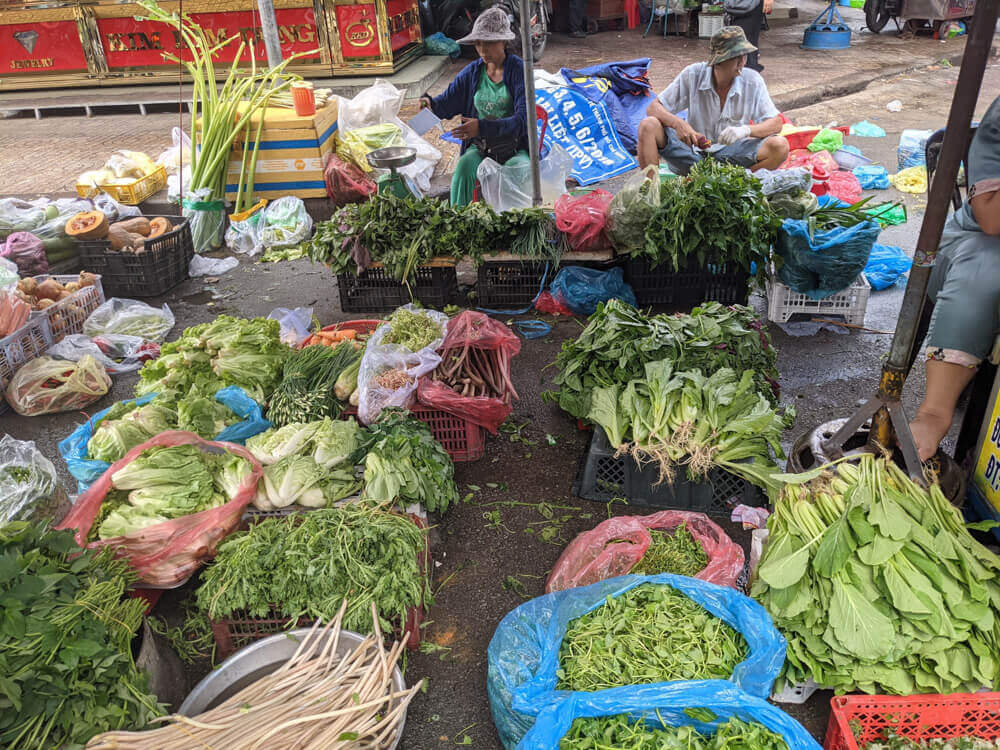 My partner wanted to see the Ben Thanh market — an old market that has stood in the same building since 1911. The origins of the Ben Thanh market — literally harbor citadel market — goes back to the 17th century when the vendors informally came together near the Saigon river to trade.
But on our way to Ben Thanh we were stopped by a restaurant whose on-the-road tables bustled with people while a river of customers flowed on the road outside. At every table sizzled a barbecue plate or simmered a hotpot. Of course, we were going to have one of the two.
Hotpot Party at Night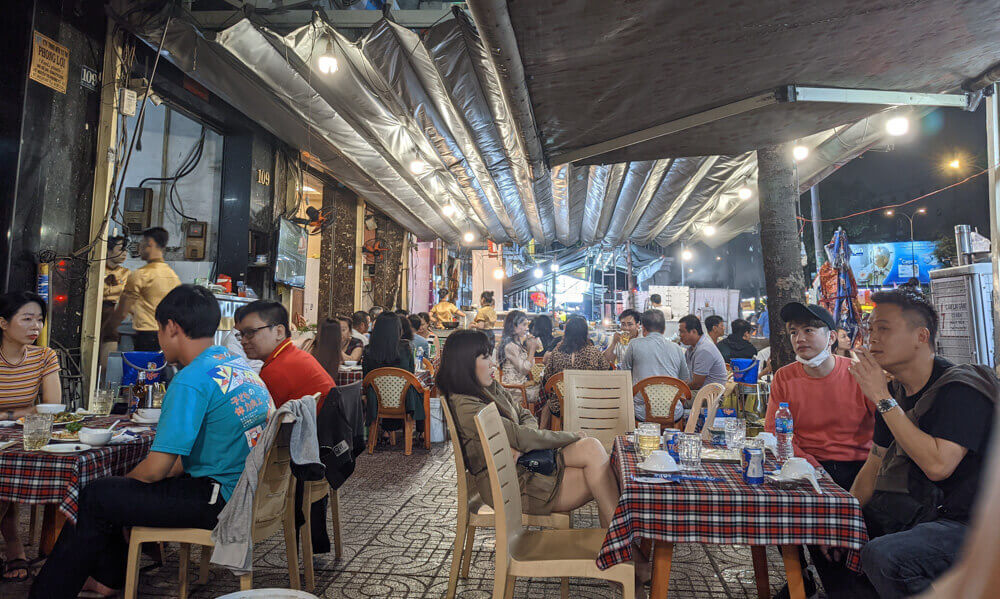 A server rushed to us, showed us the menu, and took us inside into a caged ocean breathing and gurgling and writhing. Glass cases full of living things — snails, oysters, crabs, prawns, fishes, and octopuses in different colors and sizes — were on display for customers to choose their dinner from. We chose pink catfish for our hotpot and some snails.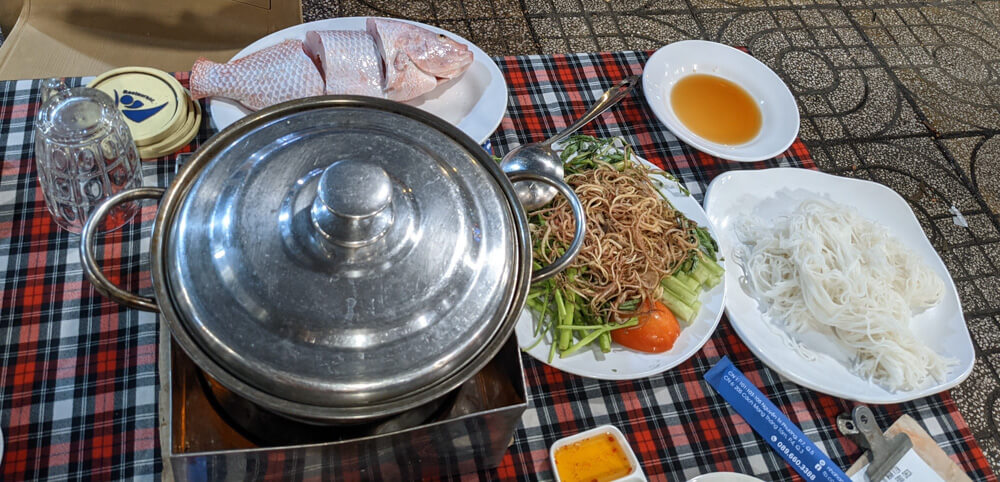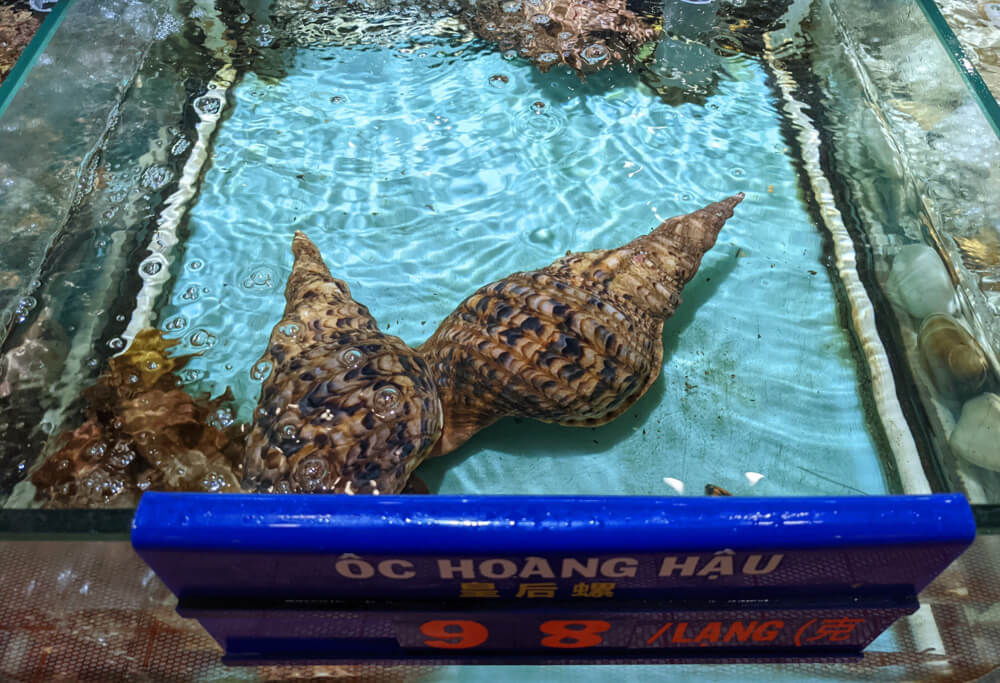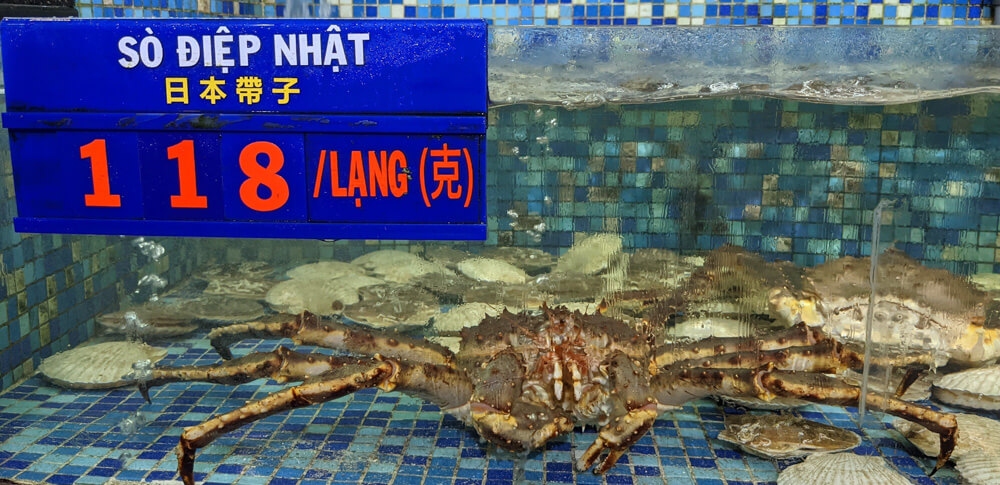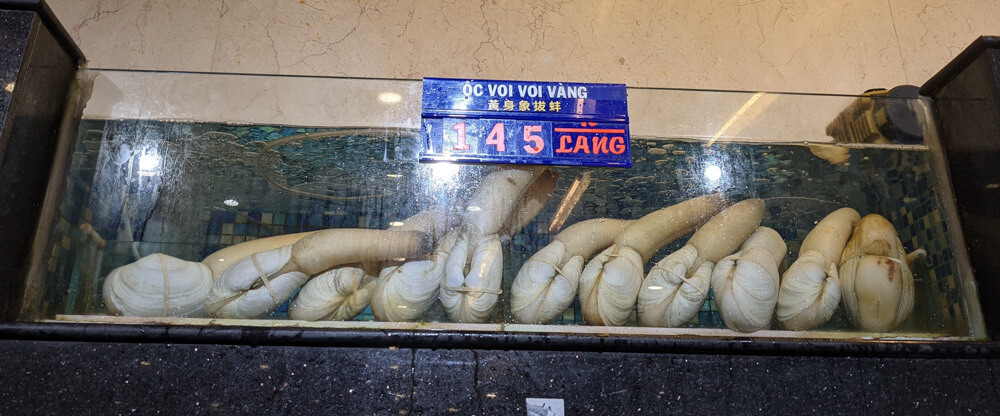 The hotpot was to be sweet and sour and the snails would be made with lemon garlic. It wasn't even seven so not all tables were full, not that in the two hours we were there they turned back any guests. We sat on the pedestrian way with a Saigon beer and admired the efficiency of the five valets who got rid of the oncoming cars and scooters stopping by the restaurant while the servers led the guests to tables. Families were eating out, a girl in a beautiful black dress was celebrating her birthday with friends and family, children were out with their old parents, and couples and friends were all talking away into the night — the crowd was a small town in itself.
Over time we realized that Vietnamese go out and drink beer and eat together to relax and enjoy. While they are sitting together for a meal, you wouldn't find them constantly on the phone. And mind you, most people in Vietnam carry iPhones or other expensive smartphones so the sharing is not inspired by the lack of phones.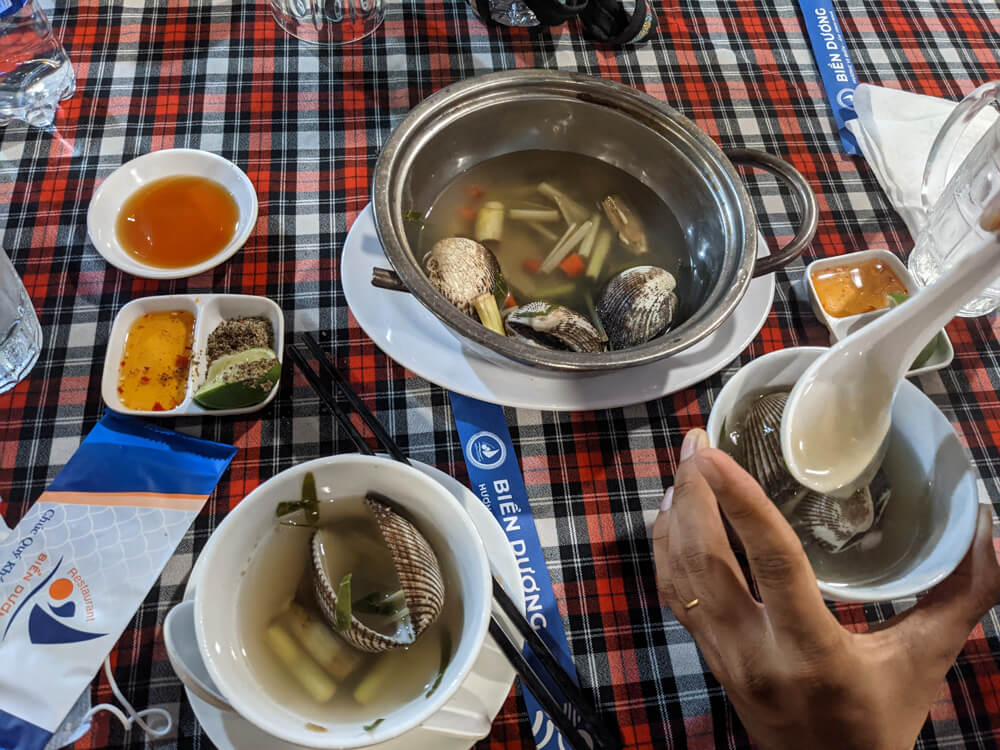 Because the oysters didn't pop open we had to call the server — one of the many young girls donning tight bright dresses — who took the soup back to reheat it — and didn't bring it for another 15–20 minutes. Another server brought the burner, the soup bowl arrived, and a little later the fish was put inside. Like pho, a plate of greens accompanied the hotpot but was larger than the one with the soup.
While we started drinking the soup, the fish cooked and the greens softened. Once back in Mandalay we had stopped at a hotpot restaurant by chance. How much had I wished not to have ordered that pot which not only needed me to assemble it, turn it on, and simmer it down but also made me feel that I could not eat such a leisurely meal while a hired rickshaw driver awaited us! But that night hotpot in Saigon was being managed by the servers and all we had to do was eat. By the time the hotpot finished, I felt I had been on a long adventure.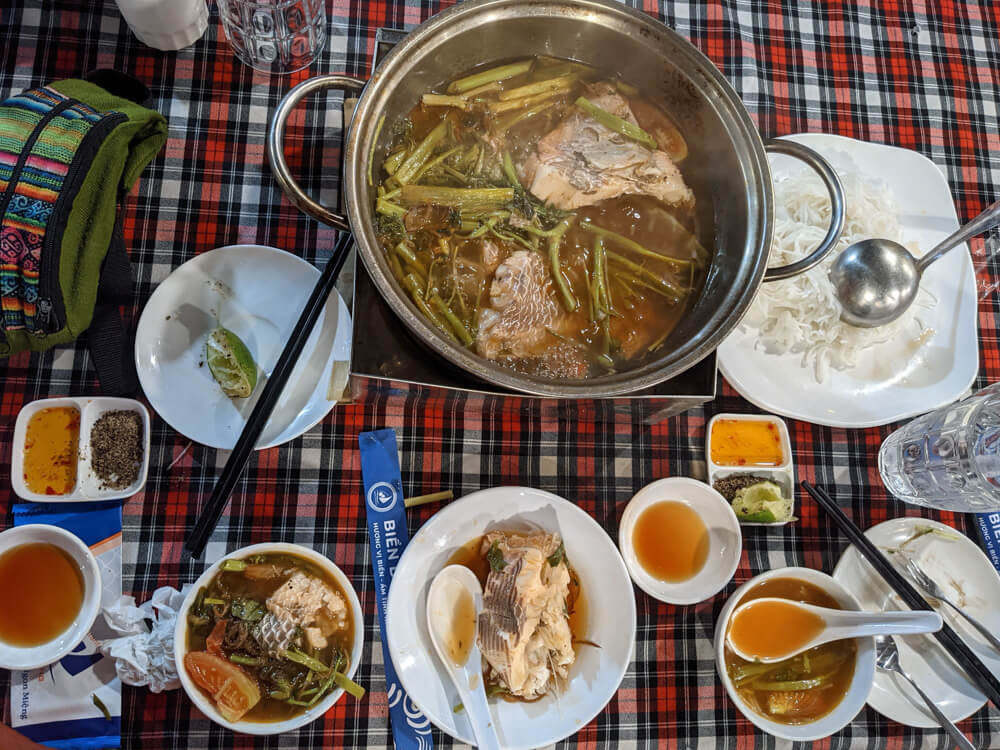 Don't go for a hotpot if you are tired, a mistake we made one or two times later on our Vietnam journey. Back at our hotel we fell asleep faster than a baby fed with milk.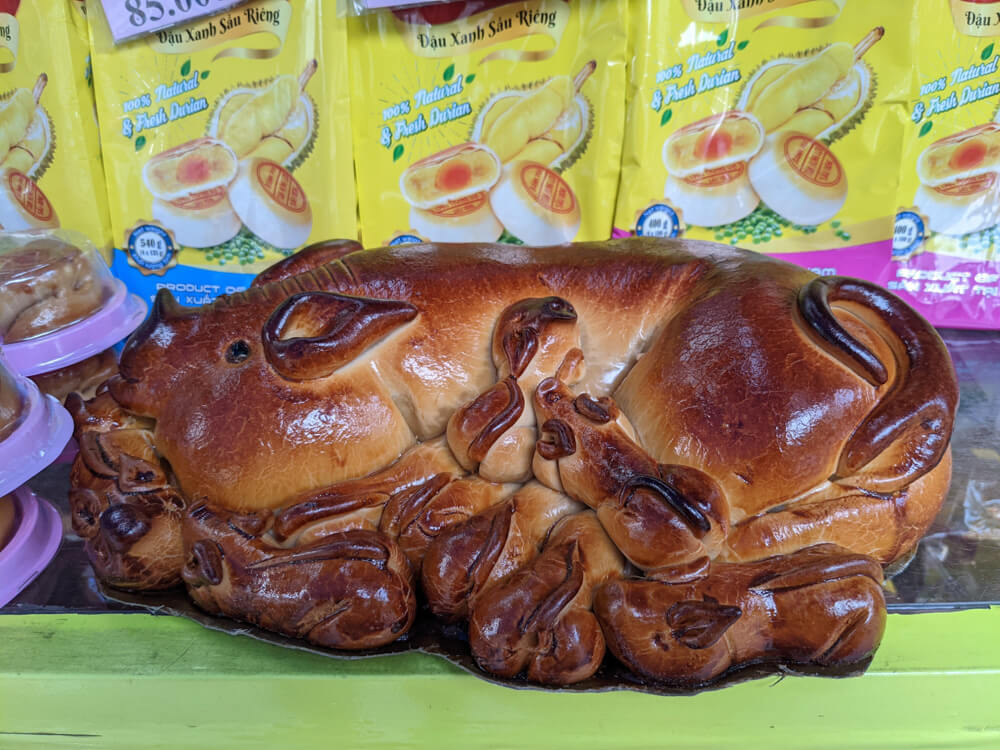 Day 3 of Ho Chi Minh City Travel
The third day in Saigon was a bit of a quest to find a Nikon camera battery, battery charger, hiking shoes, and tickets to the Mekong Delta.
Planning our Vietnam Trip from India – A Little Flashback
So we had flown to Ho Chi Minh city from Kolkata. But only a week ago we had been in Pondicherry. First, we had booked our flights to Saigon from Chennai and had planned to park our car in Auroville — where we had been for the past eight months. But the thought of leaving the car back in the guest house we stayed in was discomforting. But where else could we park it? We don't have a permanent address. Our parent's homes are too far and we didn't have any friends in Chennai. The option of parking the car in a paid parking lot in Chennai sounded like a lot of effort which could still result in an unreliable solution.
Ten days before the flight, I asked my friend in Kolkata if we could park our car at her house. There were 3-hour flights from Kolkata to Ho Chi Minh city. She lives in a Ganga-river-facing apartment — from where I am writing this guide — and most apartments here are unoccupied leaving the parking pretty empty too. We all agreed it would be okay to leave the car in her parking where she keeps her car as well.
I canceled the tickets from Chennai and booked fresh ones from Kolkata. Though the flight was now much shorter and we didn't have to take connecting planes, the flight cost us the same — and there were no free meals and free seat options on this one unlike on the one from Chennai.
But what could we do? We packed our stuff, started on the drive from Pondicherry to Kolkata a week before our flight, and stopped on the eastern coast of India at Visakhapatnam, Chilka Lake, ancient caves of Jain ascetics from about twelve hundred years ago, and so on. The camera battery and its charger everything had been out in the car and while packing at the last minute in Kolkata — because we had arrived Thursday late at night and had to leave again Friday late at night — we forgot to take the battery and the charger from the car.
I had lost my shoes a while ago and my partner forgot to pack his shoes. Though I had planned to buy a pair in Kolkata I hadn't got the time to do so.
Shopping in Saigon, Vietnam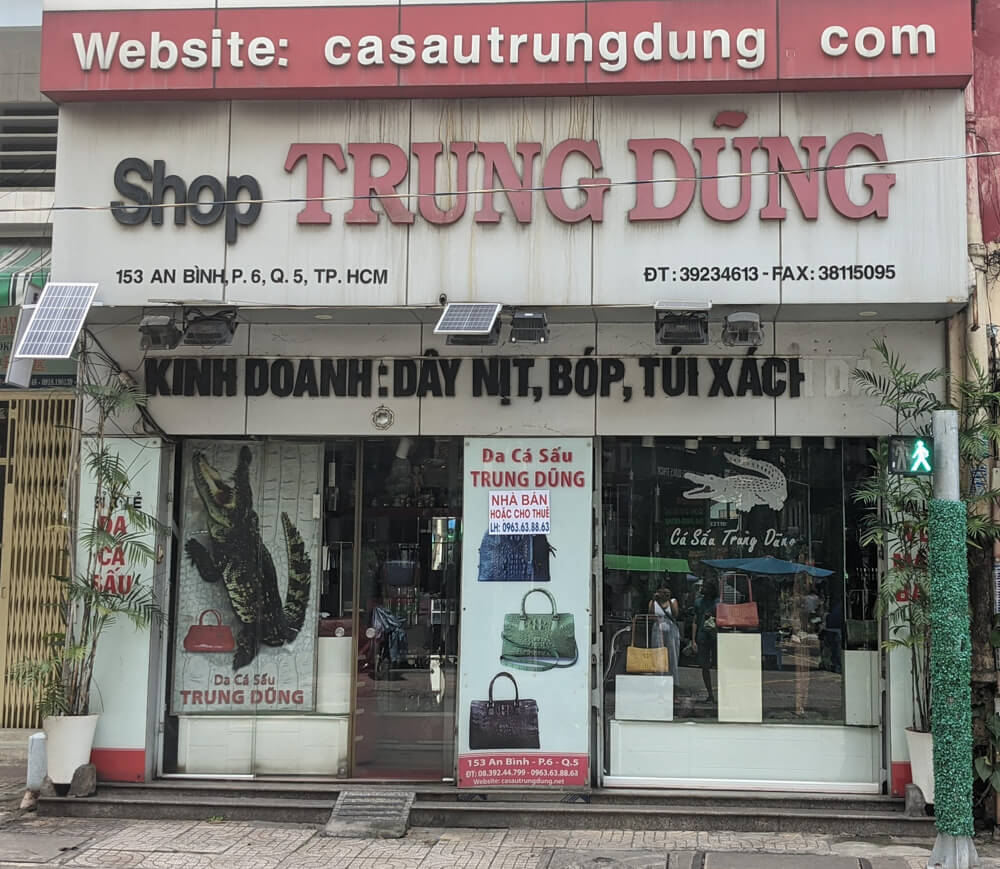 On our third day in Ho Chi Minh city not only did we roam around looking for a ticket to Ben Tre, the place in Mekong Delta we wanted to visit, but we also checked out many shoes in Salomon and Adidas stores, and the malls of Saigon. Let me tell you if you are planning to buy shoes in Saigon then either get ready to pay a lot for limited choices or go to the Ben Thanh market where you will get a fake copy of the latest models.
After hearing the prices of Salomon shoes, I placed all my bets on the Ben Thanh market. And such is our luck that on the way to the market we also found an electronics shop.
That electronics store was the one to which locals had directed us when we had enquired about the camera battery before beginning our shoe search. We had arrived at the street they had mentioned but upon realizing that the street was too long and how could we find a camera shop on it, we had gone straight ahead to the Salomon store. And while walking to Ben Thanh we landed right in front of the camera shop. If life is not serendipity, then I don't know what it is.
But we didn't buy the camera accessories from the shop hoping we may find cheaper stuff in Ben Thanh. So all our hopes were on the Ben Thanh market.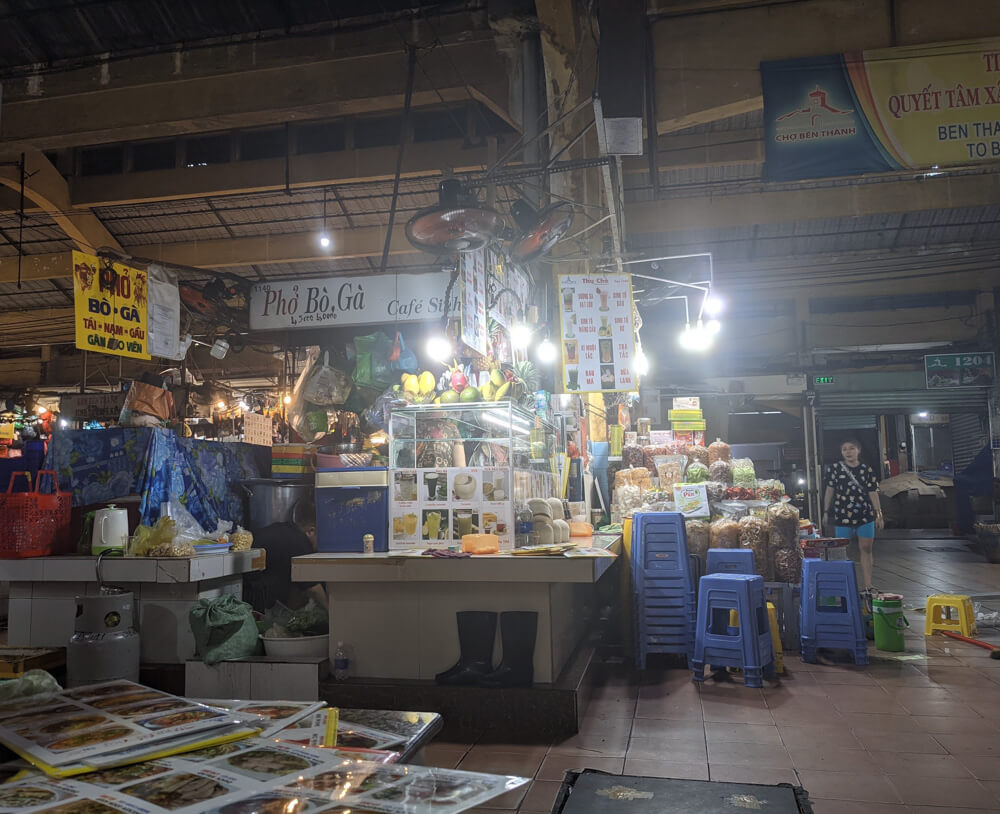 By the time we arrived at the market, most shops had closed (it opens from 6 am to 6 pm but some food stores function until 9–10 pm). But we did find our way in the shoe street and tried many pairs and listened to vendors' "please help me" pleas while they tried selling us shoes that didn't fit and we didn't like. Eventually, at the back of the lane we went inside a shop where the saleswoman — also the owner — wasn't choking us to buy from her shop, we could breathe, and she didn't immediately say "have" "have" when we asked her if she had a size and instead waited for her boys to update her on the stock.
My partner got nice Adidas shoes that haven't slipped on any surface, yet, and I got one Salomon — exactly the kind whose original was a few million Vietnam dong — and that has slipped on moss and slippery rocks. Both shoes cost us about 900,000 Vietnamese dong.
All the electronics stores in Ben Thanh had closed so we ran back to the shop where we had found the camera battery. Even though the guy had said he would close at 7, we found his shop closed about ten minutes before seven. Tough luck I guess, or should I say we should have capped our greed at that store instead of searching for something even more affordable. We turned back and rushed to the market before all the food stalls also shut down.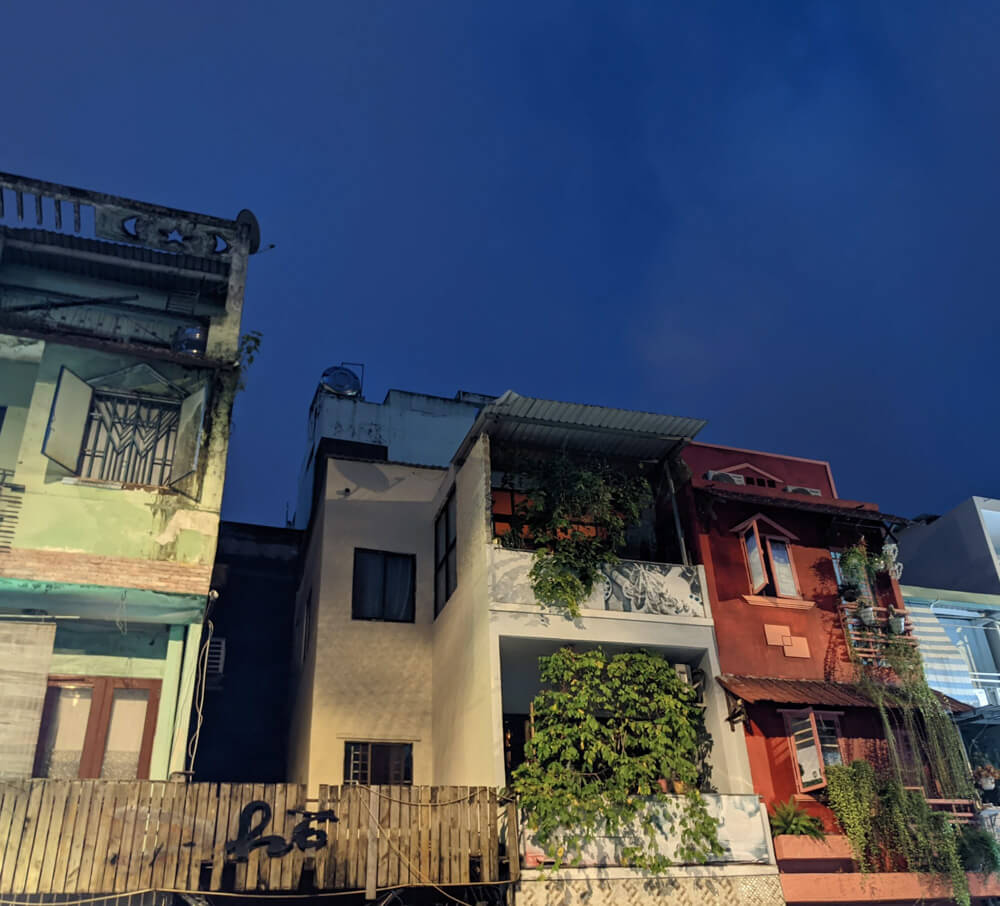 Buying Bus Tickets
Oh in this treasure hunt for shoes and Nikon battery and charger we had also found the bus station of a bus company called Futa — Phuong Trang in Vietnamese — and had figured out what time we needed to show up at their office the next day to take a ride to Ben Tre. Those bus conversations in Vietnam were the hardest as the attendants don't speak much English. But the larger problem was that some of the attendants froze at the sight of foreigners approaching the counter. I think all of them go quiet gazing hard into their computers with their fingers crossed hoping a foreigner would not show up at their counter or else they would have to understand and converse in English. (Much like I used to avoid Spanish conversations upon arriving in Chile.)
And most Vietnam cities and towns didn't have a ticketing system at a central bus station from where we could buy our tickets. Or the bus stations were too far. Or we couldn't understand the information displayed. Or there were private bus companies that provided far more options for timings and stops.
So you have to deal with travel agents and hotels and other bus booking services. Everyone gives different prices, different information, and different times. And Ho Chi Minh city to Ben Tre was a direct bus but when later we didn't find direct buses to some destinations, such as Nam Cat Tien National Park, the whole process became even more challenging.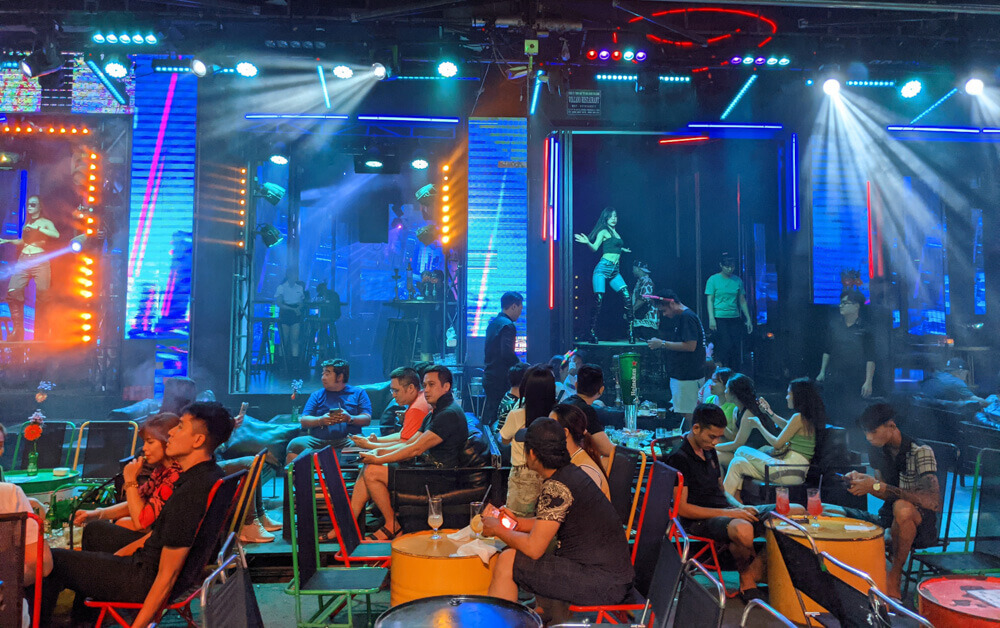 Dinner in Ben Thanh Market
After everything we arrived back at the market to find only two-three food stalls open. I ordered a noodle soup with seafood, and my partner got a Banh mi with eggs. Yes, he had gotten the taste of Banh Mi by then about which I will talk in detail in another travelogue. We gulped down many mango and orange juices and celebrated with a beer at the restaurant opposite the market. After all, we had bought everything we needed and had managed to eat at the Ben Thanh market too.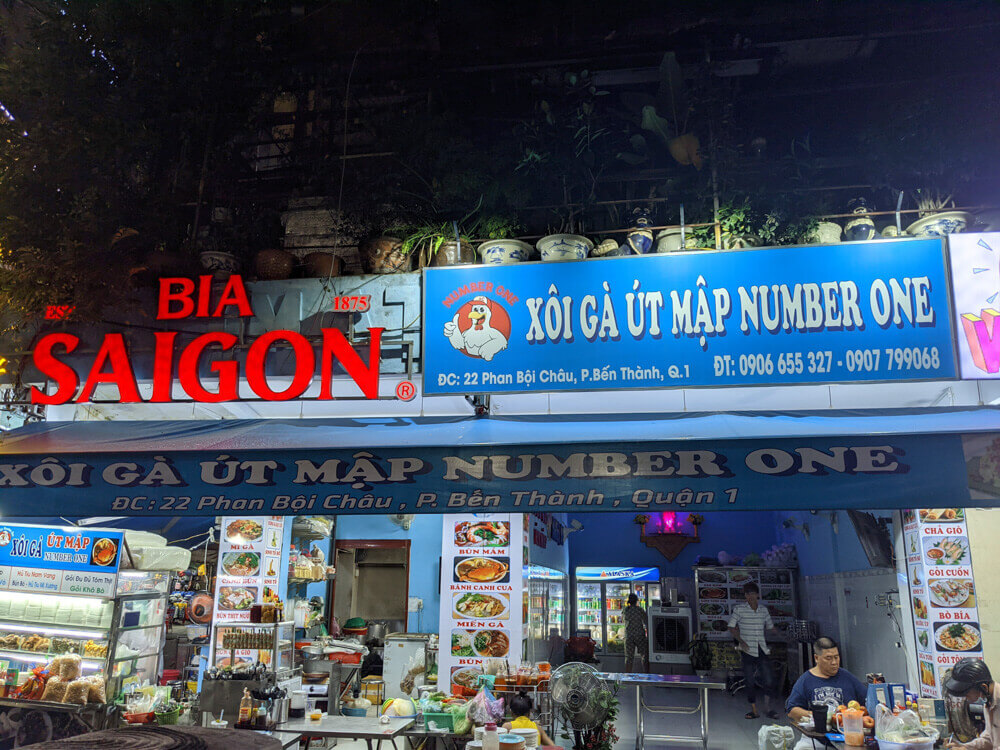 We took a taxi to the bus station the next morning. Saigon had treated us well. Those three days had been adventurous, fulfilling, and joyful. And to say we were only getting started with our Vietnam journey!
Where to Stay in Ho Chi Minh City Vietnam?
We stayed at Sai Gon Homestay in District 5 for three nights. The location is perfect as District 5, also the Chinatown of Saigon, locally known as Cholon, is full of places to eat, is near to many attractions, walkable to Ben Thanh Market, and a very short ride away from the museum.
There isn't as such as specific Chinatown market in District 5, but the whole place is a Chinese settlement. If you wander off into the alleys, you will find yourself in the middle of households with chickens, ducks, pigs, dogs, and everything spilling out of their homes into the streets, like in all of Asia. Small but tall homes stand hugging each other in the narrow streets. When I wandered into the alleys of Cholon, I found many people doing their daily activities just outside their house. It is a cultural area, and if I go back to Ho Chi Minh city I would stay in District 5 again.
Our room was reachable by a flight of stairs, had everything mentioned on Booking (from where I booked the place), and the host gave us five-liter cans of free drinking water. The bed was comfortable, hot shower worked perfectly, the room was sound-proof, and we had everything we needed.
You can book this place without thinking. Go here to look at availability and prices. Have a nice stay in Ho Chi Minh City.
Or browse through other guest houses in District 5 Saigon here.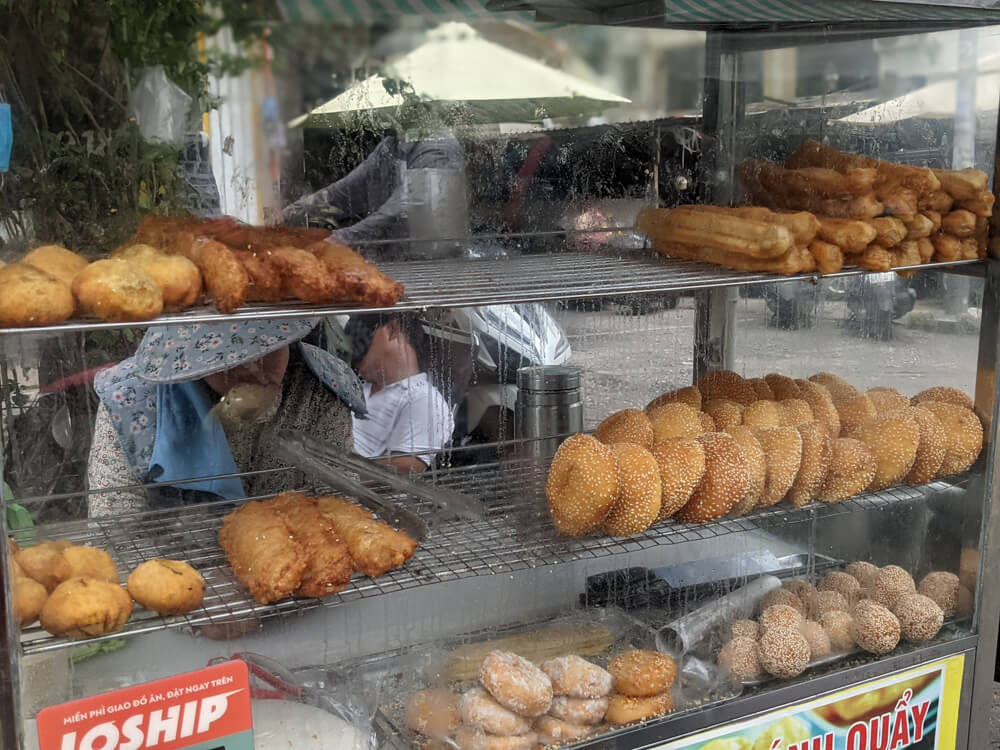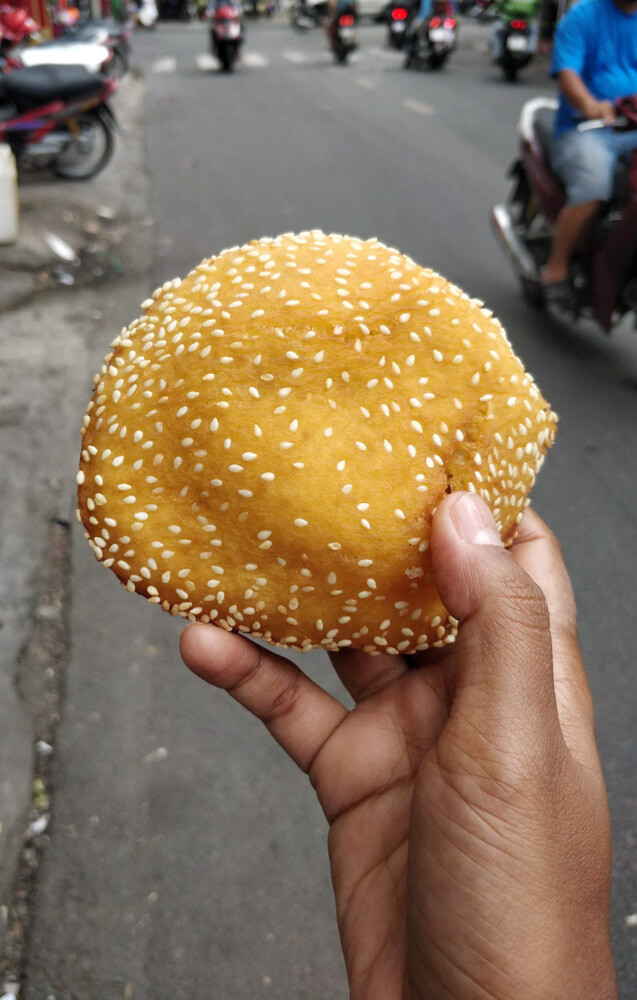 Post Covid-19 Update for Traveling in Vietnam, Vietnam E-Visa, and Other Logistics
Except our visas and passports the immigration officers didn't ask for any document. While applying for the visa, I had read that we would need an insurance that provides us covid coverage. Our insurance did cover us for covid but neither anybody in Vietnam nor in India asked us to show the insurance.
You can apply for Vietnam e-visa on the official website here. Our visa took about three-four working days, was valid for thirty days, and needed to be printed.
Masks are not mandatory in Vietnam anymore. Most accommodations, restaurants, and tours have reopened. The prices have soared up in Vietnam after covid-19, like in all other places. Grab and Gojek taxi works in a lot of places, but not in all. You can pay in cash.
If you are traveling from India, keep your covid-19 vaccination certificate handy. We were asked for it while boarding the return flight to India.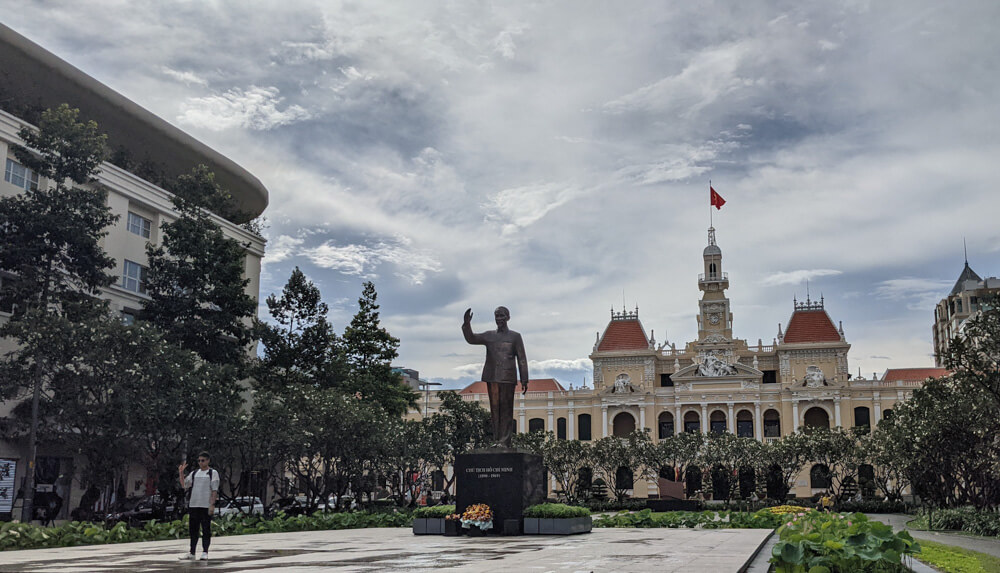 What did you think about life in Saigon, Vietnam? Would you want to visit?
*****
Donate to keep me going!
For five years, I've read and wrote day and night to keep On My Canvas - my sustenance and life's focal point - going. Everything here and my weekly newsletter "Looking Inwards" is free. No ads. No sponsorships. If you've had some good moments reading my posts or felt hopeful on a lonely day, please consider making a one-time or a consistent donation. I'll really appreciate it (You can cancel anytime).
*****
Want similar inspiration and ideas in your inbox? Subscribe to my free weekly newsletter "Looking Inwards"!