I did not know that there is a Colca Canyon in Peru until I reached the Arica Chile border to cross over into Peru. When everyone in Arequipa asked me if I was going to hike Colca Canyon, I nodded. As a lazy travel researcher, I believe in improvised navigation. I had no idea what to see in Peru and went with the flow.
I decided that I would do the Colca Canyon hike, but I didn't realize that this Peruvian canyon was twice as deep as Arizona's Grand Canyon. When the travel company with whom I booked a two day Colca Canyon tour asked if I had any trekking experience, I thought about my recent Villarrica volcano endeavor. I nodded while dreading the Colca trek for though hiking the volcano had improved my confidence, the 3,300 meters deep canyon hike sounded ambitious.
But without a trip to Colca Canyon, my Arequipa visit would have been incomplete. So I paid 120 soles for the 2 days hike, ate a heavy dinner, and hit the bed early.
The next day at 3 am, the hour of the Satan, I boarded the pickup van with a growling stomach. Soon we were speeding on the Arequipa-Colca Canyon road, but the enthusiasm of all 10 of us travelers had been taken over by desperation to sleep. The roads were smooth, and we all dozed off into the world of dreams again. While writing this article I found out that those nice roads didn't exist until 1980 when a hydroelectric project sprouted up in the valley. I bet that the 120,000 tourists who visit the canyon every year would not have gotten even a glimpse of it back then.
Having driven for three hours, we stopped at the small village of Chivay, which is at a height of 3,650 meters above sea level. After gorging on bread, butter, and jam, and downing some instant coffee we were soon headed to the much-awaited viewpoint La Cruz del Condor to see the Andean vulture.
Colca Canyon and the surrounding valleys are dense with condors. At the viewpoint, many tourist buses unloaded travelers from around the world who wanted to see the majestic bird with a wingspan of up to 11 feet. We chatted with the locals who were selling llama wool sweaters and bufandas, artifacts, snacks, water, and juices. And from nowhere suddenly many condors hovered above us. They were gliding in the sky searching for prey. I guess I must have been pretty awestruck by their beauty for I couldn't click any graceful photo of the giant hunting bird.
Recommended Read: My 11,000-words-long travel guide to Peru.
I stood at the edge of the valley and gaped at the 1200 meters drop. I wondered what would my mother say if she knew I was gazing down a thousand meters slope when she got scared even if I stood at the edge of our three-floored home's roof.
After admiring the condors and paying the Colca Canyon entrance fees, we started our descent from Mirador de San Miguel (10 kilometers away from the condor viewpoint.)
By now the landscape had changed. The Colca river which originated in the Andes some 200 kilometers away had carved out the volcanic rocks to form the Colca valley. We were inside that valley and making our way down to the mouth of the canyon. Milky clouds floated next to us, and we couldn't spot any of the forty or so volcanoes that the experts say surround the valley.
Must Read: Visit Cusco – Cultural and adventurous things to do in and around Cusco. 
Gorgeous mountains covered with cactus, wild ferns, and weeds circumscribed us from all around. Their steep slopes were made into terraced fields by the locals who might have been farming that way since pre-Inca times for their Quechua and Aymara speaking predecessors had inhabited the area even before 13th century AD.
For a while, the sun didn't rise, and we walked in shade making sense of the fathomless views. Juan, our guide, told us that we had to walk fifteen kilometers to arrive at our night stay.
The beginning of the hike was a mix of uphill, flat, and downwards slope. And whenever we had to trudge even a small incline, we panted for we were at an altitude of at least 3,300 meters (the deepest point where we could go was at a height of 2,160 m).
As rivulets of sweat trickled down my temples, I wondered if I would be able to hike up a thousand meters the next morning. But I could not have forever lived in the Canyon, and I am too proud to ride mules.
Praying for my knees, I rushed down the canyon while others were mostly ahead. After trekking for two hours, we reached a suspension bridge where the group got together again. And then after a small uphill climb of about twenty minutes, we stopped for lunch at a cute home in a tiny village called San Juan de Chucho. A simple meal of soup and chicken at Posada Gloria filled us with energy. You can also stay at this cute bed and breakfast if you are doing the trek yourself, about which I will talk later.
I couldn't help but wonder at the helplessness and strength of the people who lived at such heights. Imagine if you had to ascend or walk down every time you got out of your home to get some vegetables or oil.
Saying goodbye to our hosts, we walked towards the town of Cosnirhua. The forest fringing our side was dense with fig, plum, and avocado trees, medicinal herbs, cactuses, bamboos, and a myriad of colorful flowers. It does not take more than that to keep me entertained. Occasional views of vicuñas helped.
A preparatory read for your South America trip: My list of important Spanish phrases that will help you
And then we crossed Malata to continue walking towards the Oasis Sangalle, the bottom of the canyon. The place justified its literal meaning for it offered many lodges and hotels in the middle of a canyon. We stayed at the Paraiso Las Palmeras Lodge which flaunted a deep-blue swimming pool, a restaurant, and a bar.
While I was wondering how the owners got permission to build such commercial stays in the middle of nature's most wonderful creation, my traveler friends called for beers. After swimming in the pool, plucking some green mangoes, and downing a beer we were ready for bed. The fact that Oasis Sangalle didn't have internet aided our early bedtime.
The next morning at 4, we were climbing the path up the Colca Canyon. Juan told us that that trail was shorter but steeper. And then he said that those who didn't make the hike up before sunrise would have to ride a mule to catch up with the rest of the group.
Concomitantly, I worried. Would the mountains grow in height if we climbed them slowly? I understood that hiking under the sun would be challenging but how could I tell that to my weary legs?
While most of our group walked ahead of me, an Austrian girl and I trudged behind. And then we saw an old couple hiking up with walking sticks and a smile on their face. From then on I decided that if I didn't enjoy the hike there was no point in doing it at all. I couldn't give up when men and women years older than me were pulling it together to reach the summit on their feet.
After that, I listened to Juan on and off and ascended one step at a time while soaking in the views as the twilight had started dissolving the darkness. And out came the green and brown slopes of the mountains that lay peacefully for us to climb. Slowly and steadily we made to the top in almost three hours.
We did get a cheer from the group at the top but Juan asked everyone to start walking quickly for we had to hike another twenty minutes to Cabanaconde for breakfast. My numb legs screamed for mercy, while my famished stomach pushed them to continue.
The exertion of the trek was somewhat absorbed by the Colca Canyon hot springs at Chivay on our way back.
A helpful read if you are visiting Peru: Peru visa guide for Indian citizens
Where is Colca Canyon?
Colca Canyon is about 200 kilometers North-west from Arequipa.
What is the best time to visit Colca Canyon?
I went to the canyon in March. Though Peru was rainy at that time, it never rained in the canyon while we were there. The best season to visit Colca is the dry season which starts in April. But visit the canyon by August for after that the weather in Colca Canyon would be cold.
How deep is the Colca Canyon? Or how high is Colca Canyon?
Though I have thrown the numbers at you throughout the article, let me reiterate for the heights and depths confused me when I went there.
The descent begins at 3,300 meters above sea level, and the deepest point you can go up to is 2,160 meters above sea level. Though you are always at a minimum altitude of 2000 meters, you hike down and up around 1200 meters, which is a lot.
How to prepare for hiking Colca Canyon?
Take a two to three days time to get used to the height before you head to trek the canyon. Walk around in Arequipa. Your body will get acclimatized and produce extra red blood cells at that height that you would need because of the lack of air. Don't drink alcohol before the trip as it will dehydrate you. But befriend with water and drink as much as you can, if you don't already.
Most people think of Arequipa and Colca Canyon as a preparatory stop before they hit the Cusco and Puno altitude. I am sure my Colca experience would have helped me when I dealt with the 4000 meters Puno altitude next.
What to carry for the Colca Canyon hike?
You don't need to take your entire luggage down the trek. Just carry the essentials.
Listing down some of the important things you should bring with you on the trek,
A rain jacket

– Always carry one in the Latin-American countries for you never know when it might rain.

A hat for the sun – Too much direct sun at those heights isn't good while hiking.
Strong sunscreen – Andean mountains can be pretty sunny, and you would burn in a minute

Lifestraw water bottle

– This reusable filtered water bottle comes with an inbuilt filter, and you can fill it anywhere. A filter water bottle is essential for you cannot drink tap water everywhere in Peru.

Swimwear for women

 and 

swimwear for men

– There is a pool down at the oasis. The tour would also take you to a natural hot spring while going back to the Colca Canyon.

Good hiking shoes for women

 and 

good hiking shoes for men

– A must-have for the hike.
A 

travel towel

 – Carry a light travel towel like this one for it will save you a lot of space.
Flashlight – Please don't go without this one.
A pair of change for the next day
Snacks (as snacks down the canyon or on the way are expensive)
Medicines for altitude sickness and dizziness
Some cash to buy some extra food and drinks.
Should you take a 1 day Colca Canyon tour or a 2 day Colca Canyon tour?
Colca Canyon day tour from Arequipa doesn't sound good to me.
But this is a good option if you just want to peep down the canyon or feel unprepared for the trek( in which case you should go later). For on a day trip to Colca Canyon from Arequipa you won't go deep down into the canyon. The tour group will take you to Chivay, stop at souvenir shops, make a halt at the Mirador Cruz del Condor where you will crane your neck and hopefully see a few condors while jamming amongst the people, and then you will be driven to Arequipa.
The distance from Arequipa to Colca Canyon is almost 200 km, and you need at least 6 hours for the return trip. So you can imagine how much you will be able to make of the views.
The best way to see Colca Canyon is by descending into the mouths of the giant.
The central square of Arequipa or the white city is lined with Colca Canyon tour operators. Go to a few and talk to them about the prices.
You can either opt for Colca Canyon two day tour with a one-night stay at the canyon, which is what I did. Or you can choose to do a 3 day Colca Canyon trek with two nights stay, one midway and another one at the bottom of the canyon.
Another option instead of doing the trek is that you hire donkeys both the way and inform the tour company that you would need donkey's service. I don't think that is a bad way to experience the canyon for you won't have to do the trek and the locals will make some money which would, in turn, feed the lovely mules.
Or if you don't want to hike, consider these two-day tour and one day-trip that show you all the good places around the canyon but don't take you inside, a compromise for not trekking the canyon.
How much do the tours to Colca Canyon cost?
I paid 120 soles or about 35 USD for the two nights and one day tour. The accommodation was basic, the breakfasts were average, and neither the 70 soles entrance fees to the canyon nor the 15 soles tickets at the hot springs were included in this price. PeruHop which is a reputed company for the Colca Canyon hike charges about 40 USD as of today (22 Feb 2019) for a similar plan.
Ask your hotels and the tour operators for what is included and then decide as per your priorities.
Should you hike the Colca Canyon without a guide?
You can trek Colca canyon on your own.
If you are two or more people and want to try the self-hiking thing, then Colca canyon is a good place to start. I felt a bit pushed by the guide to take us back up to a certain time even if we had to hurry up without enjoying one of the most beautiful treks in the world. If you do the trek yourself, you can walk at your pace.
Many travelers I met while walking down and later in Puno told me that they had done the hike themselves at leisure. So your idea of doing it yourself is not bizarre.
Go to the tourism office in Arequipa and ask them for a map of Colca Canyon and bus schedules to Chivay, the closest village with road accessibility. Take a bus from the bus terminal in Arequipa to Cabanaconde. Or book this comfortable one-way bus transfer to Chivay. 
Tiny villages keep the mountains alive as you descend down. They also serve as places to stay and eat at. You can sleep in San Juan and Sangalle. Or in another village called Llahuar.
Doing this hike yourself could be a good start if you are planning to do the Machu Pichu treks later on your own. This trek would let you know what you are missing, whether you are good as a team, and if you really like to manage your hikes yourself.
Here is an exhaustive guide to hiking the Colca Canyon without a guide.
You can also go from Arequipa to Puno via Colca Canyon or from Puno to Arequipa via Colca Canyon. This would save you the time of going back to Arequipa if you wanted to go to Puno, and vice versa. I didn't think of this route for I never know my plans until a day before I travel.
Is Colca Canyon worth the pain?
Absolutely. How often do you get to walk deep inside a gorge while discovering its history and talking to the locals, while you are cradled by stunning views?
Trekking Colca Canyon is underrated. When I reached the summit after plodding along for three hours without much food and under the scorching sun, I couldn't help but think that I could do anything that I set my eyes on.
If you are looking for that feeling, head to the canyon and see for yourself.
After the trek, I decided to go to Puno instead of Cusco which turned out to be a good decision. The next morning I woke up without an alarm. A big breakfast, quick taxi, and a comfortable bus to Puno accompanied me that morning.
As my eyes wandered through the beautiful green Peruvian landscape from the window seat of the bus, I looked forward to the upcoming months of travel through South America and wondered what other fears my journey will strike off.
My guide to exploring Puno will help you plan your journey to the quaint city on the shores of Lake Titicaca.
Must Read:
Don't go to South America without reading
this guide
Are you planning to hike Colca Canyon or will you skip it?
Like my guide! Please pin it and share it with the world.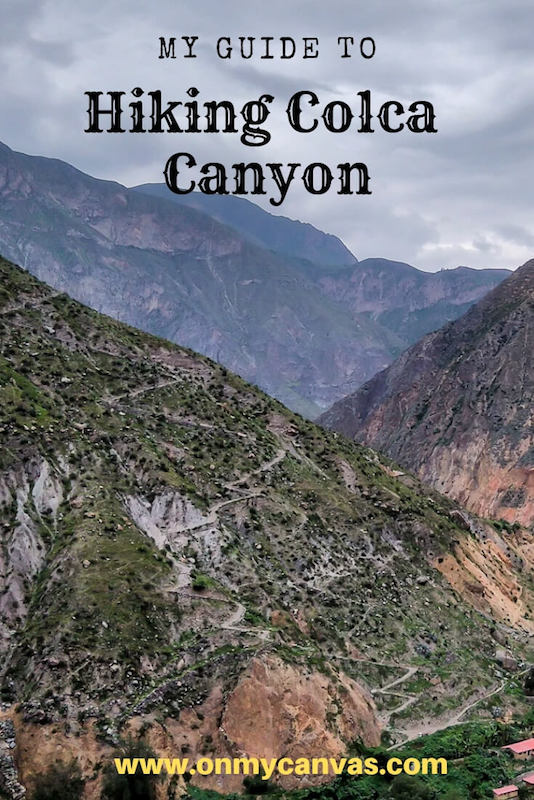 Disclaimer: This post contains affiliate links to the products I like; if you choose to click through and make a booking or purchase a product, I will earn a little bit at no extra cost to you. Thank you.
*****
Want similar inspiration and ideas in your inbox? Subscribe to my free weekly newsletter "Looking Inwards"!