Covid-Related Travel Update July 2023 – Peru is now open to international travelers. And as per Supreme Decree 130-2022-PCM in Peru's official gazette El Peruano, Covid entry requirements and all other regulations and restrictions were lifted from November 2022. You can also look at the official website of the Peru government for more information. My Peru Visa guide for Indian citizens would be helpful, too.
Daring Colca Canyon, Peru
I did not know about the Colca Canyon in Peru until I reached Arequipa. When everyone in Arequipa asked me if I was going to do the Colca Canyon trek, I nodded. As a lazy researcher, I believe in improvised navigation. I had no idea what to see in Peru and went with the flow.
When I decided to do the Colca Canyon hike, I didn't know Colca is twice as deep as Arizona's Grand Canyon. The travel company with whom I booked a two-day Colca Canyon tour asked if I had any trekking experience; I thought about my recent Villarrica Volcano endeavor. I nodded. Though the volcano had improved my confidence, trekking into the 3,300 meters deep Colca sounded ambitious.
But without hiking Colca Canyon, my Arequipa visit would have been incomplete. So I paid 120 soles for the two-day hike, ate a heavy dinner, and hit the bed early.
The next morning at 3 am, I boarded the pickup van. My stomach growled with hunger.
Soon we were speeding on the Arequipa-Colca Canyon road, but the enthusiasm of all the ten travelers had been taken over by sleep. The roads were smooth, and we all dozed off.
While writing this article I found out that that road didn't exist until 1980. It was built only when a hydroelectric project sprouted up in the valley. And then Canyon de Colca – as locals call it – became so popular at least 100,000 people visit it every year.
After driving for three hours, we stopped at the small village of Chivay. It is at a height of 3,650 meters above sea level. We washed away bread, butter, and jam with instant coffee. And then it was time to head to the much-awaited viewpoint La Cruz del Condor to see the Andean vulture. (Though the altitude of Colca — 3,650 meters — may sound ludicrous, that's how high most places in Peru are. Read my giant Peru Travel Guide to know more.)
Colca Canyon and the surrounding valleys are dense with condors. At the viewpoint, many tourist buses unloaded travelers from around the world. All had gone to see the majestic bird. Condors can have a wingspan of up to eleven feet.
We chatted with the locals selling llama wool sweaters and bufandas, artifacts, snacks, water, and juices. And suddenly many condors were hovering above us. They glided in the sky searching for prey. I don't have any graceful photos of the giant hunting bird.
I stood at the edge of the valley and gaped at the 1200 meters drop. I wondered what would my mother say if she saw me at the edge of a thousand-meter slope. She got scared if I even looked down from the rooftop of our three-floor home.
We admired the condors and paid the Colca Canyon entrance fees. Then we drove to Mirador de San Miguel ten kilometers away from the condor viewpoint. From there we started descending.
The landscape changed. The Colca river, originating in the Andes 200 kilometers away, had carved the Colca Valley out of volcanic rocks. We were hiking down the valley heading into the mouth of the canyon. Milky clouds floated next to us, and we couldn't spot any of the forty or so volcanoes the experts say surround Colca.
Gorgeous mountains covered with cactus, wild ferns, and weeds circumscribed us. Their steep slopes were made into terraced fields. Locals have been farming that way since pre-Inca times. Quechua and Aymara people have inhabited Colca since the 13th century. (To know more about Incas, read my What to do in Cusco Peru narrative.)
For a while, the sun was hidden behind the clouds. We walked in shade making sense of the fathomless views. Our guide Juan said we had to walk fifteen kilometers to arrive at our night stay.
The beginning of the Colca hike was a mix of uphill, flat, and downward slopes. And whenever we had to trudge even a small incline, we started panting. We were at an altitude of at least 3,300 meters (the deepest point where we could go was at a height of 2,160 m).
How strange!
Bathed in sweat, I wondered if I would be able to hike up a thousand meters the next morning. But I could not live in the Canyon de Colca forever, and I am too proud to ride mules.
I rushed down the canyon. Others were ahead of me.
After two hours, the group got together at a suspension bridge. Then we climbed for another twenty minutes and stopped for lunch at a cute home in a tiny, yet daring, village of San Juan de Chucho. A simple meal of soup and chicken at Posada Gloria energized us. You can also stay at this cute bed and breakfast if you want to hike Colca Canyon by yourself.
I couldn't help but wonder at the helplessness and strength of the people who lived at such heights. Imagine if you had to climb or trek Colca Canyon every time you needed medicines or oil.
After saying goodbye to our hosts, we walked towards the town of Cosnirhua. The forest fringing the path was dense with fig, plum, avocado, medicinal herbs, cactuses, bamboos, and a myriad of colorful flowers. It does not take more than that to keep me entertained. Occasional views of vicuñas helped.
A preparatory read for your South America trip: Important Spanish Phrases
And then we crossed Malata to continue walking towards the Oasis Sangalle, the base of the Colca Canyon. Oasis Sangalle was an oasis offering many lodges and hotels in the middle of nowhere. We stayed at the Paraiso Las Palmeras Lodge which had a deep-blue swimming pool, a restaurant, and a bar.
While I was wondering how were the owners allowed to build such commercial stays in the middle of nature's most wonderful creation, my traveler friends called for beers. We swam around in the pool, plucked green mangoes, and downed a beer. It was time for bed.
We woke up at 3 am. At 4, we were trudging up the Canyon. Amongst the many Colca Canyon treks, Juan had chosen a shorter so, of course, steeper trail. He said the slow ones would have to ride a mule to catch up with the rest of the group.
I was confused. Would the mountains grow in height if we climbed them slowly? I understood that hiking under the sun would be challenging but how could I explain that to my weary legs?
While most of our group walked ahead, an Austrian girl and I plodded behind. And then we saw an old couple walking up with walking sticks and a smile on their faces. From then on I decided if I didn't enjoy the hike there was no point in doing it at all. I couldn't give up when men and women years older than me were pulling it together to reach the summit.
After that, I ignored Juan. I focused on one step at a time and soaked in the views. The faint light of the dawn had started dissolving the darkness. And out came the green and brown slopes of the mountains that lay peacefully for us to climb. Slowly and steadily we made it to the top in almost three hours.
Once at the top, we got a cheer from the group. But Juan asked everyone to start walking quickly for we had to hike another twenty minutes to Cabanaconde for breakfast. My numb legs screamed for mercy, but my famished stomach pushed them to continue.
The exertion of the Colca Canyon trek was absorbed by the hot springs at Chivay on our way back. And I didn't think before diving in. [For more such amazing adventures, head to my fun things to do in Peru guide.]
Where is Colca Canyon in Peru?
Colca Canyon is 200 kilometers North-west of Arequipa.
What is the best time for doing Colca Canyon Trek?
I went to the canyon in March. Though it was monsoon in Peru, it didn't rain in the Colca canyon while we were there. The best months to visit Colca are from April to August. Beyond August, the mountains would be too cold.
How deep is the Colca Canyon? Or how high is Canyon de Colca?
The descent begins at 3,300 meters above sea level, and the deepest point of the Colca Canyon is 2,160 meters above sea level. Though you are always at a minimum altitude of 2000 meters, you hike 1200 meters down and up.
How to prepare for hiking Colca Canyon?
Take two to three days to get used to the altitude. Walk around in Arequipa. Your body will get acclimatized (and produce extra red blood cells you would need at that height to compensate for the lack of oxygen). Don't drink alcohol before the trip. Get used to a lot of water instead. Eat nutritious meals and sleep well. And you are ready to go.
What to carry for the Colca Canyon hike?
Listing down some of the important things you should bring with you on your Colca Canyon tour,
A rain jacket

– Always carry one in South America for you never know when it might rain.

A hat – Too much direct sun at those heights isn't good.
Strong sunscreen – Andean mountains can be pretty sunny, and you would burn in a minute

Lifestraw water bottle

– This reusable filtered water bottle comes with an inbuilt filter, and you can fill it anywhere. A filter water bottle is essential because you cannot drink tap water in Peru.

Swimwear for women

and

men

– There is a pool down at the oasis. The tour would also take you to a natural hot spring while returning to Arequipa.

Good hiking shoes for women

and

men

– A must-have.
A

travel towel

– Carry a light travel towel to save space.
Flashlight – Please don't go without it.
A pair of change for the next day
Snacks (snacks down the canyon or on the way are expensive)
Medicines for altitude sickness and dizziness
Some cash to buy extra food and drinks.
How to choose between various Colca Canyon tours? Should you take a 1 day Colca or a 2 day Colca Canyon tour?
Colca Canyon day tour from Arequipa would be too rushed. The distance from Arequipa to Colca Canyon is almost 200 km and takes 6 hours. So you can imagine how much you will be able to see.
But it is a good option if you just want to take a peep down the canyon or feel unprepared for the trekking Colca Canyon (in which case you should go later). The day trip will take you to Chivay, stop at souvenir shops, make a halt at the Mirador Cruz del Condor, and then you will be driven back to Arequipa.
The best way to see Colca Canyon is by descending into the mouth of the giant.
The central square of Arequipa is lined with Colca Canyon tour operators. Talk to a few for availability and prices.
Either opt for Colca Canyon's two-day tour with a one-night stay at the canyon, which is what I did. Or choose a 3-day Colca Canyon trek with a two-night stay. One halt would be midway and another one would be in the Oasis.
Or if you do not want to hike Colca, consider this two-day tour or this one day-trip. These will take you to all the good places around the canyon but wouldn't take you inside, a compromise for not trekking the canyon. Another option is to tell your tour operator you would need mules. That way you would be able to trek down the canyon riding a mule, and the locals would make some money which would, in turn, feed the lovely animals.
How much do the tours to Colca Canyon cost?
I paid 120 soles: about 35 USD for my Colca Canyon tour. The accommodation was basic, the breakfasts were average, and neither the 70 soles entrance fees to the canyon nor the 15 soles tickets at the hot springs were included in this price. PeruHop, a reputed company for the Colca Canyon hike, charges about 40 USD for a similar tour.
Should you hike the Colca Canyon without a guide?
You can trek Colca canyon on your own. Many travelers told me they had done the hike themselves at leisure. And if you do the trek yourself, you can walk at your pace.
I felt a bit pushed by the guide. He wanted us back by a certain time even if we had to hurry up. What's the point of hiking if you are not going to look around on one of the most beautiful treks in the world?
Go to the tourism office in Arequipa and ask for a map of Colca Canyon and bus schedules to Chivay, the closest village connected by road. Take a bus from the bus terminal in Arequipa to Cabanaconde. Or book this comfortable one-way bus transfer to Chivay.
Tiny villages keep the Colca mountains alive. They also serve as places to stay and eat at. You can sleep in San Juan and Sangalle. Or in another village called Llahuar.
Here is an exhaustive guide to hiking the Colca Canyon without a guide.
You can also go from Arequipa to Puno or from Puno to Arequipa via the Colca Canyon. Traveling that way would save a lot of time.
Is Colca Canyon worth the pain?
Absolutely.
Trekking Colca Canyon is underrated. When I reached the summit after plodding along for three hours under the scorching sun, I couldn't help but think that I could do anything I set my eyes on.
If you don't believe me, head to the Canyon de Colca and see for yourself.
The next morning I woke up without an alarm. A big breakfast, a quick taxi, and a comfortable bus to Puno accompanied me that morning.
As my eyes wandered through the beautiful Peruvian landscape, I looked forward to the upcoming months of travel through South America and wondered what other fears my journey would strike.
Must Read: Don't go to South America without reading This Guide and my tips to Learning a Language by Yourself is a must, too
Are you planning to hike Colca Canyon?
Like my guide! Please pin it and share it with the world.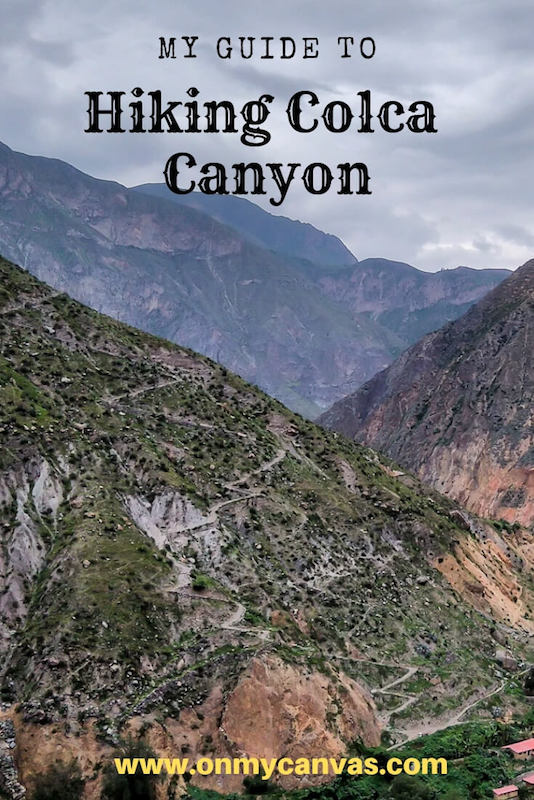 Disclaimer: This post contains affiliate links to the products I like; if you choose to click through and make a booking or purchase a product, I will earn a little bit at no extra cost to you. Thank you.
*****
Donate to keep me going!
For five years, I've read and wrote day and night to keep On My Canvas - my sustenance and life's focal point - going. Everything here and my weekly newsletter "Looking Inwards" is free. No ads. No sponsorships. If you've had some good moments reading my posts or felt hopeful on a lonely day, please consider making a one-time or a consistent donation. I'll really appreciate it (You can cancel anytime).
*****
Want similar inspiration and ideas in your inbox? Subscribe to my free weekly newsletter "Looking Inwards"!