The alarm rang at 3:30 at night. I peeked out of my blanket into the dark dorm room and wondered why I had decided to hike the 2,800-meter high volcano. Just then Alison, my Canadian friend, who was sleeping on the lowest bunk bed opposite me, snoozed the alarm on her iPhone, mumbled something, opened her eyes for a second, and then pulled the blanket over her head again. She was the one who made me signup for the Villarrica Volcano hike, the active volcano that had erupted a year ago.
I shut the alarm and got out of bed. Alison followed me. Though November is a summer month in Chile, Pucon, a city in the lake region, wasn't that warm, especially at that early hour of the day. After barely washing our faces with the cold water, we walked to the cherry tree in the hostel where ten other hikers were following the directions of the Volcan Villarrica tour guides. We wore a pair of waterproof trousers over our track pants and strapped our rucksack in which we carried the rest of the gear on our backs. Then the twelve of us walked to the minivan that was to drive us to Villarrica 30 kilometers out of town.
I don't know if I felt secured or alarmed when Alejandro, one of our three tour guides, told us that after the eruption in 2015 the government had mandated that there should be a guide accompanying every four trekkers.
After driving for an hour, we reached the base of Villarrica. Even at that wee hour, the area was flooded with minivans and travelers who wanted to climb the volcano. Until then I didn't know that climbing volcano Villarrica is the sole reason for some of the tourists to visit Pucon, the city which Lonely Planet refers to as the mecca for adventure sports. And why wouldn't it be? You can do river rafting, kayaking, hiking, skiing, horseback riding, and so much more in the bustling lake town of Pucon. (as if there weren't already enough things to do while backpacking South America.)
Recommended Read: My experiential travel guide to Chile
I craned my neck to look up to the summit. The twilight was dissolving away the darkness of the night. A rotund moon watched us from above. From its base, Rucapillán, or the house of the Pillán, (the Mapuche name of Volcano Villarrica) indeed looked like a superpower, an undefeatable giant.
Gulping down my skepticism, I looked at the hopeful faces and confident strides of other hikers who had now started walking to the top. Even though our guides told us that we were starting an hour earlier than the standard 6 am ascent, many groups had begun their hike along with us.
"I think they all stole our idea of getting a head start over others and finishing early to drink beer," chirped Alejandro.
We had heard from many travelers who had completed the hike that we could take the sky lift which would cut off more than an hour of walking. But our guides told us that the lift wasn't working and that we would have to walk all the 4.8 km(one way) of the hike up.
I was happy that I didn't have to make a choice between walking and taking the lift. Having said that, if the airlift is functioning when you visit Volcán Villarrica, you can pay 10,000 Chilean pesos (Diez mil) and fly instead of trekking uphill for one and a half hour. You will get plenty of chances to use the saved up energy when you plod along the treacherous glacier enveloping the conic volcano later.
We passed the idyllic sky trolleys on our right and started walking up the rocky terrain. Just in a few minutes, I was the last in the group. The German man who crossed me last looked at me kindly and told me to go slow. Beads of perspiration shined on my forehead. Lifting my feet which was weighed down by the heavy trekking shoe while carrying along the heavy rucksack seemed impossible.
And then I looked up and went numb. How was I going to hike Volcano Villarrica all the way up to the summit?
Maybe I could walk without shoes? But assuming that the guides knew better, I trudged along, while the cold air slapped my face. A thought that I might not be able to complete the hike knocked my head.
Another South American hike that you would love: Hiking Colca Canyon, Peru
Until a few days ago when Alison suggested to hike Volcano Villarrica, I hadn't even heard of the volcano. But galloping in Alison's excitement, I thought that the hike would be fun, and we both registered.
Though the anxious butterflies created a storm in my stomach, I didn't read about the volcano. Neither did I know the remarkable facts about the volcano nor did I know how hard or easy the trek was going to be. Imagine if you watch Titanic without knowing that the movie was a classic and was based on one of the most tragic real-life stories in which the never-sinkable ship sank killing 1500 aboard and moving you to tears.
So after a few hours when I was climbing up the volcano and wanted to give up, but Alejandro and Alison told me that I had gone very far and I had to continue, I didn't relate with their relentlessness. Why couldn't I watch the summit from a lower altitude and enjoy the majestic vista bordered by icy volcanoes?
But I am glad that I continued. Otherwise, I would have cursed myself for not completing the hike and missing the once in a lifetime opportunity.
How often do I see volcanoes back home? Though India has all the jungles, mountains, rivers, lakes, hanging bridges, remote islands, aboriginal communities, Bengal tiger, and peacocks, we don't have that many volcanoes. And how often can you hike a volcano? And an active one in which you stand at the top of the open crater and see lava spluttering out of it? (Honestly, there are so many other amazing things to do in Chile that you can't compare it with any country. )
Our Volcan Villarrica tour group walked for almost 45 minutes over rocky terrain to get to the slope of the volcano, from where the climb was even steeper. As my anxiousness of being the last in the group was stretched across my face, Alejandro told me to take it easy and resolved his curiosity about India by asking me myriad questions. The rest rushed to the top.
We zigzagged up the cone of the volcano Villarrica. The terrain was still rocky for another forty minutes. When the guide asked us to take a break, I unstrapped my rucksack, perched at the top of a rock, drank water, and munched on a cereal bar. Though Alison had been walking at the front of the group because of her squirrel speed, she now wanted to slow down and accompany me at the back.
Our laughter was soon interrupted when Alejandro told us to take out our crampons and strap them to our shoes as we were soon going to walk on a glacier. He showed us how we had to stick the ice picks in the snow to pull our weight and get stability on the slippery snow.
While my accomplices exchanged hearty notes on Chile and Canada, I dragged myself to keep up with them. I jabbed the ice pick in the ice, pulled myself up, and then repeated. One step at a time, Alejandro said cheerfully.
And that is how we had to go for the next 2-3 hours.
Helpful Read: 13 Chilean Cultural Conventions you should know if you are visiting Chile 
We stopped a few times in between to munch on sandwiches and eat chocolates and drink water. Every time we continued the hike, I asked Alison to tighten the buckle of my bag which seemed like another challenging task at that time.
We waded through the thick ice diagonally for the walk straight up was too steep. The wind blew fiercely, and whenever I slowed down to catch a breath, Alison squeaked from behind that she might fly off the volcano. I looked at her petite figure and changed positions with her. A few tourists had even died trekking volcano Villarrica, so our fears were justified.
Even though we were wearing track pants and a waterproof layer of trousers, my legs went numb, and I fell as soon as I got up after a short break. Alejandro chuckled and asked me to hand over my rucksack to him.
I felt like giving up many times. Who wanted to hike to the top? I thought that I had seen the best of the volcano and was ready to return. But the smiling faces of my friend and a supportive guide, who kept shouting that you can do it Pri, helped me lift my feet, and I walked on. That is all I had to do anyway, keep one step after another.
Each steep portion of the volcano was followed by another even steeper one, or so it felt. Towards the top, our ice sticks went right through the thin patch of ice, making the climb even more difficult.
The snow-capped mountains stood in the backdrop of a serene blue sky, but I couldn't appreciate the unusual views until much later. Chilled wind was ready to sweep us off our feet any time, and no matter how much we walked, the summit seemed far away.
But we kept going. And then Alejandro turned around while I was huffing and puffing, smiled, and said, listo, Pri. After hiking for five hours, we had finally reached the top.
I couldn't feel my legs, I was breathless, but I couldn't be more ecstatic. Alejandro shouted that we had to take out our gas masks as the open crater of the volcano was breathing out plumes of sulfur smoke. Volcán Villarrica is one of the only volcanoes in the world that has a simmering lava lake in the crater which sends out those whirling clouds of smoke.
I was maybe too busy enjoying myself and didn't see any lava. But one hiker claimed that he saw a few spikes of lava spluttering out of the crater. The guides believed him for they said that some strombolian volcanic activity always happened in the volcano. But we didn't need to worry for the crater is under vigilance after the eruption of March 2015 (post-eruption the authorities closed the volcano for hiking until November).
Though we could only stay at the top for a few minutes due to the toxic sulfur fumes, I watched the three impressive stratovolcanoes standing like obedient children in a straight line: Villarrica Volcano followed by Quetrupillán and Lanín.
The ice-capped volcanoes, the deep blue sky, the tranquil lake Villarrica that was visible at a distance, complemented the joy of hiking all the way to the top of an active volcano that had erupted less than a year ago, and that moment became ethereal.
But the best part was yet to come. Alejandro told us to take out the plastic board, that looked like a dustpan, and asked us to sit on it. We looked at him dumbfounded.
We obeyed. Then he said, slide down.
Alison and I looked at each other and then at the snow that laid ahead of us and the volcano that had been too steep to maintain our balance just half an hour ago.
Seeing our flabbergasted faces, Alejandro pointed to our ice sticks and told us to maneuver ourselves using the sticks as breaks.
Within a few minutes, we were tobogganing down an active volcano. While sledding down volcán Villarrica, I forgot how tough the climb had been.
In the beginning, we were both sliding down slowly. If only I were slow, I would have blamed my 65 kilos of existence, but even Alison, who was like a petite chili, was sliding down like a snail.
And whenever we picked up speed, we put the ice pick next to us to avoid falling off the windy volcano. After a few sprints of flying down, which lasted for about forty-five minutes, we were at the sky lift again. We held hands and walked for twenty minutes through the loose gravel to reach our minivan.
Dozing off in the minivan, we reached the hostel an hour later. We went out for dinner and ate more than our appetites, lazed around in the hostel treehouse and talked about the hike under the setting sun, and had a few beers to end that memorable day.
We felt immensely rewarded and confident after completing such a strenuous hike.
A bad travel memory from Chile: Two boys snatched my phone and ran away in Santiago
Should you go for the Volcan Villarrica hike?
After reading my travelogue, you might feel disappointed or skeptical about completing the hike. But I assure you that the trek was worth all the cramps and muscle aches and metaphysical questions that I faced during and after finishing the volcano Villarrica hike.
Why? First of all the climb is not that difficult. Almost 15000 people do the hike every year, and on a clear day, about 400 people are at the summit of the imposing volcano that looks invincible in pictures. I even saw 50-year-olds trudging up the volcano with smiles on their faces and clicking pictures at the peak.
Of course, I can say all these positive things now for I completed the hike. But the trek up would have been easier if I had been a little more confident and patient. While climbing the volcano, I was carrying the mountains of "fear of failure" on my shoulders. Without going into the philosophical benefits of setting a target and feeling accomplished when you achieve it, I can say that one of the meanings of travel is to push ourselves out of our comfort zones. And when we open up, we experience growth and sometimes even small travel experiences can end up changing our lives.
For climbing Villarrica volcano, you need to be decently fit. But more than being fit, you have to believe in yourself and take one step at a time.
If you are moderately fit, which implies that you aren't out of breath now and then or you are into climbing, or you are just physically active and go to a gym or run or do something, you can do this trek. As long as you don't feel that your body is so stiff that you can't even think of hiking, you should go for this hike.
You would remember the day for the rest of your life when you stood at the edge of a crater that fumed out sulfur and saw the world under your feet. You might tell your mother that you went to a dead volcano and not an active one, but that is just a small tweaking of facts.
What is the best time to climb Villarrica volcano?
Though you can do the hike yearlong, the weather has to be clear the day you want to go. I was lucky to be able to go for the trek the same day I had booked it for. Because even back then in November, when the weather was warm, many travelers waited many days for the sky to clear up.
Sometimes the clouds overshadowed the sky and wind roared at last minute canceling some of the tours. Also, sometimes the guides even turned back the group because the climate started going downhill during the middle of the trek, and the guides felt it wasn't safe to continue.
Do you need a tour company to do the hike?
You have to do this hike with a tour company. Otherwise, you would need a mountaineering permit, hiking permission from Conaf(Corporación Nacional Forestal), buy or rent tonnes of gears, and the knowledge and experience of climbing such treacherous terrains where climate conditions can change any moment.
How to choose a Volcan Villarrica tour company?
Walk around the town, talk to a few tour companies, and see which ones you like. Read online reviews or ask your hotel/hostel about a good hiking company.
I am not able to recall the tour company with whom I did the Villarrica hike; I will update when I remember. But everyone over the internet praises Summit Chile highly, and I read excellent comments about them. You can also consider this GetYourGuide tour for a hassle-free climb.
I stayed at the Chilli kiwi hostel which was comfortable and had everything that we needed. We even booked a tour with the travel company they work with.
How much does trekking Villarrica cost?
Around 80-90,000 Chilean pesos or 135 USD. We paid and booked the hike the day before we wanted to go. But the hikes get filled up quickly so book in advance.
Make sure to ask the trekking company about the protocol they follow in lousy weather. In adverse climatic conditions, most of the groups keep postponing the hike until the weather clears up. But if hiking the volcano doesn't seem possible for a week or a few weeks and you want to leave Pucon, they should return your money.
How to prepare for climbing Villarrica Volcano?
Eat an early, heavy dinner. Sleep as much as you can. Believe in yourself. 
What type of volcano is Villarrica?
It is a stratovolcano ( a volcano formed by alternate layers of lava and ash).
What to carry on the hike?
Carry at least 2 liters of water per person. Bring a lot of snacks, such as cereal bars, peanuts, apples, sandwiches, as you would need a lot of replenishment during the trek. You would need sunglasses, sunscreen, lip balm, tissues, and some extra cash which you will have to pay if you want to be sky lifted. Sunglasses and sunscreen will protect you from the light reflecting off the snow and ice which are perfect mirrors.
It gets icy and windy at the top of the volcano Villarrica. So wear hiking pants (for men and for women) and long hiking socks. Bring a cap or beanie, as per the weather. Wear a t-shirt, but make sure you carry a warm jacket(for men and for women) or a sweater. The guides will also provide you with a windproof jacket, gloves, a waterproof tracks, sturdy trekking shoes, crampons, a gas mask, a helmet, and a plastic board for going down the mountain.
Hiking Volcan Villarrica is one of the best hikes of not only Chile but a must-do in South America. Good luck!
Are you traveling South America for a longer time? My Bolivia travel guide and Peru backpacking guide will be handy.
Like my hiking guide? Pin it please and share it with the world.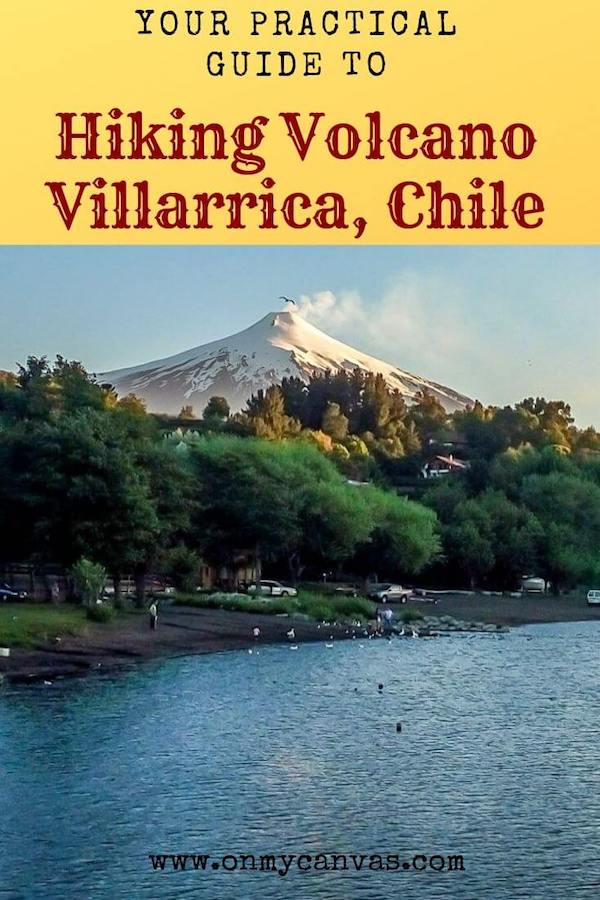 Do you want to hike volcano Villarrica or are you scared? Please leave your questions in the comments.
*****
Donate to keep me going!
For five years, I've read and wrote day and night to keep On My Canvas - my sustenance and life's focal point - going. Everything here and my weekly newsletter "Looking Inwards" is free. No ads. No sponsorships. If you've had some good moments reading my posts or felt hopeful on a lonely day, please consider making a one-time or a consistent donation. I'll really appreciate it (You can cancel anytime).
*****
Want similar inspiration and ideas in your inbox? Subscribe to my free weekly newsletter "Looking Inwards"!