Samaipata is easily one of my favorite places in Bolivia. Why? Maybe this quaint village in east Bolivia showed me how to slow down. Or perhaps the Bohemian attitude of Samaipata made me think about life differently. Or maybe the German, Dutch, and Arabs who have settled down in Samaipata taught me that home is where the heart is.
I cannot pinpoint on any one reason, but Samaipata, a lush town in the foothills of Andes, calmed me down. It is after all the resting place in the mountains (the meaning of Samaipata in Quechua).
Graffitied streets, freshly-brewed coffee, jewelry shops, hip home stays, falafel joints, cool bars, cosmopolitan residents, peripheral mountains, and relaxed countenance of the humans and animals made Samaipata stand apart from the rest of Bolivia. Just three hours away from Santa Cruz, a bustling Bolivian city, this place thrives in different energy and enchants everyone who goes there into staying. Otherwise, how could twenty-five nationalities be living there peacefully along with the local Bolivians from Santa Cruz, Cochabamba, and La Paz?
When I was in Samaipata, I didn't have a proper sit-down lunch or dinner on most days. I was happy to lie down in my treehouse and watch the sky change her hues around the mountains until late. When I got hungry, I walked down the tiny muddy lane to reach the main street of the town, grabbed a few cheese empanadas and yuca sticks from the local street vendor, and ate them while watching the travelers and locals shopping for fruits and vegetables or just sitting with a cup of mate with their friends. Then I strolled around the town fascinating over the exquisite jewelry and other artsy things the people were making and met the same people over coffee in the plaza every day. When I got tired, I walked back to the homestay and listened to Anoushka Shankar fill the treehouse, while the sun set behind the mountains spreading its gold over the sky.
You might think that I am overly romantic or poetic about a simple Bolivian town, but you will understand my obsession with Samaipata when you go there. Or maybe you don't have such an amazing experience as I had, but still, the place deserves a few rhymes.
Here is my list of the best things to do in Samaipata, Bolivia
Visit El Fuerte de Samaipata
The Incas conquered the city at El Fuerte from the peaceful Chane empire in the 1600s and lived there until Guarani, the tough indigenous Bolivians, invaded the valley and defeated the Incas and the Chanes. Now that ancient city can only be recognized by the ruins of a temple.
We took our time at these ruins and hiked slowly amidst the mountains to the top while enjoying the greenery around. As you go up the hill, there are many resting places, and we kept bumping into the same people we had crossed on the path earlier. Set amidst mountains and forests, El Fuerte felt like a surreal place.
The only remains of the city is a temple carved on a huge rock jutting out of the mountains. So while you are there, you wonder what you are looking at. I was very confused as I hadn't even read any blogs and didn't know the significance of the rock. But El Fuerte is Bolivia's largest pre-Inca site. Erich von Däniken, the author of the Chariots of Gods, called that rock to be a launch platform for the spaceships of astronautic gods who humbly gave their technologies to the ancient civilizations. Let me simplify, UFOs launched from that rock. Though I didn't think about the ruins that way, I had never seen any other temple like the one at El Fuerte.
You can take a tour to go to El Fuerte, but I never recommend a tour if you can go to the place yourself. If you would like a guide, then taking a tour is a good idea. But if you don't need a guide, just hire a taxi from the plaza and go with a few other people to share the cost of the taxi. The taxi was around 100 Bolivianos for a return trip. The entrance fee to the ruins was another 50 Bolivianos. Carry some lunch and water with you. You will also find shops at the entrance where you can eat regular Bolivian meals and buy water.
The ruins are 8 kilometers out of Samaipata, and you can also walk there. Carry enough water and sunblock.
Many people who visited the ruins didn't see much value in going there, but I liked El Fuerte for the walk uphill and the slow pace at which we did it while thoroughly enjoying our green surroundings and discussing the history of Bolivia.
Hike in the dense Amboro National Park
Though you can visit this park from both Santa Cruz and Samaipata, we went there from Samaipata. We booked a tour and was driven to the jungle with four other tourists. The hike wasn't very long, but we saw dense jungle and many different terrains of the forest such as the Amazon basin, then the cloud forest, and the lower Chaco region. 
The walk was shaded throughout. Though we didn't spot any animals, I enjoyed the greenery and the colorful mushrooms sprouting up in every nook and corner of the jungle.
You can read more about the park in my Santa Cruz travel guide.
Watch Condors in the hills near Samaipata
I had already seen condors at the Colca Canyon near Arequipa in Peru, so I didn't go looking for them again. But travelers who have been to Samaipata say that the Condor mountain near Samaipata is a great place to spot these majestic birds.
If you are on a long South American travel and have any interest in birds, you should take the effort to see condors in their natural habitat. You will have to book a tour for this one unless you want to take a taxi and do this four-hour drive by yourself. Then hike up for a few hours to reach the summit to test your bird-watching skills to find the condors.
Choose from one of the tour agencies in Samaipata and see how magnificent these birds with a wingspan of up to three meters are. The tour is combined with a trip to the La Pajcha waterfalls which are great for swimming.
Meet the monkeys in Refugio Zoologico, Samaipata
(Animal Rescue Center)
After eating toast with butter and eggs and sipping a roasted coffee on a lazy Saturday morning at the cafe Chakana on the plaza, my travel friend and I thought about going to this Refugio Zoologico that we had just discovered online. Taking a shower was low priority as we assumed that playing with the animals would make us dirty.
And we were right. When the French volunteers working at the refugee center introduced us to one of the naughty monkeys there, and he climbed my friend's neck, we just sat there in the mud and let him play. While we strolled around carrying him on our neck, we saw macaws, turtles, owls, eagles, deer, ostriches, and even an ocelot.
Only when the monkey got off my friend's neck and started chewing the strap of my bag did we leave. Oh but that was already too late for the sling broke while we walked back to the plaza.
Go on a sunny day and make the most out of it. The animal refuge center was one of the highlights of Samaipata for my intention was to slow down and relax in nature while doing nothing. And the Refugio zoological is the perfect place for that.
You can walk to the animal refuge center from the plaza. The entrance fee was 20 Bolivianos. The refugee center also has a beautiful shop from where I bought one of my most beautiful necklaces which has colorful glass pieces tucked in a copper frame.
Swim in Las Cuevas, Samaipata
Though March was a hot month and many travelers at Jaguar Azul told us about these waterfalls, the small natural swimming pools there, and the sandy beaches, I didn't go to Las Cuevas. I was happy relaxing in Samaipata and didn't feel like going out of town much.
If you visit Bolivia in summer and want to cool off, go to these waterfalls which are located about 20 kilometers out of Samaipata. The taxi deal is similar to El Fuerte, and a taxi or bike driver would take you for a 100 bolivianos a return trip and will wait for you. The entrance fee is 15 bolivianos for foreigners.
Buy Monkey Tail Cactus and take home
Cola de Mono or monkey tail cactus is an invention of Samaipateños, the people of Samaipata, who brought the cactus into cultivation from its natural habitat. We saw these tails hanging over the balconies of most of the restaurants and hostels and houses. And then when we were laughing and joking between us that the cactus resembled monkey tails, the owner of a nursery told us they were indeed called Cola de Mono. 
I didn't buy the plant for I was traveling further. But near the atm there is a huge nursery whose owner sells the plants (and the seeds?).
How often can a plant be as fun as a monkey tail? And little red flowers sprout on the tail in summer.
I know I sold cola de mono to you.
Eat at Isa's restaurant
Now, this is not one of the restaurants or hippie bars that Trip Advisor will ever list. Isa, a lady from Colombia, ran a small restaurant on the roadside. Her kitchen was a room that had a window looking out on the street from where she took orders and passed plates of papas fritas and grilled chicken and glasses of juice. Her restaurant's seating area was nothing but a few roadside tables under this window.
Imagine Paris cafes but replace the fancy dining and the kitchen with a room and a view.
Instead of going to popular places, we end up at her place more often than not. I didn't know if it was her evergreen smile, or that we could watch kites gliding above us in the blue sky while waiting for food, or because we sat in the open and said hi to people passing by as I assume must be a trend in the sixties, or because of the fragrance of caramelizing onions that could freely waft into the sky, we loved her place.
And we met many interesting patrons there who wanted to talk rather than looking into their phones. It was the place where conversations went deeper than how are you and where you are from and for how long are you traveling.
We loved the restaurant, which I still call as Isa's place. Though she might have revamped it (I hardly doubt), you can easily find her by walking a few streets away from the plaza. But it would be better if you ask for Isa, and wayfarers will tell you the way. Or if you wander enough, you are bound to find it for Samaipata is small.
Buy handmade exquisite jewelry
People like me who live out of bags can only carry souvenirs that weigh nothing and still feel as if they are taking the heart of the city. So the only mementos I buy are necklaces and rings for they are easy to keep and lightweight.
These ornaments are not just accessories for me. Each ring that I have is a memory. If one represents the evening when I got lost in Cusco another reminds me of a man in Santiago who beaded glass gems in copper wires and then another one makes me think of a lady who chiseled stone rings on the street side in Copacabana.
So when I see some unique ornament or an intriguing artist, I engage in a conversation and purchase the abalone shell that caught my eye or the bronze necklace that now hangs from my neck proudly. Though I never buy anything expensive, I have a bag full of colorful memories set in different frames from around the world.
Given the Bohemian culture, Samaipata has many artists and jewelers, both Bolivian and international, who make exquisite jewelry. Spend some time in the shops around Samaipata. Reflect the colors. Feel the carvings. Run your fingers on the curves of the gorgeous pieces.
Buy something. If you aren't interested in souvenirs or jewelry, I am sorry I took your time. But if you are curious, go to a shop run by an Argentinian man near the plaza. He has a beautiful collection. And he has a daughter named Indira who has green eyes, and she will make your visit worth it even if she smiles once.
Walk around and chill at the plaza
You should let go of the list above else you go against the spirit of this Bohemian village. Don't pack your day with activities if you want to experience Samaipata.
The town is small, and you would see all of it within a few hours. Walk around and see the graffitied streets. Eat empanadas and drink manzanilla(chamomile) mate at street-side shops. Stumble into people and make a conversation.
Hang out at the plaza. Many people go to the square every day to sit there. Some chew coca leaves with salt. The plaza is the travelers' meeting point, too. Patrons sit in the coffee shops around the plaza and discuss how their lives changed as they shifted to this idyllic town. Soak in the spirit.
In the evenings you can buy wine from one of the shops and drink at the plaza. If we hung out at the square enough, we found Argentinians playing guitar, English people reminiscing about the fish and chips, and locals enjoying the evening calm. Of course, we joined.
Helpful Read: Essential Spanish Phrases that will help you survive and connect with the locals in South America
Where to Stay in Samaipata
My friend had read about a place called Jaguar Azul on Reddit, and the comment mentioned that the place had a treehouse, so off we went.
We followed the downloaded offline Google map and walked towards Jaguar Azul with rucksacks on our back. The plaza soon gave way to narrow cobbled streets which were lit with the afternoon sun and silence echoed. Not many people were out and about. Then we crossed a market and treaded down via a muddy path to Jaguar Azul, which is run by a Bolivian and a French couple.
One treehouse was available, and we took it.
Then we climbed up the ladder to our treehouse. As soon as we saw the sprawling mountains in the distance from it, we knew we had made the right choice. Some days we just stayed in the treehouse, looked outside the windows, and only left for food.
The place scores average on cleanliness, and a great shower or clean toilet is a dream there. If a treehouse doesn't interest you, you can go to a spotless and comfortable place called Hostel Serena Samaipata. I know the Dutch owner Burt who invited us home when we befriended his father at the plaza. I guarantee you will have a great stay there. He has a massive house with a great garden. If you stay at Hostel Serena, please say hello to Burt.
Where to eat in Samaipata
Samaipata has a great combination of local and international food.
Jaguar Azul didn't give breakfast, so we usually walked to the cute family restaurant close to Jaguar Azul which sold delicious cheese and chicken empanadas, maíz arepas (corn pancakes), and yuca sticks with cheese and manzanilla tea. And that was our main meal most of the days (when we weren't at Isa's or the places I tell you about in the next paragraphs.) Somehow my sudden weight gain during the end of the Bolivian journey doesn't seem baseless.
At the plaza, there are many cool places, and one of my favorite for coffee is cafe 1900. We also ate at La Chakana which was a good place for coffee, but the food was alright there.
Then there was an upcoming place for burgers, shawarma, and falafel called La Cocina which was gaining popularity and offered delicious food. The bar La Boheme which is right at the square is a fun place for some drinks and conversation. And you can order food from La Cocina if you are drinking in La Boheme.
How to go 
from Santa Cruz 
to Samaipata 
The distance from Santa Cruz to Samaipata is about 120 kilometers. We boarded a shared taxi or as Bolivians say trufi from the corner of Avenida Omar Chavez Ortiz and Soliz de Olguin in Santa Cruz. Trufis are 7-seater shared taxis, and one ticket costs around 30 Bolivianos. These taxis leave when they are full, so we had to wait for two hours while biting into apples and drinking water for it was hot.
Driving through scenic countryside and jostling for space within the van, we arrived at Samaipata three hours later.
This is a detailed guide on where you can take a taxi from in Santa Cruz (you only need it if you are far from the corner of Avenida Ortiz and Soliz de Olguin.) 
You can also take a regular bus from the Terminal Bimodal in Santa Cruz. Buses heading to Mariana, Vallegrande, and Comarapa will pass via Samaipata and stop for you if you ask them. Tell the driver beforehand to drop you at Samaipata, and remind him ten minutes before arriving at Samaipata(if your Google map works.) If Google is being snobbish, just remind the driver one more time whenever you feel right.
Also Read: How to get a Bolivia visa on an Indian passport and how to extend the visa
How to withdraw cash in Samaipata
The only ATM in the town didn't work for us for two continuous days. As most of the places in Samaipata don't accept a card, we asked many people and finally found Cooperativa La Merced, a foreign money exchange center, where you can get cash if you swipe your Mastercard or visa.
I would suggest you carry enough cash from Santa Cruz to avoid any hassles.
If you expect great internet services in Samaipata, then forget about them. Take a week off from everything and relax. Just go back to Santa Cruz when you have to and plan your further travels from there. For when I tried booking flights from Samaipata, all the websites failed on me. But I couldn't book a ticket even from Santa Cruz, so maybe it was just the Boliviana de Aviación's website. Some hostels and restaurants do have good internet.
From the animal rescue center to the jewelry shops to the man who chewed coca with salt on the plaza to the old Dutchman with white hair who puffed on a cigarette and sipped coffee at a cafe every morning— everything synced together and matched the rhythm of Samaipata. Or maybe these things together constituted the tempo of that small town?
Samaipata is one of the cool places in Bolivia. Do visit and let me know what you think. I know I have tried hard to sell you Samaipata, but if you have a different opinion about it, I would love to hear.
Recommended read: My comprehensive guide on backpacking Bolivia – All you need to know
Are you thinking about visiting the laid-back town of Samaipata, Bolivia?
Like my guide! Pint it and share it with the world!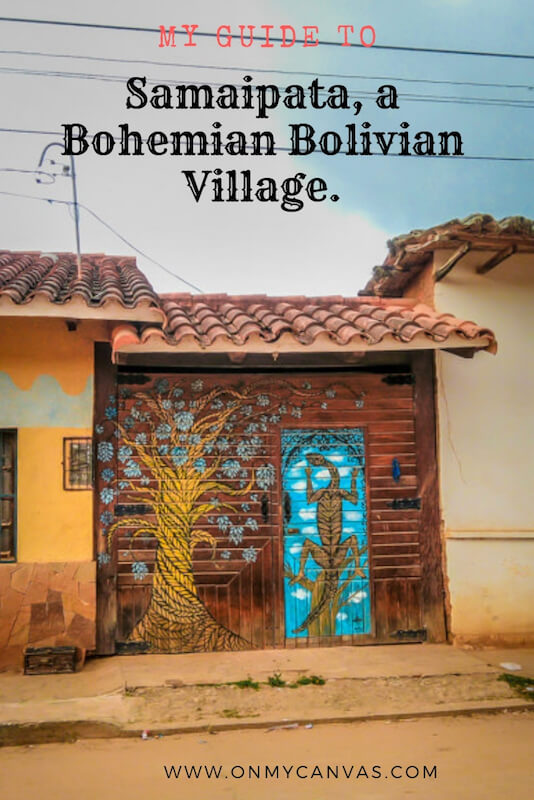 *Note: This post contains affiliate links; if you choose to click through and make a booking or purchase a product, I will earn a little bit at no extra cost to you. It is entirely up to you if you decide to book or buy. Thank you.
*****
Donate to keep me going!
For five years, I've read and wrote day and night to keep On My Canvas - my sustenance and life's focal point - going. Everything here and my weekly newsletter "Looking Inwards" is free. No ads. No sponsorships. If you've had some good moments reading my posts or felt hopeful on a lonely day, please consider making a one-time or a consistent donation. I'll really appreciate it (You can cancel anytime).
*****
Want similar inspiration and ideas in your inbox? Subscribe to my free weekly newsletter "Looking Inwards"!