Covid-Related Travel Update July 2023 – Peru is now open to international travelers. And as per Supreme Decree 130-2022-PCM in Peru's official gazette El Peruano, Covid entry requirements and all other regulations and restrictions were lifted from November 2022. You can also look at the official website of the Peru government for more information. My Peru travel visa guide for Indians is a recommended read. 
Traveling in Puno and Lago Titicaca, Peru
When I was doing the Colca Canyon trek near Arequipa, a traveler asked me where I would be going next in Peru. I had heard about Puno and Lago Titicaca. Maybe Puno, I blurted out. She said there weren't many things to do in Puno, that I could also visit Lake Titicaca in Bolivia, and that she was skipping Puno to travel Cusco.
When she said most travelers skip Lake Titicaca in Peru, I was thrilled. Though I visit both offbeat and touristy places, Peru has some of the coolest and remotest places to see. I wanted to explore all of them. And what could be more remote and chilly than Lago Titicaca? A little intimidated by the idea of being in the big city of Cusco or crowding up to see Machu Picchu, I reserved a bus ticket to Puno.
Table of Content [TOC]
My journey through Puno, Peru and El Lago Titicaca
Puno and Titicaca lake were two of the coolest and most cultural places in Peru.
Straddling the border of Peru and Bolivia, Lake Titicaca is the highest and the second largest lake in South America. And Puno city thrives on its bank. Both are situated in the high Andes at an altitude of 4000 meters above sea level.
Lake Titicaca is known as the birthplace of the Incas. But the Incas only arrived in the 15th century, and there were other cultures that lived on Lake Titicaca prior to them.
Charles C. Mann notes in his award-winning book "1491: New Revelations of the Americas Before Columbus": the waters of the lake moderate the bitter frost that covers most of the surrounding highlands, thus supporting a dense network of ancient civilizations. (I thank the article on Sustainable Tourism in Lake Titicaca: Lessons and Warnings for this reference.)
In 2000, a team of international archaeologists found the ruins of a mysterious underwater temple in Lake Titicaca. More than 200 dives were made to film the ruins which included a terrace for crops, a long road, and an 800-meter-long wall — all under Lake Titicaca. Ceramica, metal objects, and utensils along with the remains of animals and humans were also found.
The pieces have been dated "to the pre-Tiwanaku (before 300 AD), Tiwanaku (300-1100) and Inca (1100-1570) eras."
For the Incas, Lake Titicaca was also the birthplace of the sun and the moon, too. Legends say that the Incan god Con Tiqui Viracocha emerged from Lake Titicaca with some human beings. Then he commanded the sun (Inti), moon (Mama Killa), and the stars to rise. After everything was done, he instructed the humans to populate the world.
The Incas, therefore, revered Lake Titicaca and believed their spirits would return to it after death.
Spreading over 3,205 square miles and over 200 kilometers in length, Titicaca must have looked an enormous sight and, thus, formidable. But though Inca ruins are spread all over Titicaca lake now, what remains alive of the most ancient are the Aymara-speaking Uru people.
"There is no question, however, that Aymara speakers of the Titicaca region dominated the political landscape of the region for at least 400 years prior to the Inca conquest in the fifteenth century and were the principal ethnic and language group in the pre-Hispanic south-central Andes."

Lake Titicaca: Legend, Myth, and Science (by Cotsen Institute of Archaeology, University of California).
I got to meet the Urus on a two-day customary tour to the islands of Uros, Taquile, and Amantani. One of my travel friends and I were the patrons of a travel guide in Puno. She not only sent us to the ruins of Sillustani in Puno (about which I will talk later), but she also arranged a two-day Titicaca island tour for us.
When our speedboat arrived near those golden rafts, I was dumbfounded to hear that we had arrived at the islands of Uros.
Standing at the edge of the golden island, women and men in colorful clothes awaited us. The tourists were escorted by the family toward their homes. Later a girl told me one large extended family had built one island each.
One islander explained that we were standing on floating mats of dried totora. Totora is a reed that grows in the marshy shallows. We were surrounded by it; they pointed to the tall grass fringing the island on all sides.
We make everything from Totora, the guy said. Their huts, sitting places, and boats — all are bundles of dried totora tied together. To make us believe, he took us in his boat to show how they pulled totora out of Lago Titicaca. They not only make the islands out of totora but also replenish their bases with fresh totora every fortnight. No surprise here that Uros are also called the floating islands.
Back on the island again, he held up the hand-weaved colorful cloth embroidered with the scenes of local life. The guide explained how the Uros people put the weed together, how the family survives on tourism, fishing, and income from the handicrafts, and how they make food in earthen pots making sure not to burn the island while cooking.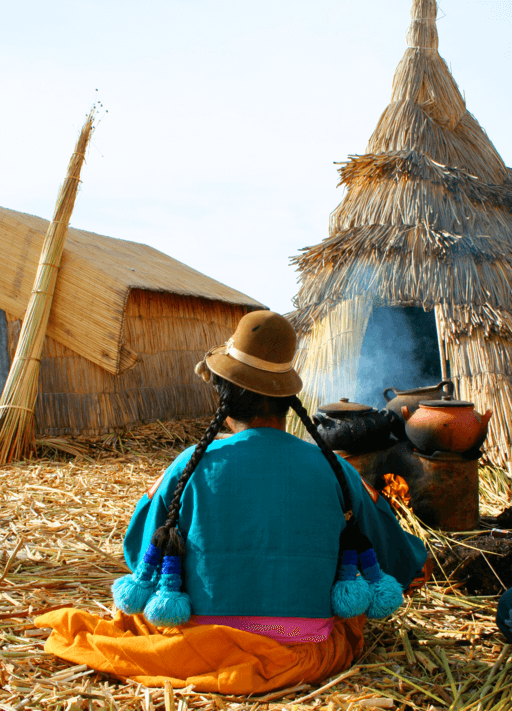 One might wonder what prompted the Uru people to shift to the deep waters. Legends say the Urus migrated to Titicaca from the Amazon, but the locals didn't let them live in the villages. So the Uros built reed islands, put them afloat on the lake, and moved around safely. Talk about a smart solution.
Getting tired of being escorted by a guide, I slunk away to a lone girl sitting quietly outside a hut. I wondered how it must feel to open up one's home and share it with strangers daily.
When I approached her, she didn't say anything. And then for the next half an hour I was her shadow. She washed earthen and steel pots inside the hut, smiled at me every now and then, and even let me hold her hands later. Just a little thank you for letting me into her land.
While everyone had been assigned a different task to entertain the tourists, she had many household chores to attend to. They had a school on one of the islands, she said. Or children can also go to Puno. That day was a holiday so she was at home, she said. Though we were conversing in Spanish, all Uros speak both Spanish and Aymara.
Even the storm of 1986 that destroyed most floating islands didn't deter the Uros. Even today almost twelve hundred of them stay on an archipelago of sixty golden islands in the western corner of the lake near Puno.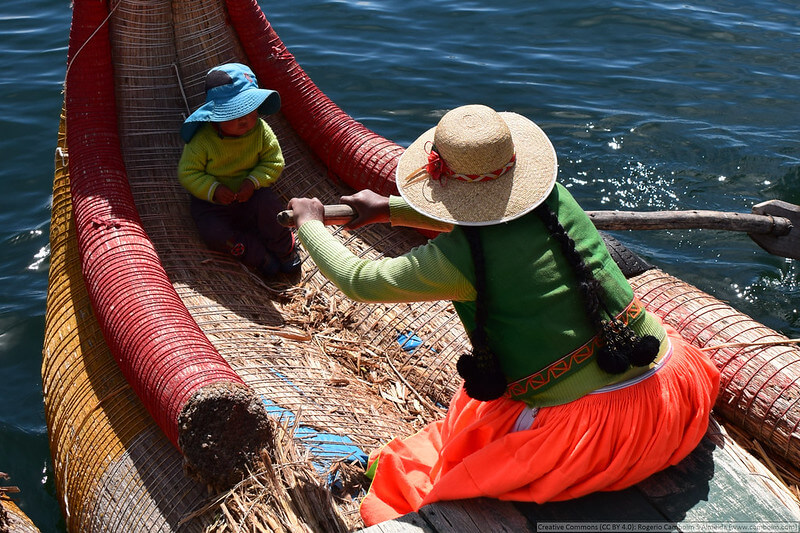 Isn't this the cutest thing in the world? [Image Credit: Rcamboim, under license Attribution 2.0 Generic (CC BY 2.0)]
from the floating islands, we were taken to the Isla de Taquile (Taquile Island)
Again, the islanders were waiting for us at the point where the boats disembarked. We hiked up a steep stony path behind them. Everyone strode with sure steps but I was spellbound by the view ahead.
The deep-blue lake rippling in front of me until infinity was still strange to me. And there I was. With people from around the world walking behind a community that had lived on that lake for I don't know how many centuries. It was all so surreal, and while the travelers made their way to our destination, I stood quietly.
Taquile island has been occupied only since 1970. Our hosts, also known as Taquileños, took us to a restaurant overlooking the lake. Everything there overlooked the lake so getting the best seat with the best view wasn't a problem at all.
Known for their sustainable tourism practices, the 2000 or so Taquileños are also known for their unique weaving style. Soon there was another guy standing in front of us holding a beautiful handwoven cloth. Amongst us, the men weave and the women make yarn, the guide said.
Their knitting art is recognized by UNESCO and the men of the community are trained in knitting and weaving since they are eight years old. In addition to the income from handicrafts, the islanders sustain themselves on tourism, farming, and fishing.
We gorged on a quinoa soup, bread, and fried trout fished fresh from Titicaca (and to say trout was introduced to Titicaca).
Often praised for protecting their community, Taquile islanders don't allow outsiders to stay overnight. Having witnessed how travelers influence local cultures in both good and bad ways, I wasn't unhappy when we were escorted back to the boat. We then headed to our last island of the day and our stay for the night.
That Starry Night on the Isla De Amantani, Puno
Amantani island on Lake Titicaca is free from motors, machines, and hotels. Concomitantly, my travel friend, another gentleman from the US, and I ended up in a bucolic home. Other travelers were fitted with the rest of the 4,000 islanders.
The home was a simple adobe house with an open courtyard, guest bedrooms were upstairs, and the shared bathroom and the kitchen were downstairs along with the rooms of the family. Right after we had put our small backpacks in the room, we were taken to Pachamama hill.
Pachamama is mother earth and is highly revered in the indigenous communities of South America. We trudged up the stone path up the Pachamama hill. At the peak, Peruvian and other South-American travelers circled the temple a few times, prayed for their well-being and safety, and offered flowers, rice, potatoes, and coca leaves.
Others got busy relishing the view of the lake and the Bolivian mountains in the distance. On the other side also stood the Pachatata hill, which seemed comparatively less popular.
Walking through the village complex, many of us joined the locals in their evening football game. The rest chatted and watched.
By the time we returned, it was already dinner hour. Our house had no lights, and we dined using flashlights. The food was a potpourri of farm-grown things. We gorged on potatoes, bread, some steamed vegetables, and quinoa soup. We had seen the terraced farms on the island on our walks around. Even though for us the food was fulfilling, the gentleman from the US avoided most greens. He said it would be too healthy and might harm him.
By that time stars had patted the sky. But our adventures weren't over yet.
Our host mother said we had to go to a local dance. And no not in our jeans and shirts.
"Put this on." She gave all of us colorful clothes like her own. The boys got simple black pants, white shirts, and ponchos, but I had a black skirt, a big white shirt with large pink flowers, and a black shawl similar to her own.
In a queue behind our host, guided by her flashlight, we did look like a bunch of idiots. The fiesta had men and women dressed in traditional party clothes, singing, making live music, and dancing. First, we sat around the performers. But soon enough we were on our feet going around in circles drinking beer. As once my sari had come off while dancing at my brother's wedding, that night my skirt came off with my vehement jerks. My host mother ran to me to fix it up and giggled like a little girl.
If only I hadn't loosened it up because she had wound it around me too tight. Clearly, she had her reasons.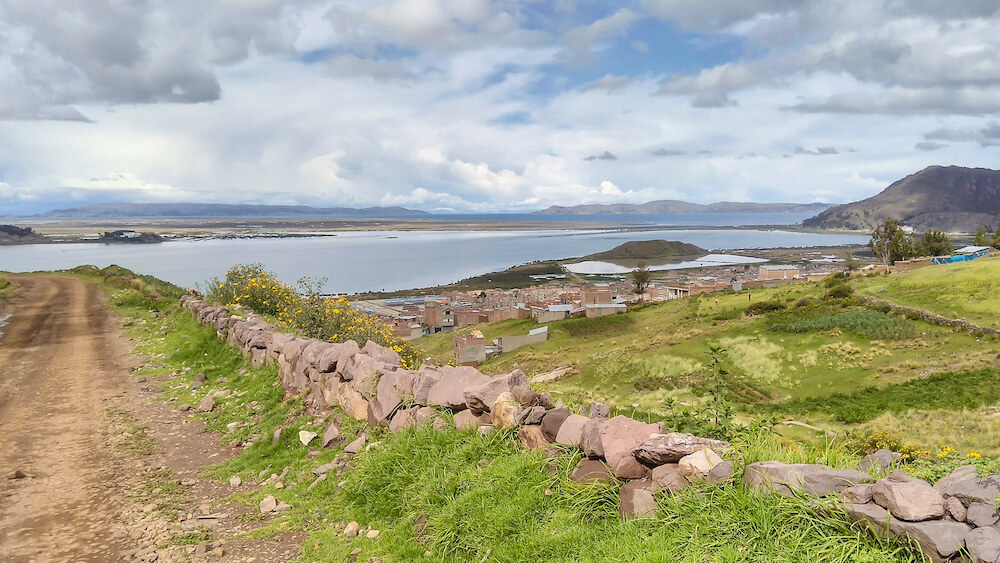 So maybe you don't want to go to the islands as visiting Amantani island is a typical activity in Lago Titicaca Puno, but you can also think of it as a way to support the local community. And it is up to you how touristy you make your visit. Stay casual, maybe practice a few words of Spanish so that you can speak with the family, and help them out in their daily life.
Hey, it is all about getting to know each other. Isn't it?
If you are limited on time, do consider this two-day tour which starts from Puno and takes tourists to all the three islands of Uros, Amantani, and Taquile island. This way you would have a genuine local experience but you wouldn't have to spend time arranging the visits.
And when we put up a lake Titicaca map in front of our favorite travel guide and pointed to an island we wanted to visit, she happily arranged with her cousins to host us.
One of the best things to do in Puno, Peru: Visit some remote islands on Lake Titicaca
I won't tell you where I went but I can say that Lago Titicaca has 42 islands, some of which are in Bolivia and the rest are in Peru. But most of them are accessible from Puno.
Talk to a tour guide and ask him to send you to an unknown island where he might have a family. Or make friends with locals and they will take you to their extended family which might be staying in one of the farthest islands.
I visited one such island. The family's teenage children and I waded through the giant Lake Titicaca on their tiny houseboat, torrents of rain beat down on us, the cold wind slapped us throughout the two-three hour-long boat ride, the urgency to pee made me want to leave all social etiquette, and when we arrived at the island instead of running straight to the bathroom, I got mesmerized by a beautiful little Peruvian girl who took my heart away.
Visit Sillustani Burial towers or the Ruins of Sillustani near Puno
I took a guided tour to Sillustani as I wanted to understand the story behind these pre-Inca cemeteries. About an hour ride's away from Puno city center, the large towering chullpas or funerary towers standing high (some of them even 40 feet) on a steep climb next to another lake definitely looked impressive.
The story that until the late 1400s the Qolla warrior community used to tie their dead family members in a fetal position and saved them in uterus-shaped tombs with food and special personal belongings inside these chullpas surprised me even more.
Preserving the bodies of dead family members was part of the culture of Peru. And even places like Nazca in South Peru also have cemeteries and burial grounds dating as old as 200 AD century where bodies were wrapped in cotton and resin to protect them from decay.
The views on the way to the ruins were spectacular, and I couldn't take my eyes off the lush mountainous and agricultural landscape.
As we were coming back, I saw a train run past by while the sky was adorned with a gorgeous rainbow just stretched across behind the Andes. A sight to remember indeed.
I booked the tour from a local agent, but if you want to pre-book a half-day Sillustani tour that would also support the locals as it would be managed by a local guide, go here.
Walk around and admire the old buildings and sites of historical importance in Puno city
The best way to know any city is to walk around in it.
You are visiting South America so you would definitely start your journey by visiting the Plaza de Armas or the main square, then take a look at the large18th-century Baroque cathedral at the Plaza, stroll on the cafe and restaurants-stuffed Jirón Lima, admire the old La Casa del Corregidor which is said to be the oldest house in Puno and has the most precious Spanish balcony, chill in Parque/Park Pino, visit the Puno market or the mercado de artesanía to shop around for the most exquisite Peruvian alpaca wool items, and admire the British-made ship Yavarí which is the oldest ship to sail the waters of Titicaca.
You can also go Kayaking with a Peruvian who would happily crusade through the waters of the mighty Titicaca with you.
Climb up to Mirador(viewpoint) Kuntur Wasi to see Puno from a bird's eye
Though people say that this place is not safe, I took a taxi up to the hill with a travel friend for I didn't know about the safety issues back then. We climbed up the more than a hundred stairs (though you can even take a taxi to the top for around 8 soles) to arrive at the giant statue of the condor.
The city of Puno being cradled by the blue Titicaca looked stunning from up there(the feature image of this article perfectly shows that). If you want to continue your walk, you can stroll further into the countryside from the top.
We were walking around there for hours, met local construction workers who offered us a local drink, and were almost getting too happy about our little trip when a group of gangster dogs started barking and followed us.
A guy shouted at the dogs from his rooftop, another lady ran behind them with her own dog and saved us. But the gang of dogs followed us again as if they had something in mind. I started picking up stones to hit the dogs when the ferocious dog of the farmer lady who had helped us previously came running to us, fought with the other dogs, and saved us from getting bitten.
The lady was so sweet and simple that when I hugged her to thank her she shied away and couldn't stop giggling. I know people all over the internet say that part is notorious for taking away foreigner's stuff, I didn't even feel a hint of it.
Admire the Fertility temple of Chucuito near Puno
I am only mentioning this temple for if fertility temples exist somewhere, we should see them. You can take a taxi to the Andean village of Chucuito and visit the temple and observe some Peruvian village life.
Now let us dive into some of the existential questions about Puno, Peru and Lake Titicaca.
Where are Puno and Lago Titicaca?
Puno is a small city in Southern Peru situated on the banks of Lake Titicaca also known as Lago Titicaca(lago is the Spanish word for lake), which is the highest navigable lake in the world.
Lake Titicaca is located in the high altiplano basin in the Andes on the border of Peru and Bolivia. The right leg of Titicaca cuts through (almost) the West of Bolivia and the left leg sits in South Peru.
Here are two Google maps to show you the Lake Titicaca and Puno in respect to the rest of South America.
The altitude in Puno and Lake Titicaca is about 4,000 meters.
Why is Lake Titicaca so special that everybody who travels to South America keeps talking about it?
Lake Titicaca is the largest, highest, and deepest lake in South America situated in the high Andes at the border of Peru and Bolivia. Now apart from these geographically unique characteristics, legends say that Lake Titicaca was the birthplace of the Incas, the rulers who ruled over the largest empire in South America before the Spanish invaded.
The Andean indigenous communities even believe that the sun and the moon were made on the islands of sun and moon on Lake Titicaca(in Bolivia side) by God Viracocha hence the lake is religiously significant for almost the entire Peru and Bolivia who worship natural gods. They say that religious spirits still live at the bottom of the lake.
Many more fascinating stories revolve around the lake which is said to be in the shape of a puma hunting a rabbit. These historical and mythological tales along with the thousands of year old civilizations that have been inhabiting the banks and islands of the lake, speak ancient Aymara and Quechuan languages, live in their indigenous styles most of the times without any power or machinery or cars, construct their own floating islands (about which I will talk later), the stunning countryside circumscribing the lake, terraced roofs cultivated with potato and corn, sheep and cow grazing on the steep hillsides, azure-blue water of the lake, and the mighty snow-capped Andes visible in the distance makes Titicaca one of the best places to visit in Peru and Bolivia.
Suggested Read: Another special lake to visit – Lake Inle in Myanmar
General FAQS about Lake Titicaca, Peru.
What is the altitude of Lake Titicaca?
Elevation of Lake Titicaca is 3,800 meters, almost as high as the popular Chandrashila Peak of the Himalayas where most of the Indians go for their first Himalayan trek. If you have been to Chandrashila, you must remember how low the oxygen pressure is at that height. Now imagine if you had to live at that altitude, wash clothes, cook, walk around, climb, sail, farm, run, and live your regular life but with just lesser oxygen. Now it seems like I have started to talk about the Spiti valley of Himachal.
How big is Lake Titicaca? How deep is Lake Titicaca, Peru?
Twenty-seven rivers flow into Lago Titicaca to make it the largest lake in South America. The lake goes as deep as 280 meters and the surface area is about 8,300 square kilometers, a little less than Cyprus.
How many islands does the Lake Titicaca have?
Titicaca has almost 42 islands spread between Peru and Bolivia.
What is the best way to see Lago Titicaca?
The best way to see the Lagoe Titicaca is to get onto it.
Is Lake Titicaca worth visiting?
I have written a whole travel guide on visiting Puno and the Lake and you dare ask me this question? Jokes aside, Lago Titicaca is a magical place and is totally worth visiting. But if you have two weeks on your hand, then I would say spend one day in Puno and visit one island of Lake Titicaca to get an idea of the place.
If you travel to Bolivia, you can also visit the lake from there. I have written about visiting Lago Titicaca and Isla del Sol on the Bolivian side in my Copacabana travel guide, the Bolivian establishment on the banks of this humungous lake.
Recommended Read: Travel Bolivia, my comprehensive travel guide.
What to do in Puno, Peru? Is Puno worth visiting?
Moving at a relaxed pace, Puno is a fusion of the Aymara and Quechua cultures, offers great food, a gorgeous countryside surround Puno, and in the evenings you can walk to the Lake Titicaca and eat fried trout at the bank.
How is the weather in Puno, Lago Titicaca?
As both the places are at a height of 4,000 meters, the wind is cold and nights generally gets chilly. I visited Lago Titicaca and Puno in February, which is the Peruvian monsoon and summer. But the weather was never that hot, and we always had to wear a jacket. In the heavy downpour of rain, Puno was a delightful place. The weather was cold. But during day time the city got hot and sunny but never so much that you have to walk around in t-shirts.
But I have heard that in the months of July and August, before the extreme winters, the sun is strong.
You also need to take care in Puno because the altitude is high. If you are planning to visit Puno from another sea-level city, take it slow. Rest and sleep well, drink a lot of water, go low on alcohol, and take a few days to acclimatize. Drink a lot of coca tea and eat coca leaves.
I have written all about handling the altitude in Peru in my travel guide to Peru.
Where to stay in Puno, Peru?
I stayed in the Cozy hostel in Puno and had a marvelous stay. Delicious breakfast of omelet or scrambled eggs, toast, bread, butter, and jam, fruits, juice, and unlimited coffee and coca tea throughout the day made this place my favorite. The location is perfect as the hostel is near the plaza and the street goes straight to the lake. They even have a big lively common room with a television and a kitchen to cook all that you want.
I had also stayed for one night at the Pacha hostel and I promise you I have never stayed in a worse place. Though Pacha hostel has good reviews, the staff was not helpful, the breakfast sucked, and the rooms were empty almost giving a melancholic feeling.
How to get to Puno, Lake Titicaca?
By Train.
If you are looking for a life-time train journey, take the Orient Express that runs three times from Cusco to Puno and charges more than 300$ one-way. They say that it is one of the most picturesque train journeys in the world.
By Bus.
I arrived in Puno by bus from Arequipa and the journey took me about 8 hours. I have already written in the Peru travel guide and you must have read it that the buses in Peru are fantastic. You can also take a bus from Copacabana or Cusco. Choose between the cheap local buses that stop a lot, more expensive and direct comfortable buses, and expensive tourist buses that stop for sightseeing in between.
A lot of travelers also cross into Puno, Peru by taking a bus from Copacabana or La Paz, Bolivia.
By flight.
The nearest airport is an hour outside of Puno in Juliaca from where you can take a shared taxi or bus to Puno.
By Ferry.
Via ferry across Lake Titicaca from Copacabana. Though I have not tried this option, I have heard it is possible to cross into Peru via ferry from Bolivia. Ask a local or at your hostel. Keep some change for the ferry.
Related Read: Guide to Peru Travel Visa for Indians.
What to pack for Puno and Lake Titicaca?
A rain jacket

– When I was in Puno in March, Peru's rainy season was at its peak. If you are heading to Peru in the monsoon, do yourself a favor and get a rain jacket.

Yoga pants

for women

and

for men

– For hiking around the hills around Puno and on the remote Titicaca islands.
A hat for the sun – Too much direct sun at those heights isn't good while hiking.
Strong sunscreen – Andean mountains can be pretty sunny, and you would burn in a minute

Lifestraw water bottle

– This reusable filtered water bottle comes with an inbuilt filter, and you can fill it anywhere. A filter water bottle is essential for you cannot drink tap water everywhere in Peru.

Good hiking shoes for women

and

good hiking shoes for men

– A must-have.
A

travel towel

– Carry a light travel towel like this one for it will save you a lot of space.
Flashlight – Please don't go without this one.
A day hiking backpack – As there are plenty of places to walk around Puno, you would definitely need a sturdy backpack to take for the day with you. I used to stuff this day pack with basic medicines, rain jacket, water bottle, bananas, wallet, power bank, and other essentials.
Of course, other regular clothes like undergarments, t-shirts, and whatever you like. But these are the most important things you would need on the island. For a detailed list of things to bring to Peru, please see my Peru travel guide.
Related Read: Planning your South America Vacation – A complete guide
If you like my Lake Titicaca and Puno travel guide, please pin it and share it with the world.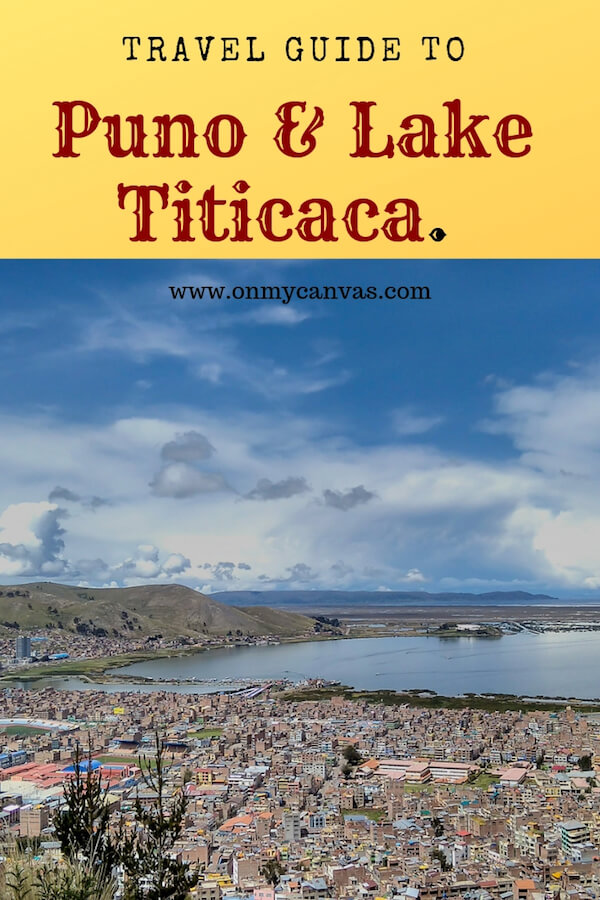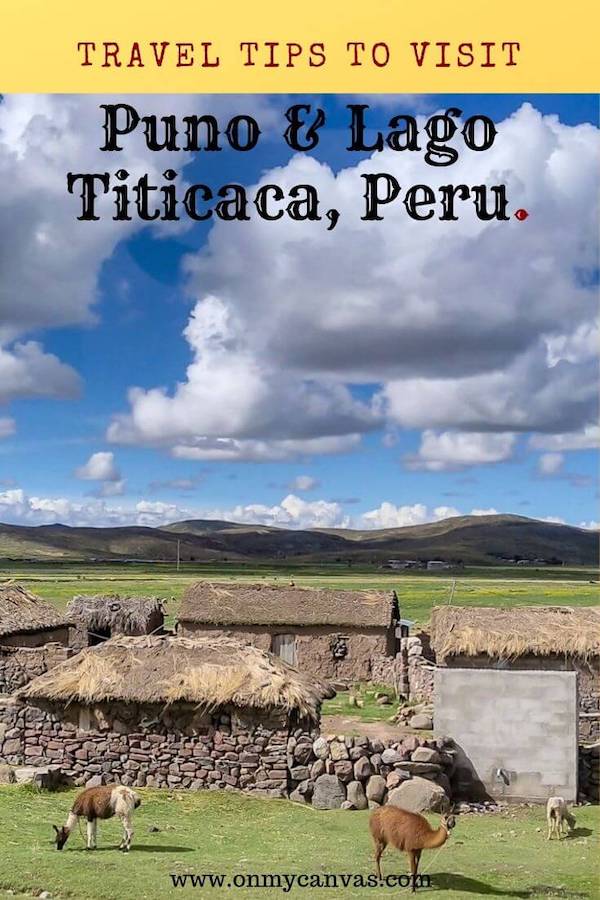 Excited to see Puno and Lake Titicaca now? 

If you have any questions about what to see in Puno or Lago Titicaca, please ask in the comments.
Disclaimer: This post contains affiliate links to the products I like; if you choose to click through and make a booking or purchase a product, I will earn a little bit at no extra cost to you. Thank you.
Feature Image Courtesy: Diego Delso, CC BY-SA 4.0 https://creativecommons.org/licenses/by-sa/4.0, via Wikimedia Commons
*****
Donate to keep me going!
For five years, I've read and wrote day and night to keep On My Canvas - my sustenance and life's focal point - going. Everything here and my weekly newsletter "Looking Inwards" is free. No ads. No sponsorships. If you've had some good moments reading my posts or felt hopeful on a lonely day, please consider making a one-time or a consistent donation. I'll really appreciate it (You can cancel anytime).
*****
Want similar inspiration and ideas in your inbox? Subscribe to my free weekly newsletter "Looking Inwards"!