From Mandalay to Dee Doke Waterfall
Should I share or hide? While deciding whether I should write about the Dee Doke waterfall, I've become more conscious of my responsibilities as a travel blogger.
Dee Doke is a remote and uncrowded waterfall because most people don't know about it. But if I talk about the Dee Doke falls, more travelers will go there. But would all those visitors keep the place clean and serene, as it is now?
I can only request and rest is upto the people, up to you guys. If I show you some pictures of these turquoise falls, tell you they are about an hour and a half scenic drive away from Mandalay, and the waterfalls are mostly empty, you would want to rush to Dee Doke or Dee Dote, as locals call it. It's a fair request.
I also went to Dee Doke because I discovered Myanmar travel blogs that suggested me to visit this stunning waterfall. I had an amazing day driving from Mandalay and then swimming in the Dee Dote blue lagoons. So I'm thankful to those travel writers.
I'm just returning the favor now. I only ask for not playing music on speakers there or leaving garbage behind. That's all. I know you would be good and respectful.
Let's go then.
I visited Dee Doke waterfalls in early January. Now, what could be better than driving to a waterfall in the scorching Burmese summers?
To get to Dee Dote, you would drive towards the south-east of the Mandalay city. I share the location of the Dee Dote waterfall below so don't worry about the directions.
You can either rent a scooter and drive yourself or Grab a taxi(download the Grab application and book a taxi through it).
The drive to Dee Doke takes about 1.5 hours. For a relaxed day, I recommend keeping aside one entire day for Dee Doke waterfall. The road to the waterfall was simple, and it's neither hilly nor bumpy.
So if you are confident about driving a scooter over simple roads with not much traffic, go for a scooter. Getting a scooter wasn't that easy in Mandalay. Our hotel didn't have any rental scooters. Even the scooter rental shops were out of stock as it was a day or two after new years' eve. We visited many rental shops and found a rental scooter the previous night. We rented from TTBike Motorbike. Here is their phone number: +95 9 40008 0140. You can find them on Google Maps, too.
Mandalay Motorbike Rental and Tours is also a good shop for scooter rental. Expect to pay around 10,000 Kyat per day.
Or book a Grab. It isn't the cheapest option but comfortable for those who don't want to rent and drive and all that. Please note that you might not get a Grab to return from the waterfall. You can also get a local taxi for the return journey. Expect higher charges. Here is a Mandalay driver who has good customer reviews.
After some time on the highway, the road to Dee Doke runs parallel to the calm Myitnge River. High mountains rose around us. With mountains and river flowing on our right, we enjoyed the drive.
On our way, we stopped at a local eatery. We had been in love with the Myanmar meal, so we ordered two. The fish curry that came with the meal was one of the best fish curries I had in Myanmar. There was some tangy radish pickle made with abundant mustard, too. I loved it and kept asking for more. (If you are interested in Burmese cuisine, read my post on the traditional Myanmar foods. I bet you wouldn't be able to avoid these luscious meals for long.)
What are the directions to the Dee Doke waterfalls?
The Google map location of Dee Doke waterfall is not correct but also not wrong. Let me explain.
If you search Dee Doke waterfalls, you would get the direction to Dee Doke Waterfall Elephant Camp. Because we didn't know any better, we drove to the location. There was no waterfall there. So we tried asking the locals for the directions to the falls.
The elephant camp was about 15–20 minutes away from the waterfall. But the distance wasn't the problem. Finding our way to the waterfall from the camp was a challenge as we couldn't understand Burmese and the people couldn't understand us. They kept sending us back to the Dee Doke camp. We drove back and forth at least a few times.
Oh, we were also running low on petrol by the time we arrived. The tiny shops on the main road near the waterfall sell petrol. So we filled fuel first, and then somehow managed to find the lane to the waterfall.
The correct Google Map pin for Dee Doke is marked as Deedote Blue Lagoon.
There aren't any English signboards to the waterfall. So try not to miss the turns. Another trick that I learned in Myanmar is to match the Burmese letters of the Google Maps location with the signboards. That helped me find my way.
When you drive as per the pin location, take a left to arrive at the parking for the waterfall. The photo above shows the road to be taken. Within two minutes of driving on this gravel road, you would be at the car park.
There is no entrance fee to the fall. But local shops at the car park asked us to pay. Instead of paying for no reason, we bought snacks from them.
Also please note that there weren't any petrol pumps or restaurants for a long time on the way to the waterfall. So eat whenever you find a place and fill up the petrol tank.
It was a 20-minute hike from the car park to the pools.
The path to the waterfall goes through a rocky cliff(as shown above). Trees and dry bushes fringed both sides of the trail. The route was almost deserted. But various sign boards pointing to different pools of the Dee Doke waterfall helped. As most waterfalls, the Dee Doke waterfall is also a cascade of pools.
After walking for 15 minutes or so, an intersection comes from where you can go either up to the right or down to the left.
We took the right path up as the upper lagoons of waterfalls are always cleaner and free. Soon I saw a celeste water pool appear out of the green velvety foliage.
After clambering down the rocks for a few minutes, we were at the uppermost turquoise lagoons of the Dee Doke waterfall.
The path that goes downwards goes to the main swimming area of the Dee Doke waterfall. This main area (as the internet tells me and with my limited vision from the top blue lagoon) has a big shallow pool, a small waterfall, and a makeshift bamboo area.
When I arrived at the fluorescent cyan pool, I felt as if the rest of the world had ceased to exist. There were only 3–4 other people at the fall. And the clean and peaceful water surrounded by towering limestone cliffs felt like an oasis that was inviting me into it.
I changed into my bikini behind the rocks as there was no designated changing place. Or you can wear your swimwear inside and take off the upper clothes at the waterfall.
The water gets its turquoise color from the limestone cliffs. It wasn't a deep lagoon and for the most part, I could stand on my feet. You can also rent tire tubes.
Apart from us two, there were only three more people there almost the whole time. We swam, frolicked, clicked pictures, and played around. Don't jump off cliffs to get into this waterfall as the pools aren't that deep.
Ten mins before we were about to leave, a large Burmese family came and jumped in the water with full clothes. Not until long ago, I(with my family) used to go into water fully clothes as well. I felt it was better not to go at all sometimes.
But when the family members started washing themselves with tonnes of soap in the same water, I felt bad. If language wasn't a barrier, I would have told them politely that using soap at public places where the pool water is stagnant isn't a good idea.
Maybe I will say something the next time.
Start early and plan for a full day to visit Dee Doke waterfall, Mandalay. There was a small cafe/food shop where you can buy biscuits, drinks, and water.
Enjoy.
Where to stay in Mandalay?
We stayed at the bright Gold Leaf Hotel in the main Mandalay area. It is a big hotel with a great buffet on the top floor from where you get a panoramic view of the city. Gold Leaf comes with clean rooms, courteous staff, and standard services.
As I prefer homestays and small guesthouses over the giant hotels any day, I wasn't looking forward to Gold Leaf. But I had to book it because around New Year's week most of the hotels were unavailable. Damn these world travelers.
Despite my prejudices, I liked Gold Leaf for its view, vibrancy, and grand breakfast buffet. Oh, the buffet comes with unlimited Mohinga soup. There, I sold it. 
Click here to see the prices and book the Gold Leaf Hotel.
If you don't like Gold Leaf or are looking for a smaller guesthouse, find more places to stay in Mandalay here.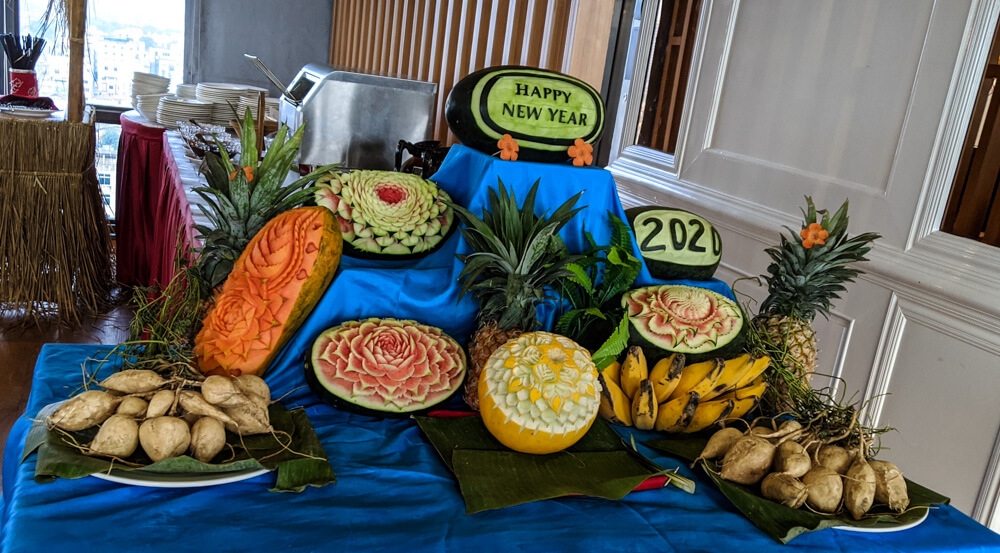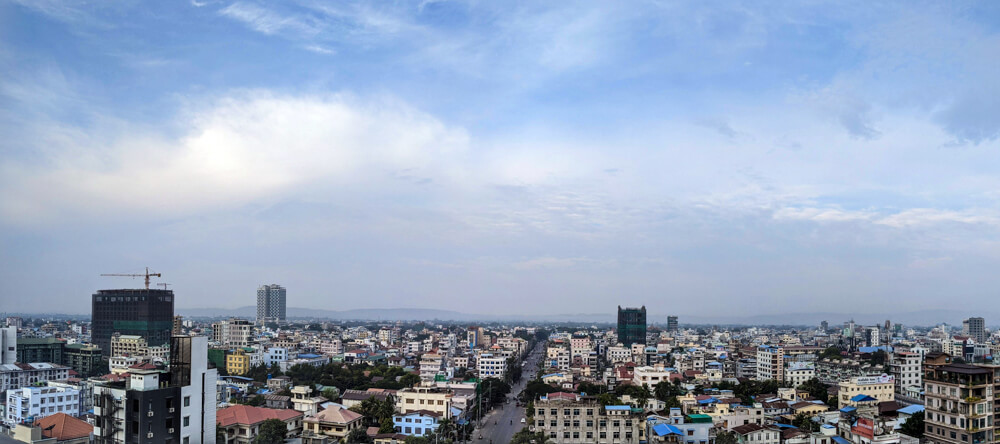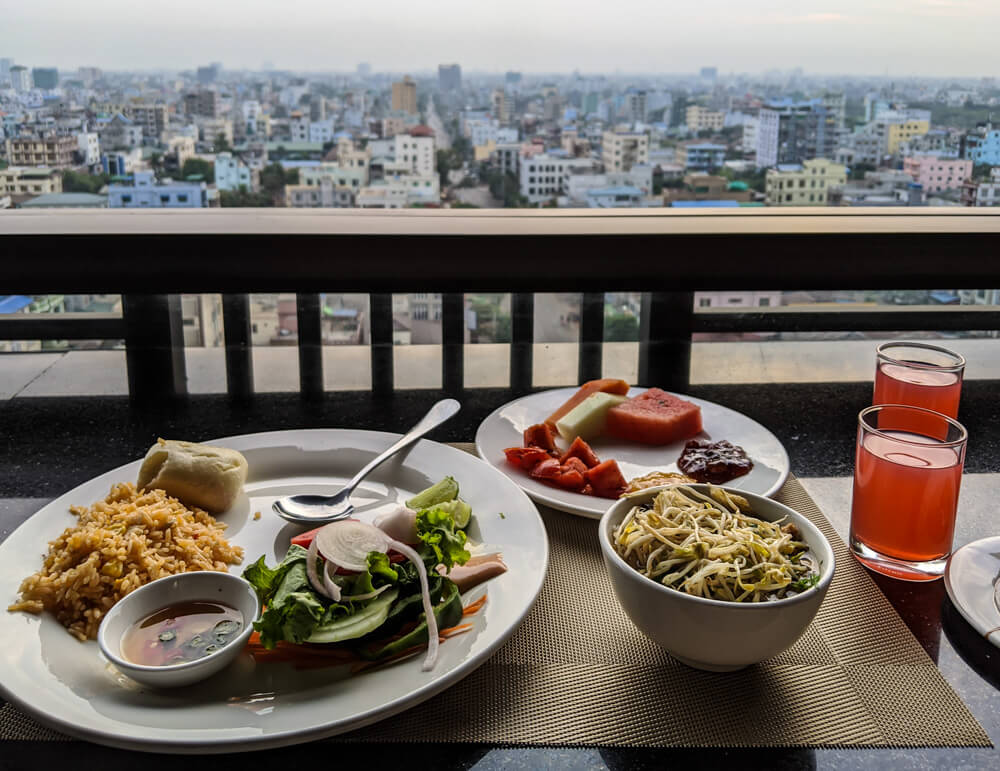 I don't have any pictures of the hotel room. Oops. But they were clean, well-maintained, and comfortable. There was neither anything special about them nor anything to complain about.
Some more pictures from the hike.
How would you describe the color of the Dee Doke waterfalls, Mandalay?
*****
Donate to keep me going!
For five years, I've read and wrote day and night to keep On My Canvas - my sustenance and life's focal point - going. Everything here and my weekly newsletter "Looking Inwards" is free. No ads. No sponsorships. If you've had some good moments reading my posts or felt hopeful on a lonely day, please consider making a one-time or a consistent donation. I'll really appreciate it (You can cancel anytime).
*****
Want similar inspiration and ideas in your inbox? Subscribe to my free weekly newsletter "Looking Inwards"!