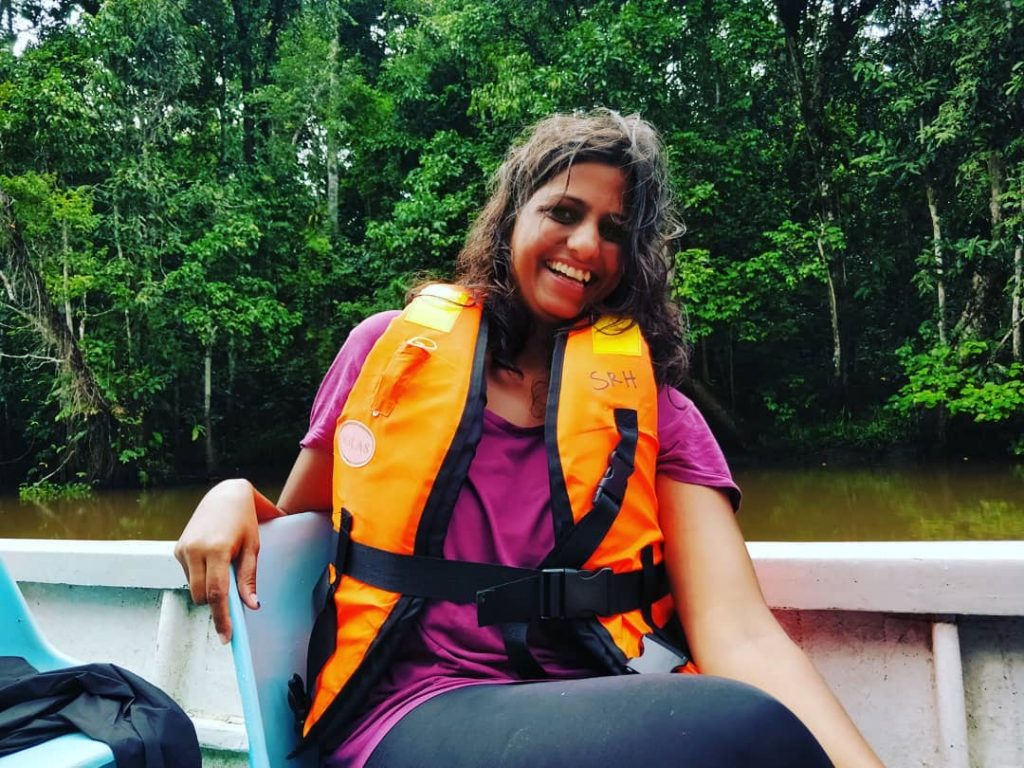 Hello there! Welcome to my blog, and thank you for stopping by.  
I am Priyanka Gupta and am from a small town in North India, though I only lived there until I was fifteen years old. Then I studied in Rajasthan, graduated from IIT Delhi with a B.Tech in Computer Science and then lived and worked my way around India in Mumbai, Delhi, Pune, and Bangalore.
In 2016, five years into my investment banking career, I realized that the corporate world wasn't for me. I didn't like staring at one of those Dell computers in a small cubicle of a multi-storied glass-faceted building to make the rich richer. 
So two years ago, in 2016, I quit my job and started traveling the world, solo. I hoped to find something that would suit the wanderer and the thinker roaring inside me.
In these two years, I have been on the road, mostly. You could find me sitting with the Andean women in Peruvian islands, cooking Indian food with Chilean families, hiking active volcanoes, wandering in tropical rainforests, venturing down into deep canyons, stalking orangutans, teaching English to Latin-American students, admiring centuries-old temples silhouetted against the evening orange sky, diving at old shipwrecks in the turquoise Indian ocean, and writing.
Life changed, in a way. I was still the same girl who like spending more time on the road than at home. I was the same girl who was scared of what would her parents think of her quitting her job and traveling alone. I was the same girl whose writing mentor had told her that her writing needed a lot of work.
But I was determined this time. I wanted to do something meaningful for others and myself. I wanted my life and work to be extensions of each other, like the dark clouds and the refreshing rain.
I always had writing by my side though I never saw it until recently. I was intimidated by the idea of earning butter chicken and roti out of writing.
Then leaving behind all the fears, I started this blog. I repent not starting this blog years ago, but I think I am better off now, having finally started.
Writing and blogging are my new way of life. It all feels right.
And a few months ago, I decided to go all in and started living a nomadic life. I gave up my apartment, where I stayed now and then, sold most of my stuff and packed the rest in bags, and started working on the go.
Now, I write full-time while traveling the world, alone. I focus on cultural travel and visit villages, enjoy ethnic festivals, observe old architecture, praise art, stay at family homestays, trek in thick jungles and chase wild animals, indulge in native life and make relationships with people wherever I go. 
I write about these experiences.
I also pen down my life ideas to live better which are mixed with researched psychology, philosophy, habit building, and ways to maintain focus and motivation.
Follow along to read more about my ideas and escapades around the world and to get some travel inspiration, my experiential destination guides, and travel tips. 
Feel free to drop me a line. Let me know what can I improve and what worked 🙂
If you want to read my travel stories and get some travel tips and inspiration to go around the world on your own, click here: Travel
If you want to read the best stories and ideas on self-improvement, personal growth, mastering habits, emotional intelligence, dating and relationships, and more, click here: Articles
If you want to connect, email me at hello@onmycanvas.com
Like Ruskin Bond, I also want to bring a little sunshine into your life. Happy reading 🙂