Please note: This narrative is the second in the series of travel essays on my Sikkim to Himachal highway journey. Read the beginning of the journey here and the onwards drive to Uttar Pradesh here.
Driving Through Bihar: a Test of Our Unrelenting Spirit
Driving through the field-fringed Bihar highway — of which so much was under construction that we were mostly taking diversions — I sat with the car window open, feeling the wind on my face. Eighty's English Rock played on the car stereo, and the promise of open hours on the road seemed as fertile as the green-yellow country extending to the horizon.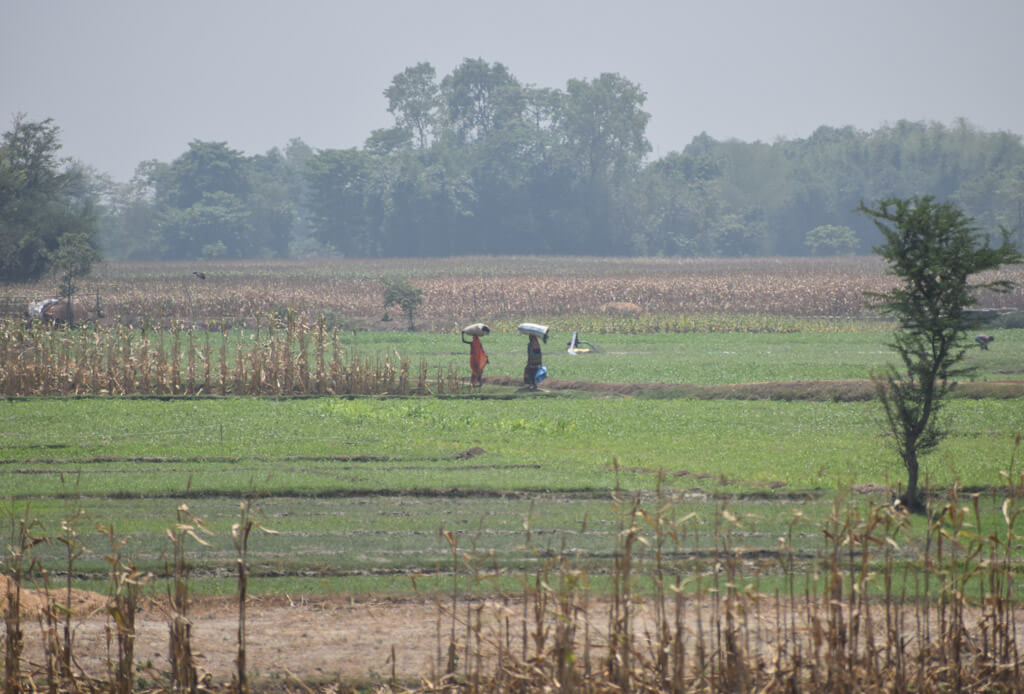 Corn was being harvested. Golden piles of it waited in the farmland to be husked, the sandy chaff lay ruffled here and there, naked ears of corn shone molten-gold next to it, and sparkling stiff orange corn kernels were spread on the ground, roads, and the highway to be dried. Under the relentless sun, tall corn plants with swollen ears, waited restlessly to be cut. Everywhere was corn, and we wondered if it would be washed before being processed (into flour or something else). Storks and goats stood quaintly in the farms like cows.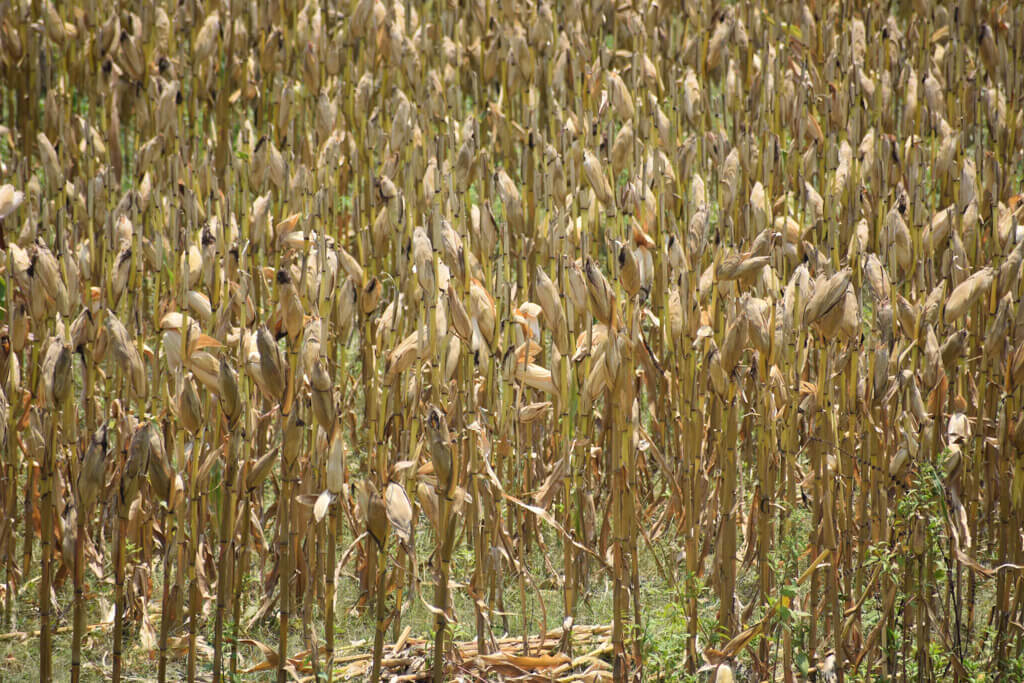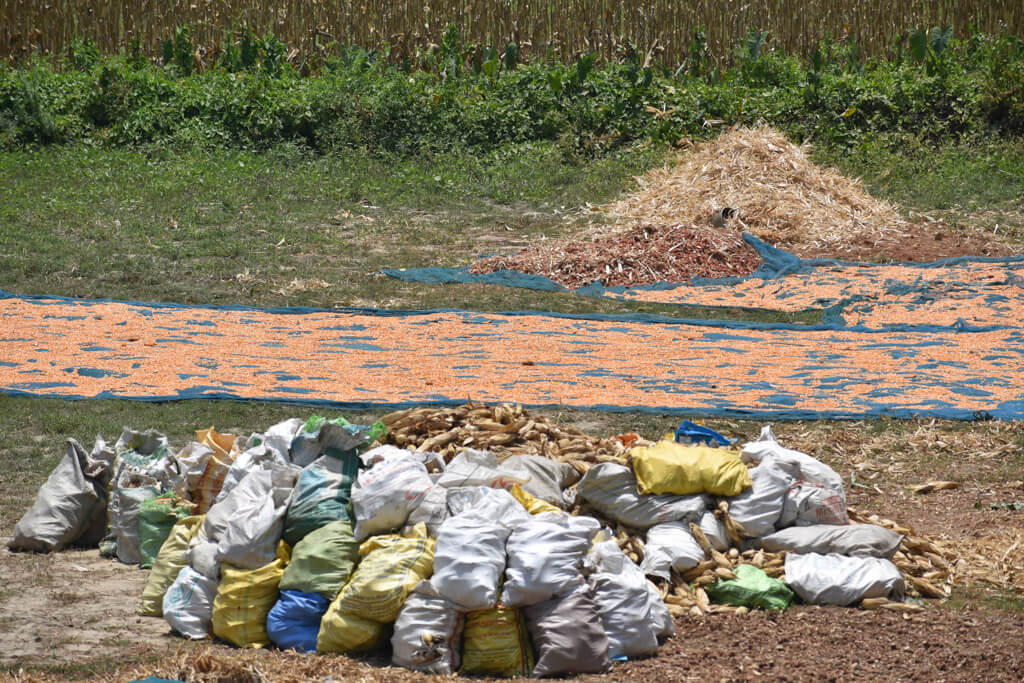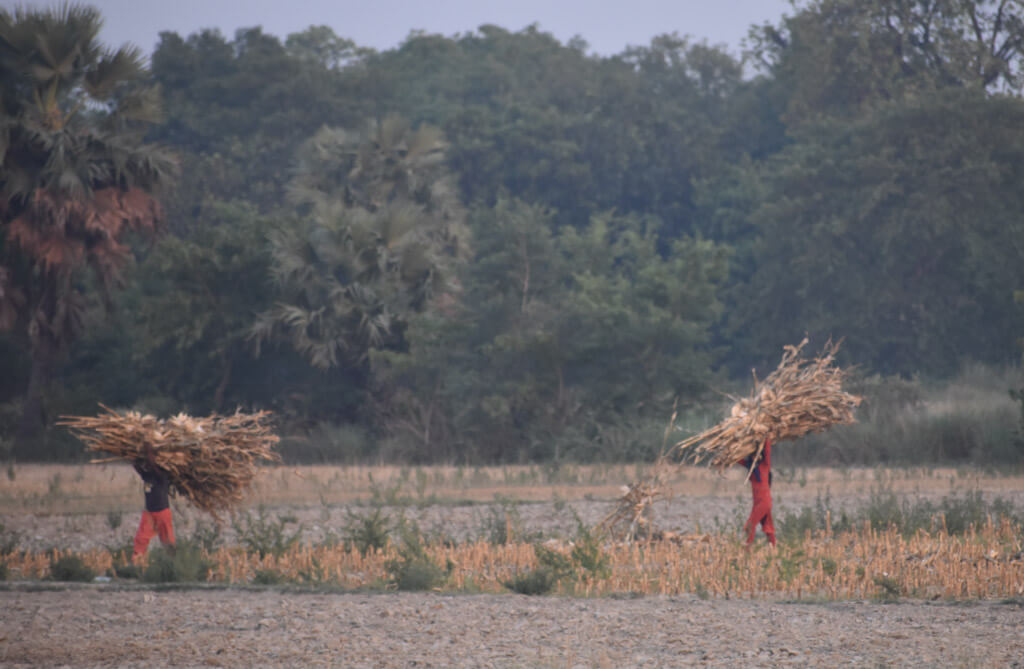 My partner S and I had had heavy breakfast at the Sikkim country homestay (read more in Part 1) so we didn't stop for lunch or dinner, but around sunset, paused on the highway and munched on sel roti (Nepalese staple bread) our host packed for us (I gave her two mangoes). Though we planned to stop for the night by seven pm, in that rural Bihar, the absence of a hotel made us drive much beyond to Forbesganj: a town in the middle of nowhere with a few clean hotels. I called one to be told they didn't have a room: perhaps a man and woman's need for a night stay made them doubtful of our intentions*. But another hotel (better reviewed) told me to drive on, and so we arrived at eleven but slept late into the morning, too. The hotel was clean and comfortable and was satisfied with our marriage certificate. How would we have driven through our country if we weren't married? Now being able to stay in hotels together seems a bigger reason to wed than calming down our parents.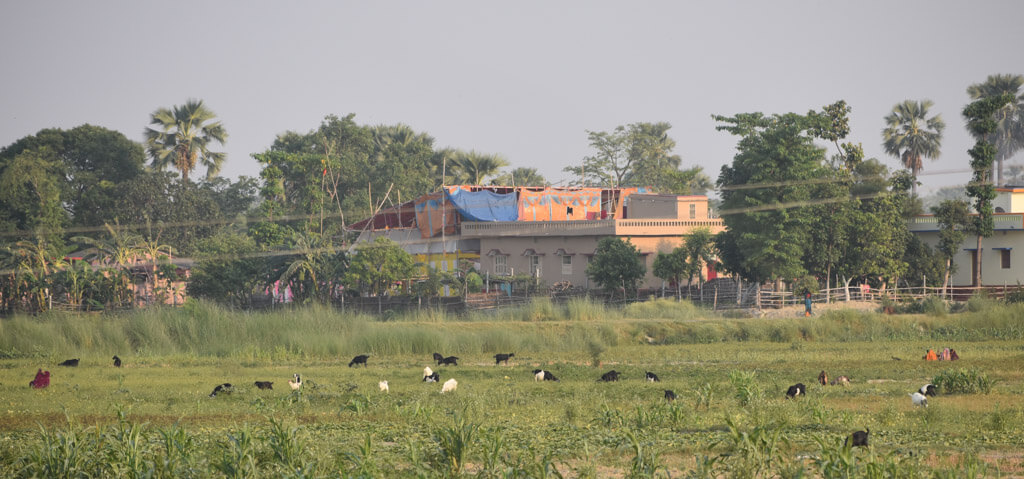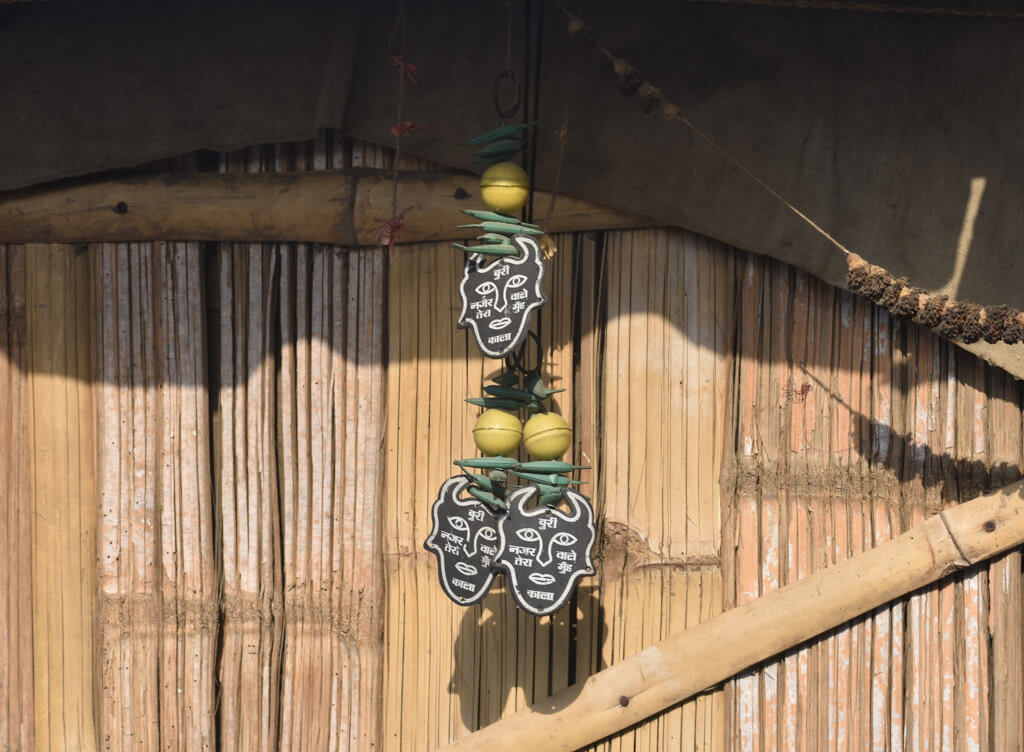 For breakfast, we had sattu kachori (a stuffed fried snack) and samosa with peas curry at a small tea shack. It was one of those roadside joints where as people were about to wash their hands in their plates the brisk but terse owner told them to use the handpump outside. It reminded me of my childhood home's hand-drawn pump, and I pushed the handle with confidence as if showing S how to run the thing. The water was earthly cold, as expected, and I dabbed some on my parched face.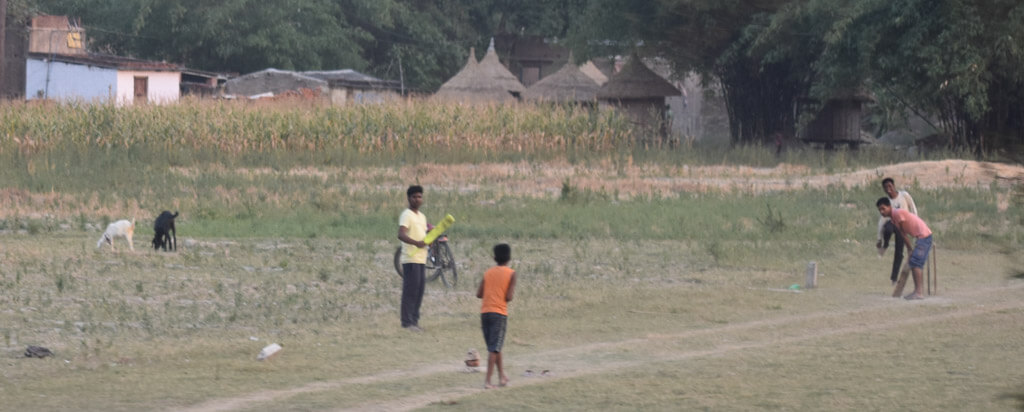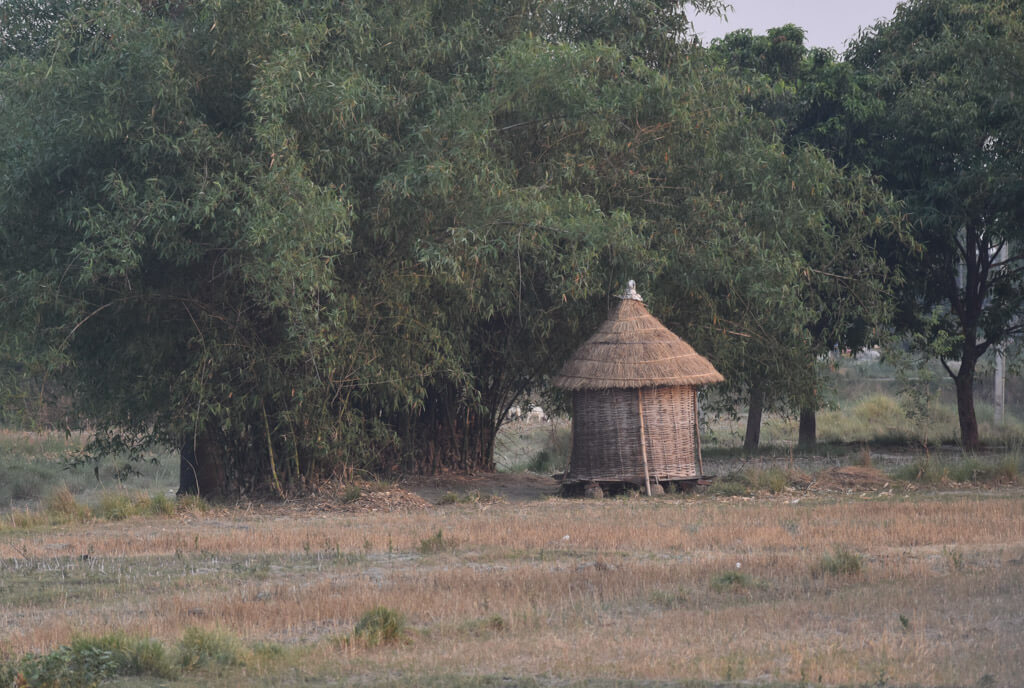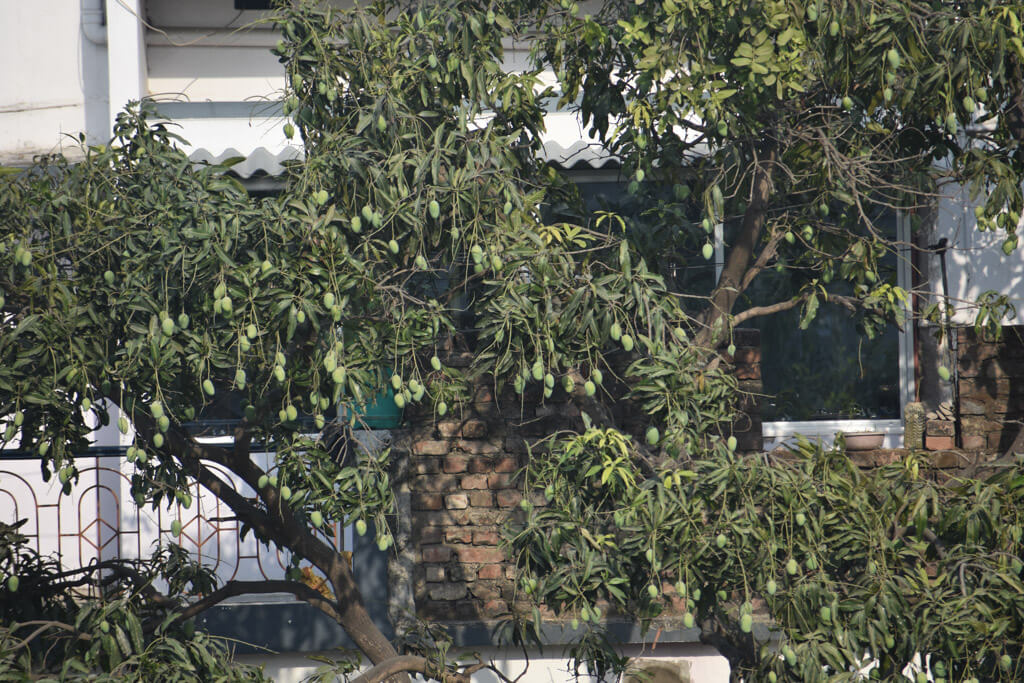 We had driven for about half an hour when the low fuel indicator beeped on, reminding us we had forgotten about petrol. Good thing that there was an exit and gas station nearby because, on the national highway, the next pump wasn't until thirty miles or so. The same thing would happen to us the next day too, and I would start putting an alarm to fill the tank.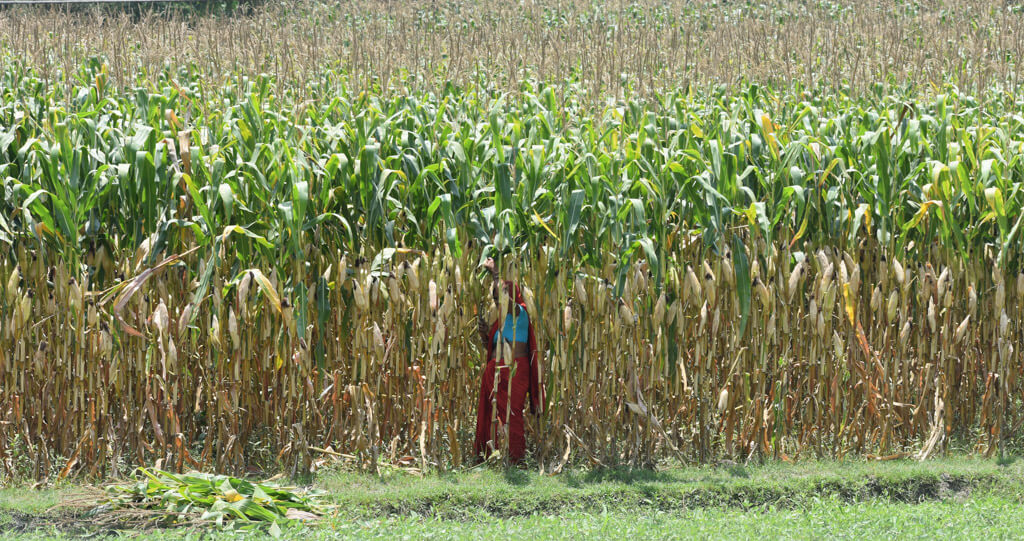 Later when S stopped at a petrol pump, again, I ran backward towards a field of corn in which lay pyramids of the harvested golden treasure and the kernels drying on the grass. As the attendant filled the air in the car tires, he asked S if we were from the media (he had seen me run with a DSLR). Though S said no, he was instructed to tell everyone I was from the media — I don't usually work for any public news agency, but I share what is going around the world through my private platform in my own style (whether I publish on my platform or on someone else's is irrelevant).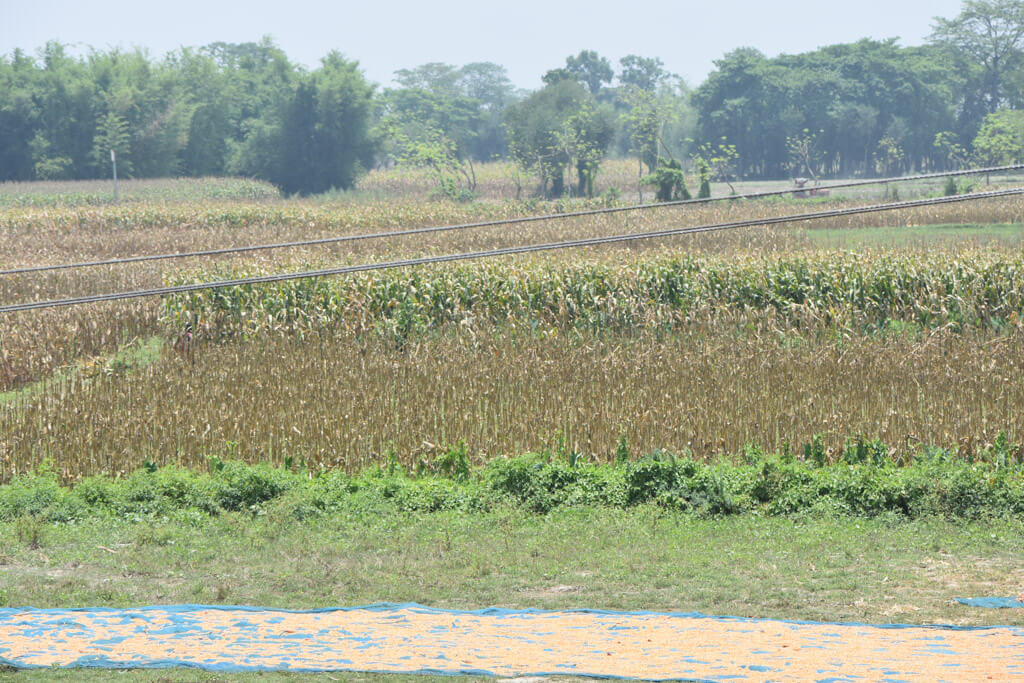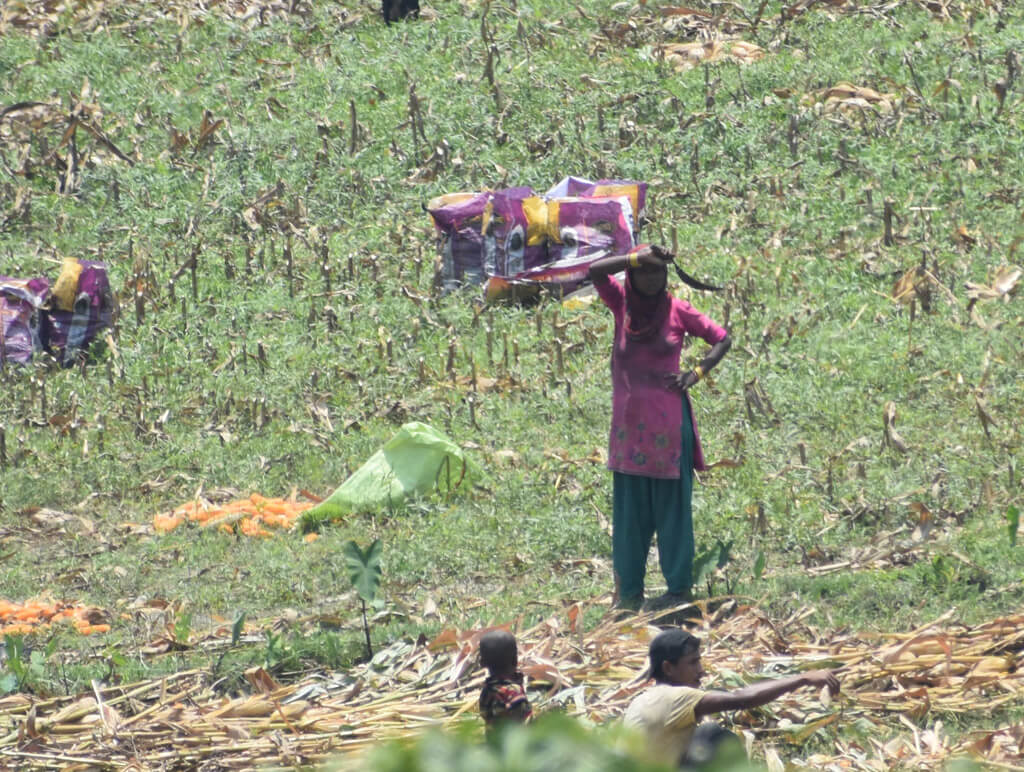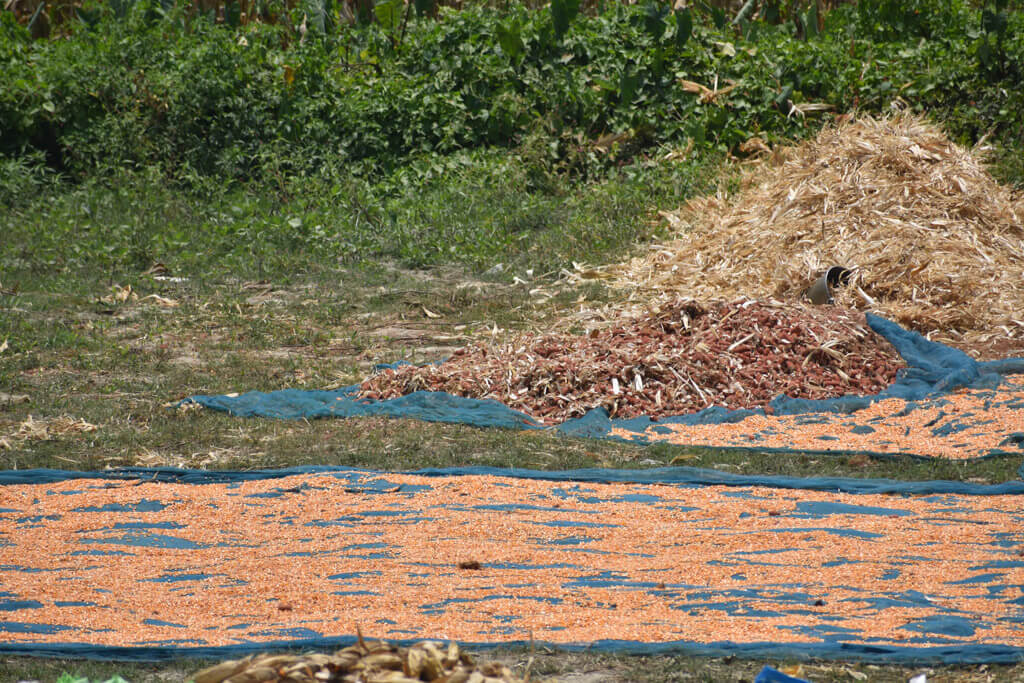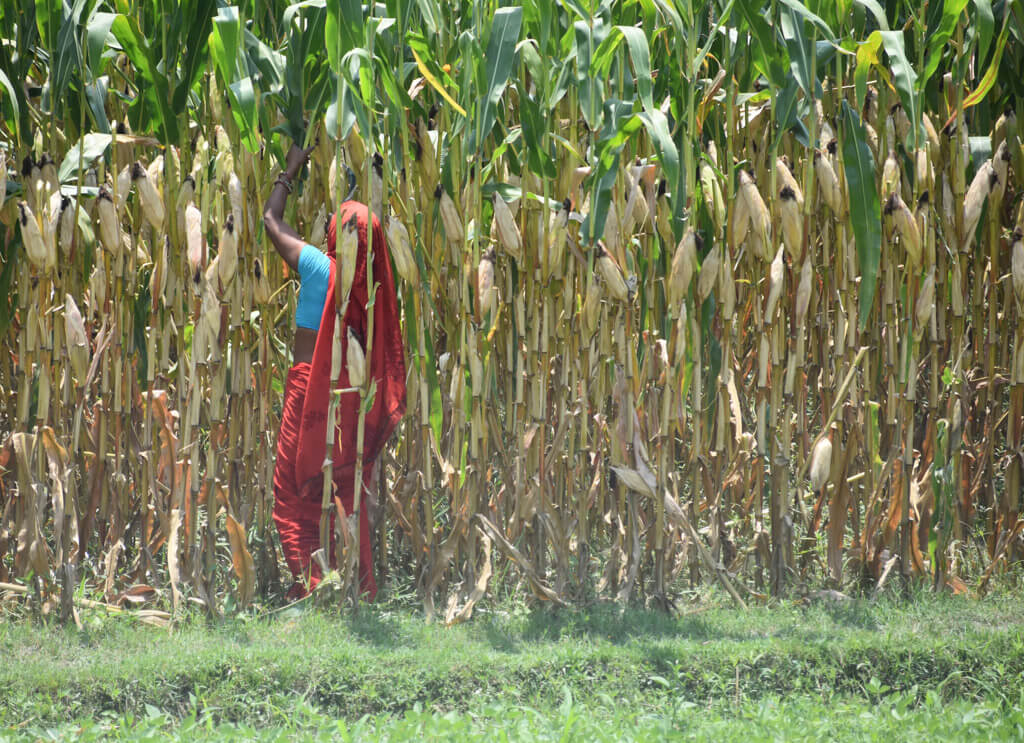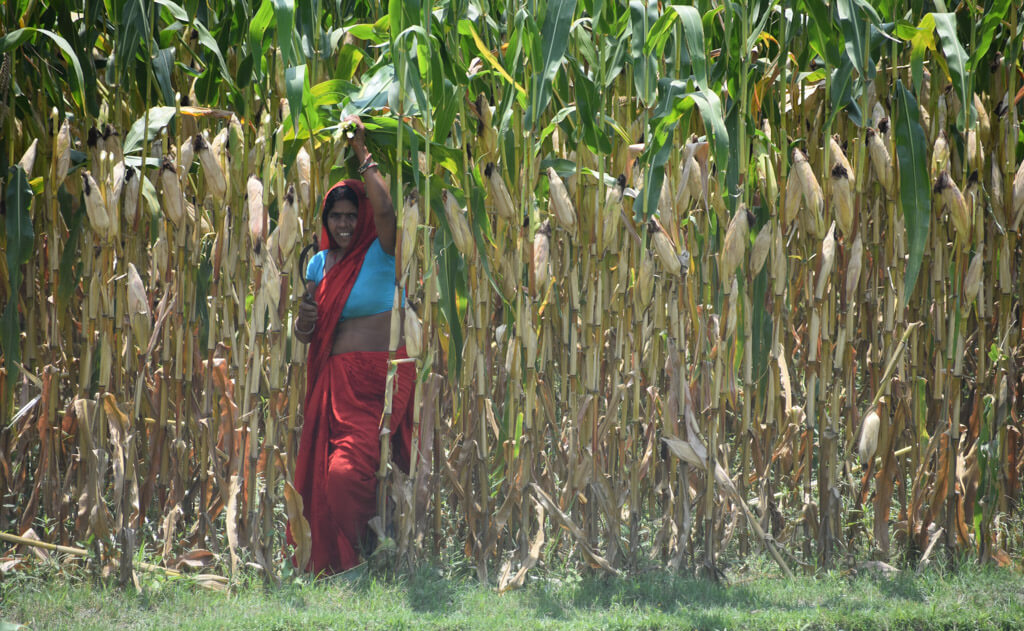 I even clicked pictures of a wedding shamelessly.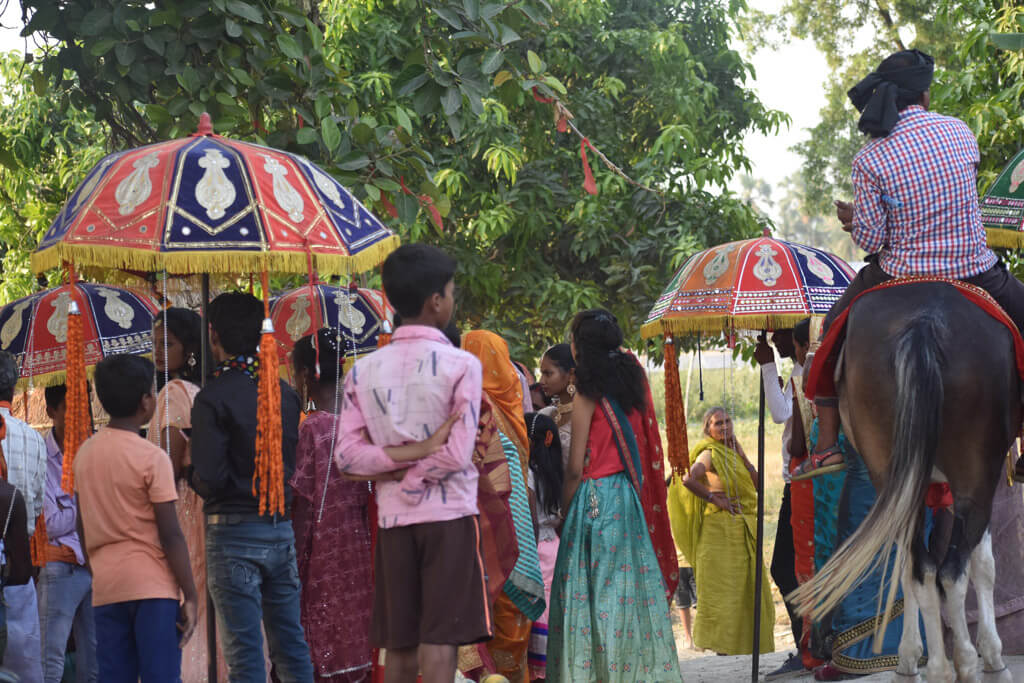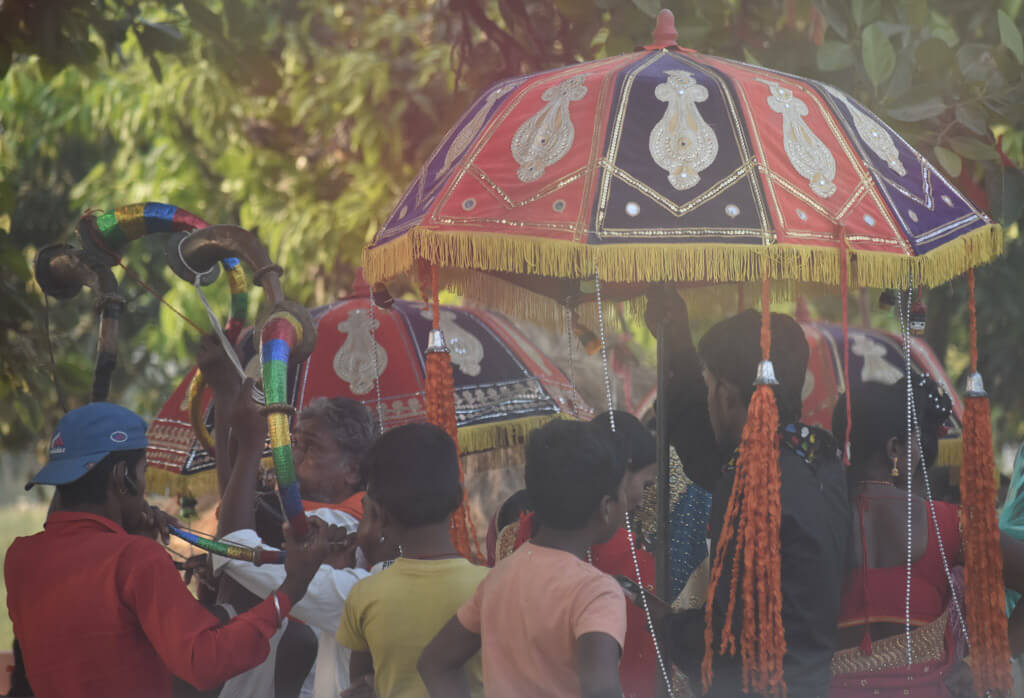 S and I also forgot to eat the famous litti chokha: stuffed dough balls with eggplants mash popular in Bihar, but we had lentils and tandoori roti at a dhaba (ubiquitous small food stalls popular for simple food, and on highways, truck drivers' favorite rest stop). The waiter didn't bring our meal for thirty minutes, confident that we were still deciding on a vegetable preparation to go along with the lentils. The dal was smoky and rich as expected from a roadside dhaba, and the buttermilk was salty fresh and hydrating. But I had asked S many times to go check on our food, not wanting to walk in between the huddled-up all-male crew, and he hadn't. He leaned back on the cushioned bench, checking his phone, and said they must be preparing our meal and so on. His ceaseless reluctance to communicate with people and get things done put me off. I went silent.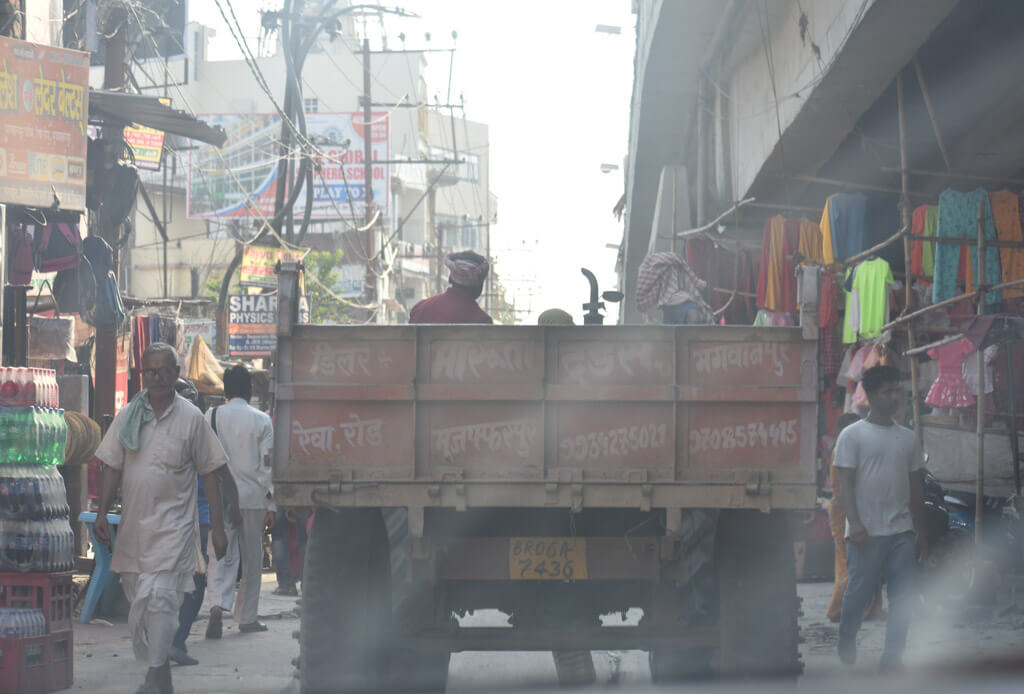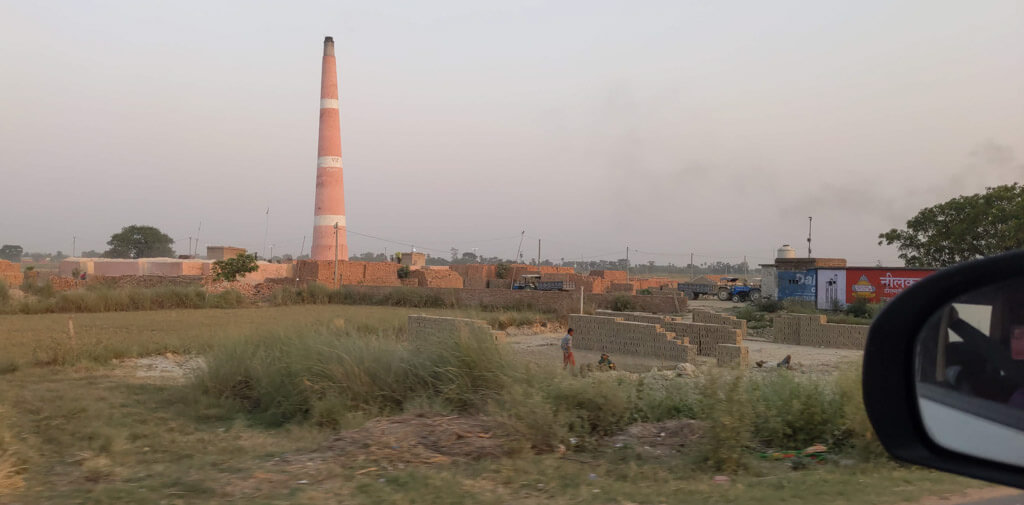 In my silence, the afternoon hours and the road stretched out even longer, though in a pleasurable way. When you have all the time on your hand, you have put aside your work, chores, and correspondence to be here, now, in the present, and in such mindfulness you drive, with songs on the stereo and the oncoming hours spread ahead like a large feast, you savor the journey and all its surprises. As you look out your window (S drove, conveniently), time keeps rolling but it slows down because though your frame changes every millisecond*, the unbrokenness of the journey (though the diversions tried hard) makes each passing moment a continuity of the last one. The drive becomes one long movie that wouldn't end until leaves the last rays of light. And in that everlastingness, you relax, take off your shoes, and open yourself to the world around you. In such calm, I read the messages written on the rear of the trucks and was enchanted. Every other ripple of thought dissolved away.
A couple of quotes painted on the back of the trucks,
दूसरे से जलो मत, आगे बढ़ो (Don't be jealous of others, move ahead.)
समय से पहले और किसमत से ज़्यादा किसी को नहीं मिलता (Before time and more than fate, no one gets.)
Those slogans weren't new chunks of wisdom; in India, they are passed from person to person all day. But lone, on the rear of the truck, as a singular message the owner must have selected from many, the words spread themselves on the road curving in front, and on them only I focused. Each of those messages showed me their meaning, and I assimilated them into my core. So deeply impressed was I, I concluded if we want to understand anything we should get it printed on the back of a truck and drive behind it for a while. Never underestimate the power of a few words!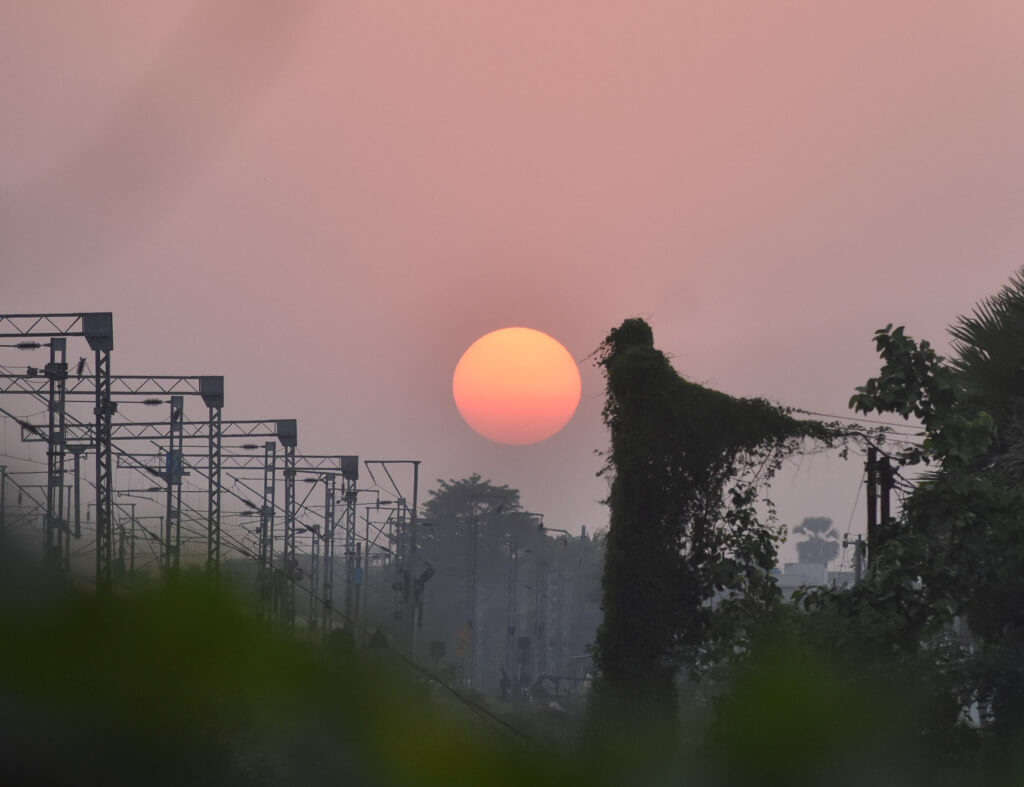 That evening the sun was as fat and mangoey golden and orange as seen from anywhere else on any other day and the sky adorned the same orangish-pinkish hue, but inside me something had changed; the turbulent waters a human always carries had calmed a little. And as if S had been husked, too, his reluctances and forgetfulnesses shone as kernels of him.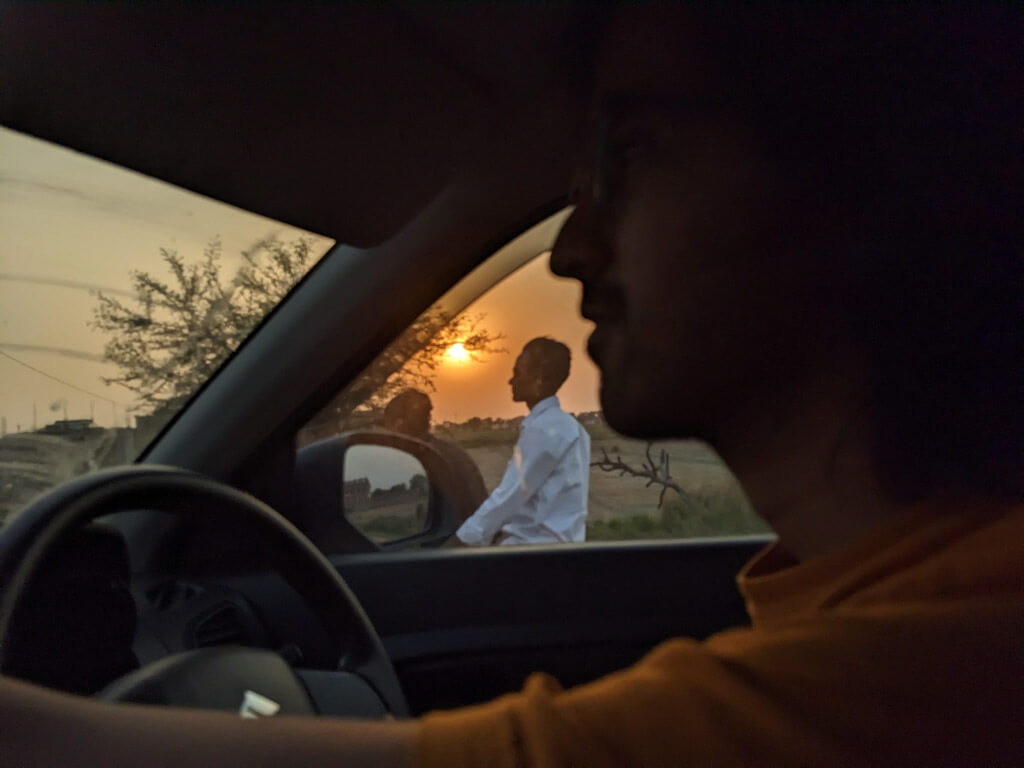 Do you remember a long journey that changed you in some way?
Read Next: Episode 3 — Arriving in UP at Midnight: An Eerie Expressway, a Suspicious Hotel Attendant, and a Missing Wheel-Cover.
Footnotes:
*Let us say we drove at an average speed of 80 km per hour
60 mins — 80 kilometer
One minute – 80/60 kilometer
Sixty seconds — 80/60 kilometer = 4/3 km
One second – 4/(3*60) km = 4000/180 meter = 200/9 meter = 22.22 meter
One millisecond — 22.22/1000 meter. We would have driven 2.22 centimeter in a millisecond and that is why I assumed our frame was changing every millisecond.
*Intentions explained as — In India, most hotels don't allow unmarried couples to stay, and if they assume you want a hotel room to spend some intimate time together rather than as a night's shelter, they would kick you out sooner than later. I have been rejected a booked room in Hyderabad because my partner and I couldn't present the marriage certificate (we were in town for our US visa interviews). Once after checking in at a Mumbai hotel, my Dutch friend and I were thrown out on the road by the staff at ten pm. On another long road trip at midnight in Madhya Pradesh, the staff called my partner and me downstairs after we had chosen the room and were waiting outside it for the keys. When instead of a marriage certificate, I opened a photograph from our ceremony, they weren't convinced. But I didn't relent (thinking of all those couples who would want a roof for the night and can't present a wedding proof even though they would be married in their hearts). Also, the staff was rude to call us downstairs with a wave of a hand, as if they were giving us the room for free.
If you are unmarried and want to drive down India, don't cross Uttar Pradesh, Bihar, and Madhya Pradesh. I don't remember if we were asked for marriage proof in Andhra Pradesh and Orissa (will update here when I do). Some properties in Hyderabad, Mumbai, and even other large metropolitans could deny you a space but you would be able to find accommodation there.
We stayed in Hotel Jyoti in Forbesganj. Look for more hotels in Forbesganj here.
*****
Donate to keep me going!
For five years, I've read and wrote day and night to keep On My Canvas - my sustenance and life's focal point - going. Everything here and my weekly newsletter "Looking Inwards" is free. No ads. No sponsorships. If you've had some good moments reading my posts or felt hopeful on a lonely day, please consider making a one-time or a consistent donation. I'll really appreciate it (You can cancel anytime).
*****
Want similar inspiration and ideas in your inbox? Subscribe to my free weekly newsletter "Looking Inwards"!