The Beginning of a 2000-km Road Journey
Please note: This narrative is the first in the series of travel essays on my Sikkim to Himachal highway journey.
After a night of bonfire in a Sikkim country homestay, in the morning, my partner S and I lay in bed, our legs tired from the past three days of aimless hiking with the family's two dogs. We were deciding if we should do the three-hour trek we had thought of and, after it, drive Northeastward to Yuksom, a mountain town with multiple trails going around it. My mind was relinquishing Sikkim (before the countryside, we had lived in Gangtok for almost three months) and hinting at going to Himachal Pradesh, where we traveled for four months last to last year and would be more familiar with the surroundings and could work and be happy. We even had a home from our previous visit on our minds: it had two rooms, homemade food, and enough seclusion on a hill; work quietly or saunter in the mountains when you like. And I needed a place to bunker down to finish a large travel writing project; everything else was secondary.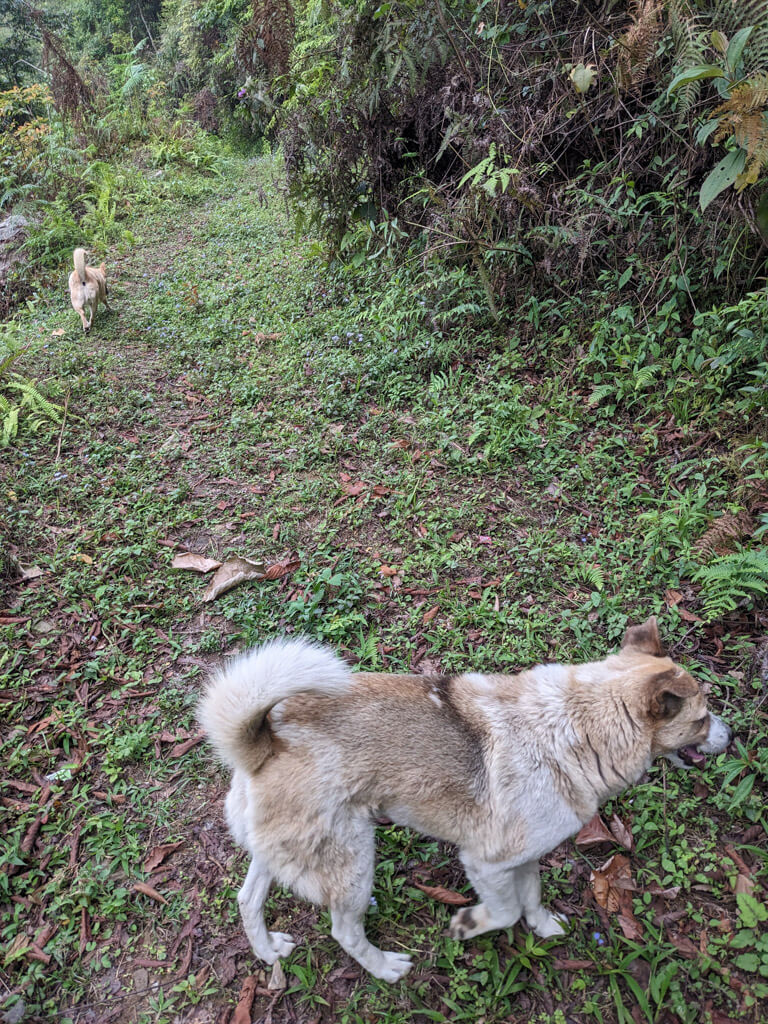 My calculation said if we went further into Sikkim and then to Himachal, I might lose May in traveling and seeing, which I couldn't afford at the time. While writing about the previous journeys, I'm understanding them and can't even absorb new experiences. S said he would be okay anywhere. I knew he would be. But when I presented my idea of leaving Sikkim for Himachal — he admitted thinking the same but not telling me worried I might get upset. "We were to hike in the Eastern Himalayas but now you want to leave?" I could have said if I didn't have the project. Though a few days ago in our Gangtok hotel room we talked about traveling to Yuksom because it was near, we needed four hours to drive there. We weren't so close after all. And "We should see a place because we are in the vicinity" would apply to the whole of Sikkim and other parts of the Northeast, too. In Yuksom, we would be close to more unseen places. So by our logic of exploring a neighboring destination, we would travel the entire length and breadth of not only our country but also the world without ever pausing?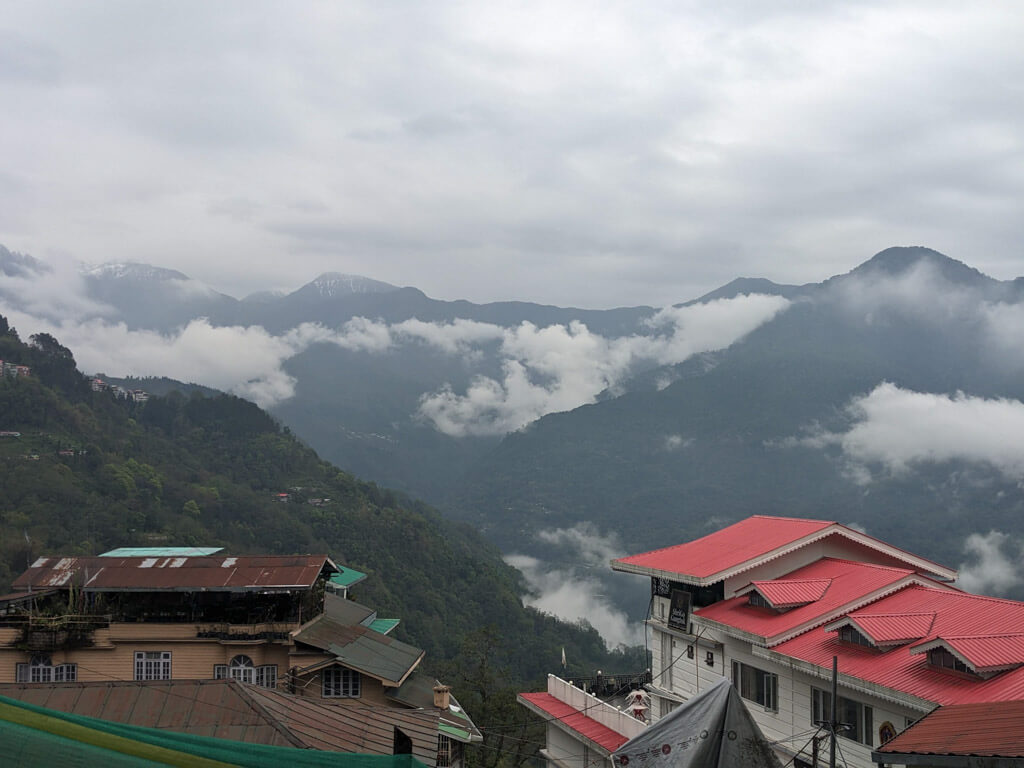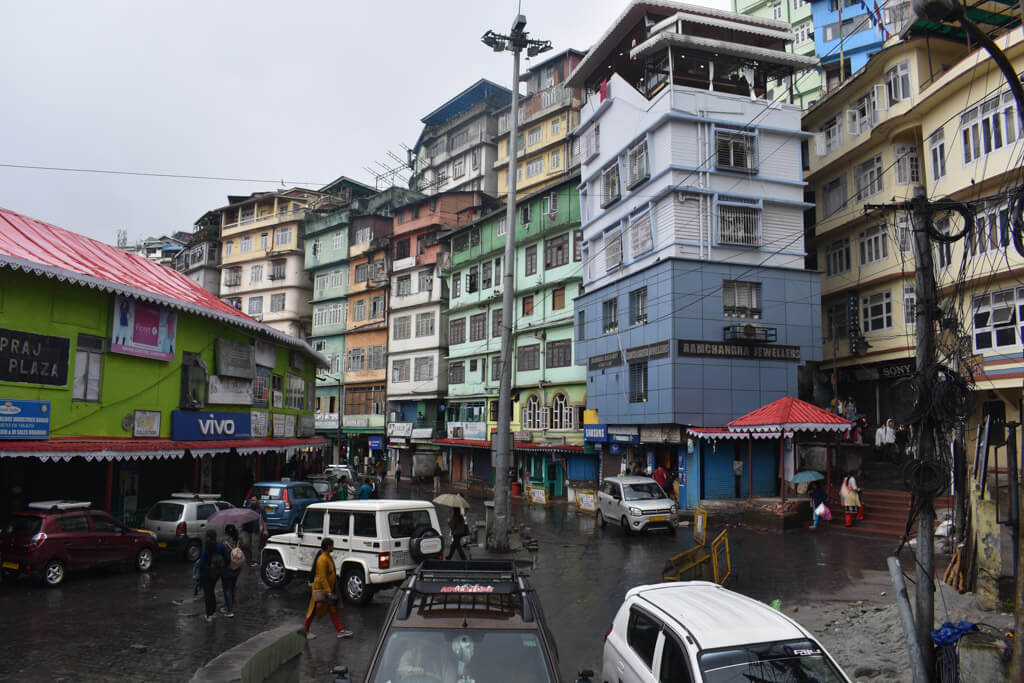 What was our goal? Be happy and satisfied with what we had seen and work and live in nature. Three days in that Sikkim village home that hugged a forest undid the damage inflicted by the congested, expensive, and rude Gangtok city (we loved a hotel there so stayed on) and refilled my nature reservoir. So S and I tapped into each other's intuition, decided to drive to Himachal, and rejoiced at the two-thousand-kilometer-long journey about to begin. Instead of taking a right out of the house, we turned left. The snow-white peaks stretched onto the sky was the Kanchenjunga showing itself to us for the first time as if saying goodbye. What a day to begin our trip out of its home state that sheltered us for more than three months!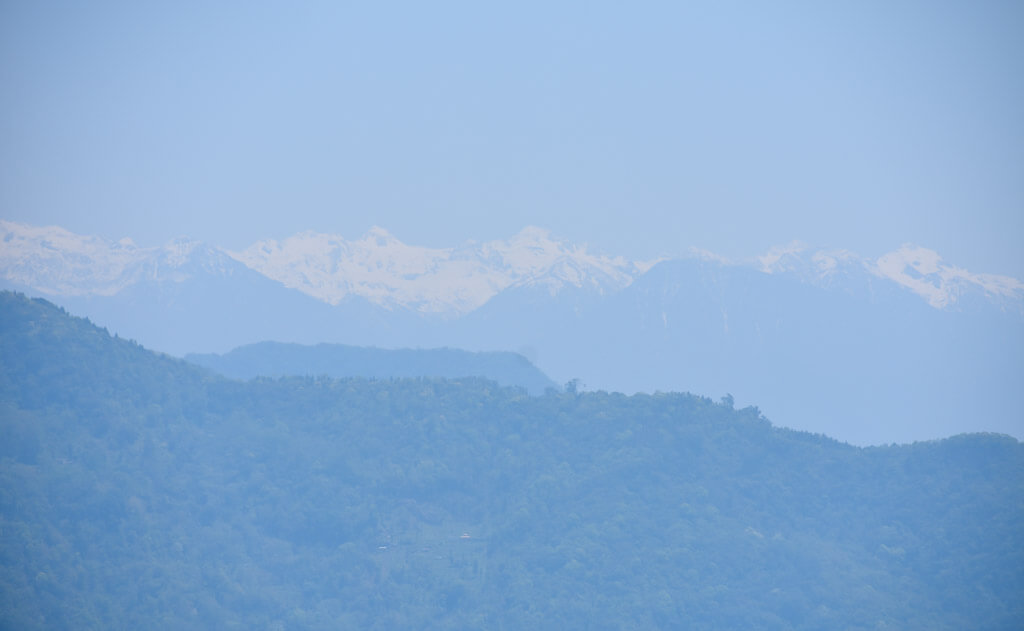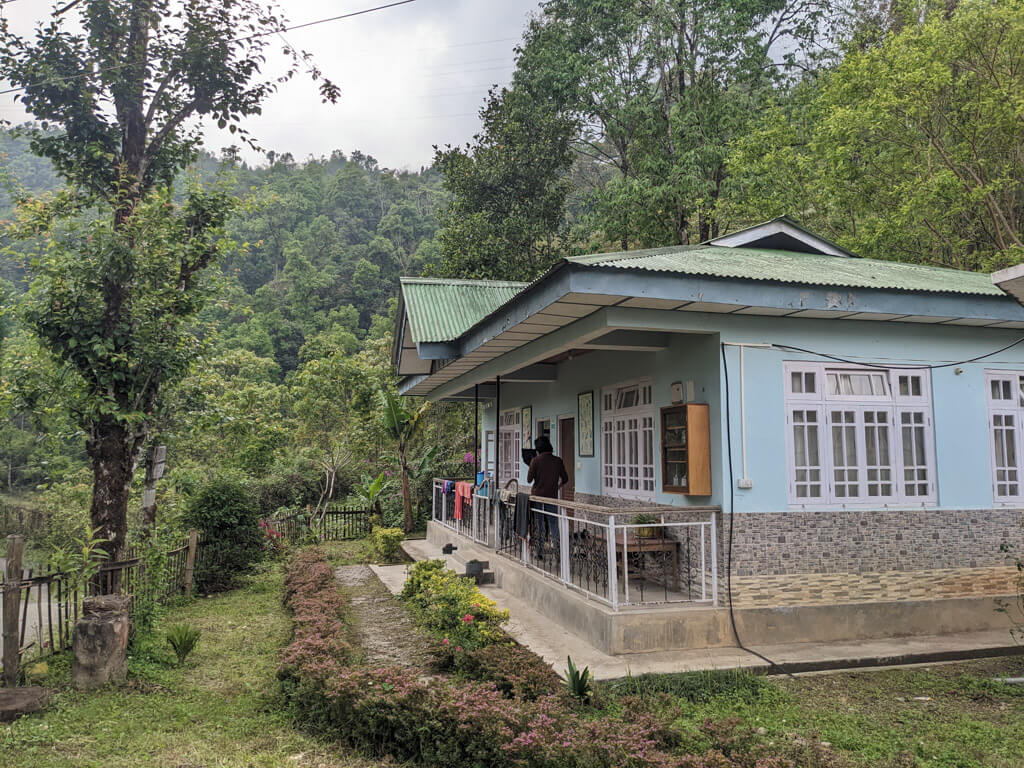 After an impromptu pollution control (when the drive began, I checked ours to see it had expired ten days ago), we had tea at the same Nepali place where we had eaten on the onward journey from Gangtok to the country. With an onion paratha and dal, I received peas curry and four kinds of pickles, too. That dusty, tiring, and frustratingly indecisive afternoon turned into surprising and blessed in a minute. It was hard to leave our home (hotel room) of three months, being disappointed by the housekeeping of the past few days, pack everything, put everything in the car, get on the road, and finalize a destination on the way. Though the destination was on our minds, the pastoral homestay we liked (we had been looking at it for weeks) wasn't reachable, but we drove towards it, hoping something would work out. Then the waiter brought many of my favorite foods without knowing what they meant for me and told me to relax and eat — such a simple thing but exactly what I needed to hear, as if a best friend served me everything I loved on a platter. And the inertia of change, the broken sleep, and some recent hurt from loved ones all had diluted at that moment. Gone. While gobbling the onion paratha with the radish pickle and peas curry, I thought about how travel has given me many of these dull-to-delicious moments, made me realize we haven't got an iota of an idea of what is coming to us, and reminded me that life is beautiful.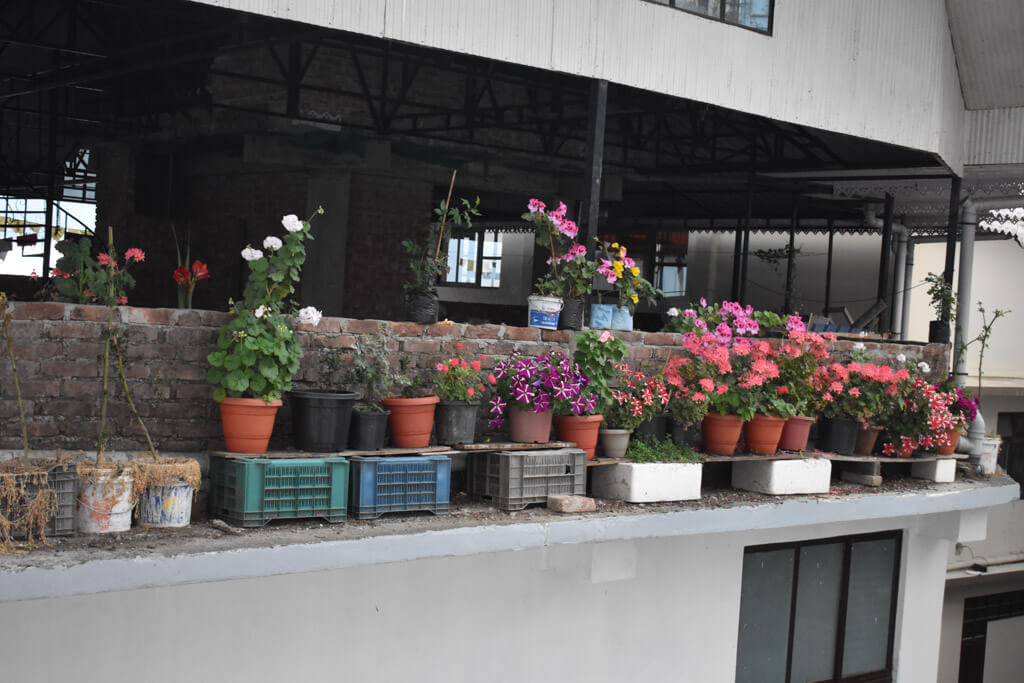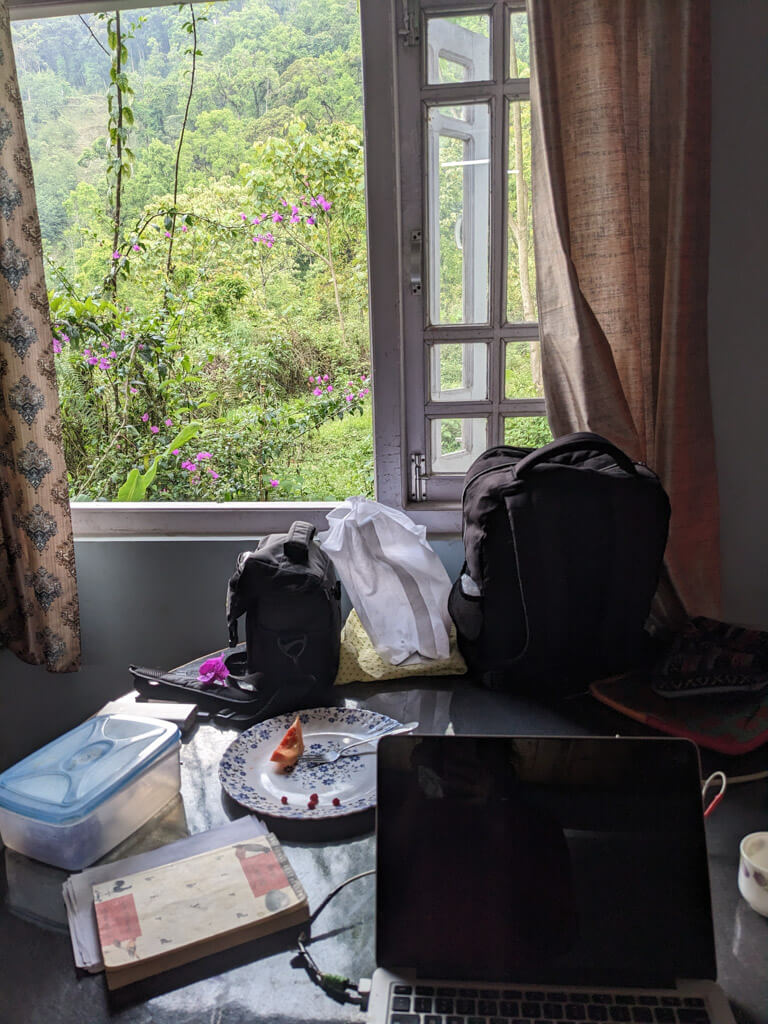 But those pickles and the Kanchenjunga weren't the end of the serendipity. After tea, we were so close to the Sikkim border and so quickly crossed into West Bengal, I said to S, "We were meant to go to Himachal. First, we descended from Gangtok to the south of Sikkim (the rural home), and now we are heading out. Our travel out of Sikkim just got broken into two, conveniently." But while deciding that morning, the course of our journey wasn't that obvious; we may connect dots in the past, but in the present, we worry about taking the right decision (though sometimes I try to identify patterns in the present that could become dots later on.).
Did we decide to go to Himachal, or was it all serendipity?
We chose to go to Himachal that day, but the universe seemed to plan our journey stop by stop all along the way. One just needs to think right, and then everything aligns to manifest your idea. And I've found the other way also true: when I'm confused or hesitatingly indecisive, the universe doesn't open up paths to the thing. As if it knows I am not willing. How simple is life!
Read Next: Episode 2: The 500-Km Drive through Bihar – Corn Harvests, Marriage Certificate at Hotels, and Truck Slogans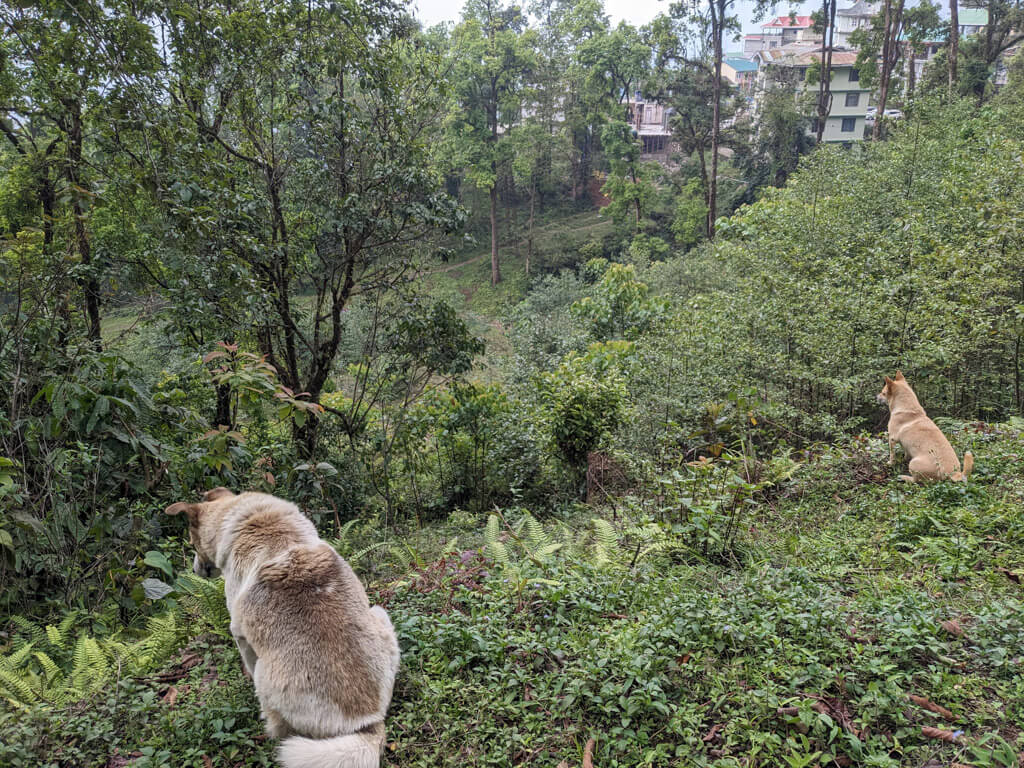 Have you also seen ways unfolding to the destination you wanted to be at?
*****
Donate to keep me going!
For five years, I've read and wrote day and night to keep On My Canvas - my sustenance and life's focal point - going. Everything here and my weekly newsletter "Looking Inwards" is free. No ads. No sponsorships. If you've had some good moments reading my posts or felt hopeful on a lonely day, please consider making a one-time or a consistent donation. I'll really appreciate it (You can cancel anytime).
*****
Want similar inspiration and ideas in your inbox? Subscribe to my free weekly newsletter "Looking Inwards"!